I was reading my friend Megan's blog "Minor Catastrophes" today and it occurred to be that I am not being totally honest about this trip. (By the way, you should totally read this blog. It is funny, honest, heart warming and might even make you tear up from time to time. She's good.)
Before we left, I pictured us hanging around the campsite, tromping through the woods, reconnecting with friends and family…all with a smile on our faces and joy in our heart. Turns out *gasp* that it was a whole lot like the rest of our lives. The boys were alternately adorable and exasperating. Henry and I were tense and kind of irritated with each other. Neither of us are good communicators, so we didn't deal with our frustrations. The boys stayed up late every night and were tired and cranky a lot during the day. There was meltdown after meltdown.
There were also big smiles and long hugs. Moments of blissful hiking and photographing wildflowers or shooting time lapses. There were stories and s'mores. There was watching cows, a red fox and deer saunter past our campsites.
Life is messy. Some people really get into that. I don't. I don't like the emotional mess. I don't really know how to deal with it. But, it's life and this trip was quite lifelike. Fortunately, my blog is all sunshine and rainbows– just how I like it.
Day two (or was it three?) at Rocky found us at a junior ranger program in Hidden Valley. My mom, Aunt Nila, Scott and Dan opted to go whitewater rafting, but those of us with underage kids had to stay terrestrial.
I am a big fan of the junior ranger program. My friend, Minute Jen*, and I are Junior Rangers in several National Parks and Monuments. (She wrote a post about it here). I used to do the programs as a kid, too. I think they could be a little more rigorous, but they are a great way to get kids to notice what is going on around them and to learn a little about the particular park they are visiting.
Ranger Daniel had an all-boy group, and it wasn't just the Harrison/Blomquist lads. There were three other boys, too (or more, it's hard to remember…). He taught the kids about the connection between coyotes, marmots and bees and why they are so important to the Rocky Mountain ecosystem. And we got to play games! I say "we" because Finn and I held hands the whole time. And because it took everything I had not to answer the questions and jump in with additional, helpful information.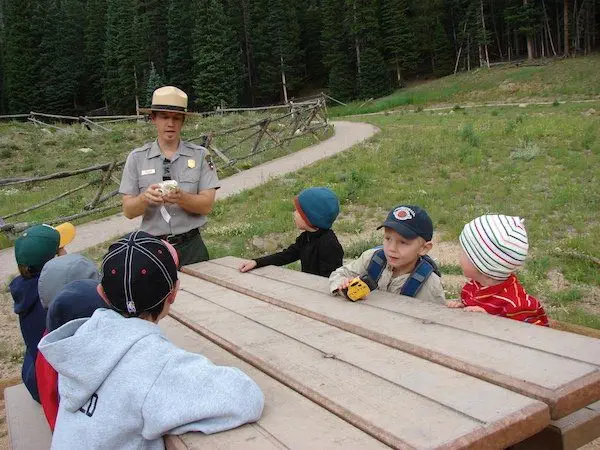 Ranger Daniel shows the all-boy group a coyote skull.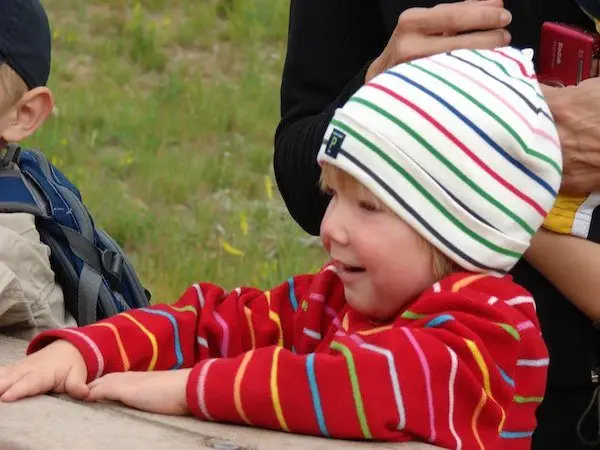 Finn loves touching the coyote pelt.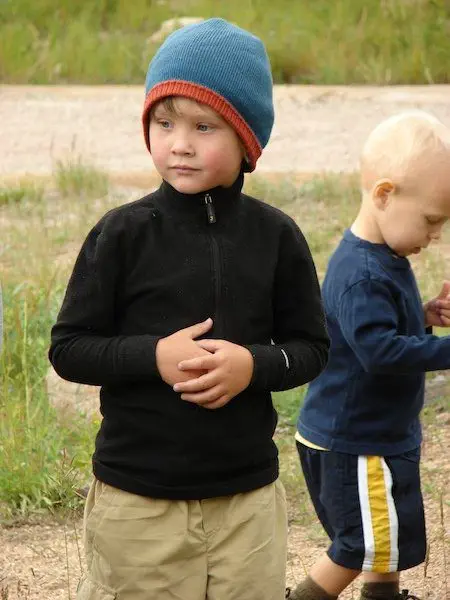 Anders and Cole join in the game.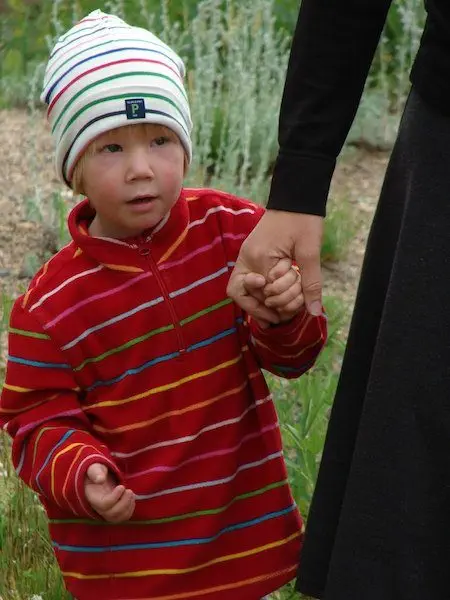 Death grip for cutie.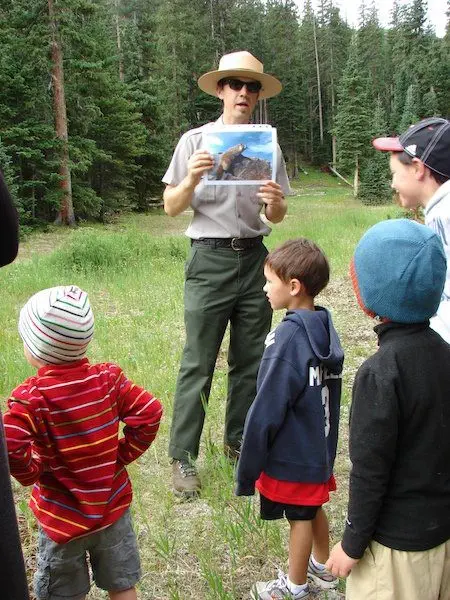 Ranger Daniel shows us a yellow bellied marmot.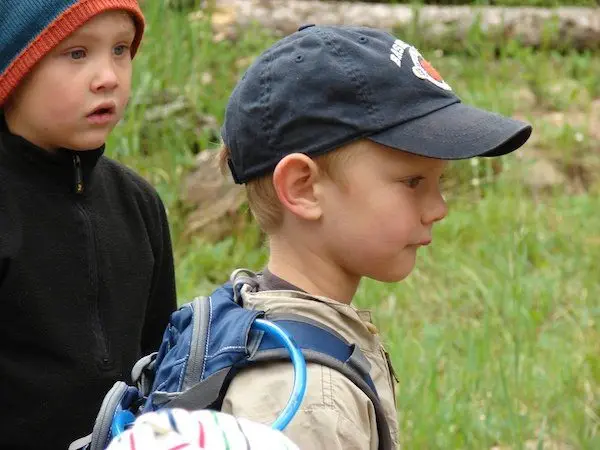 Anders and Matthew.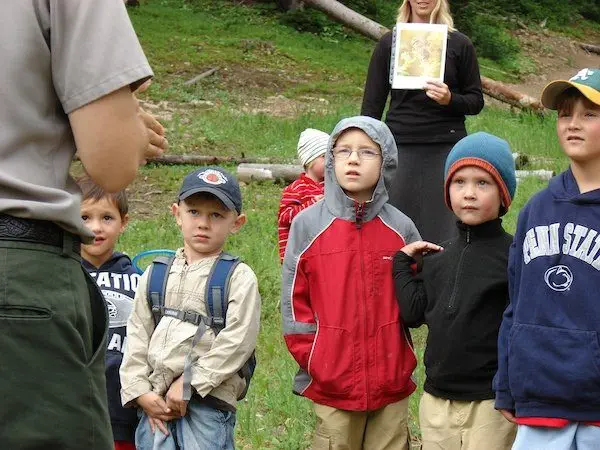 Everyone takes this game seriously. Matthew is a bit suspicious of the whole thing.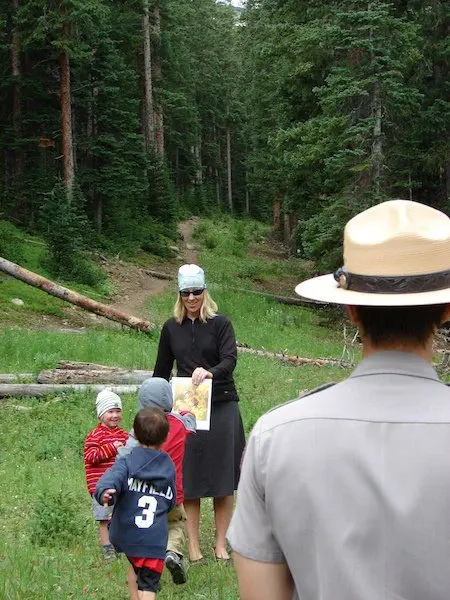 Jacob tags the goldenrod (a favored food of the marmot). I was honored to play the flower.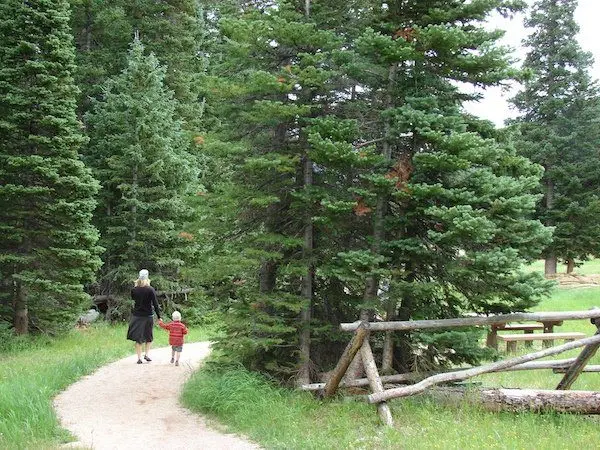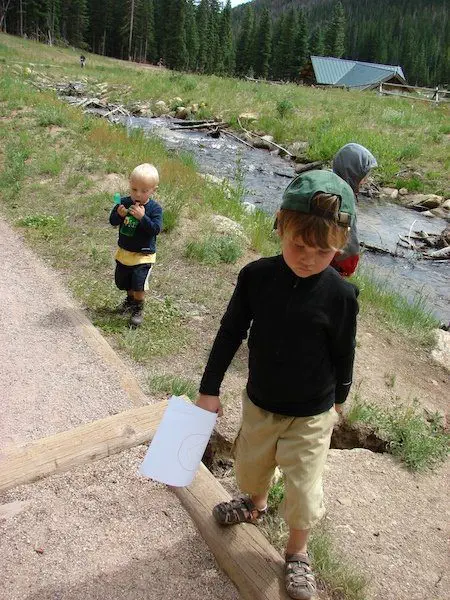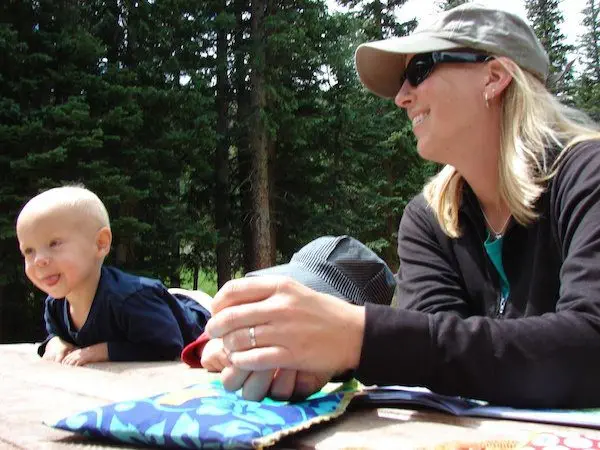 Cole, Finn (in the striped hat) and I enjoy a snack.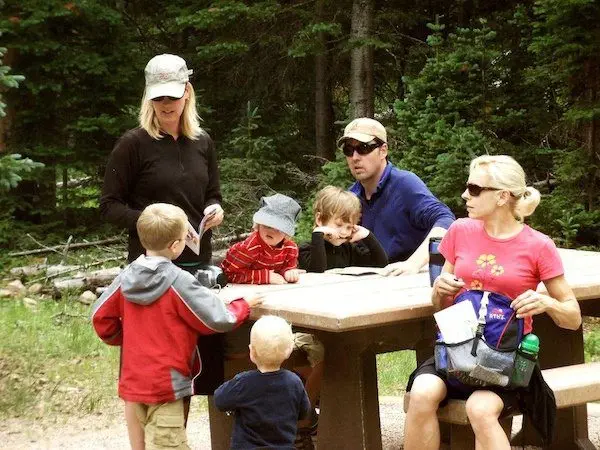 I wish I knew what Jacob was saying here. (photo by Kristin)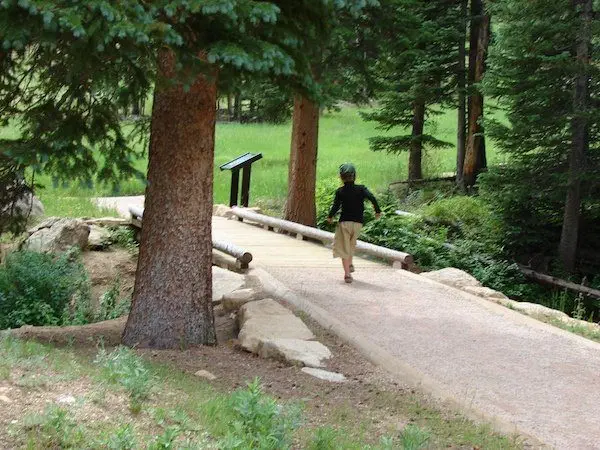 Skippity doo dah….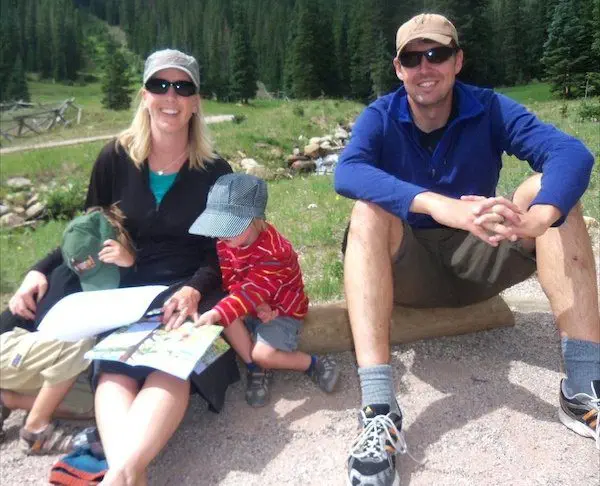 (photo by Kristin)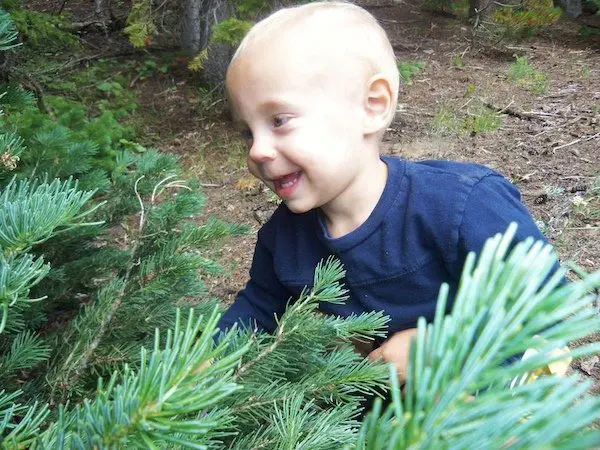 Cole identifying a tree species.(photo by Kristin)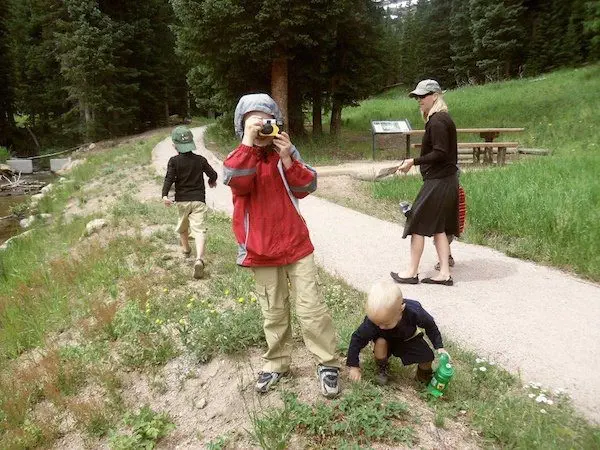 (photo by Kristin)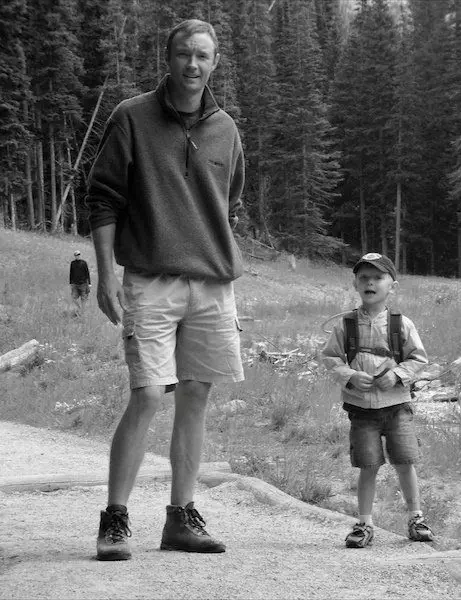 Per and Matthew (photo by Kristin)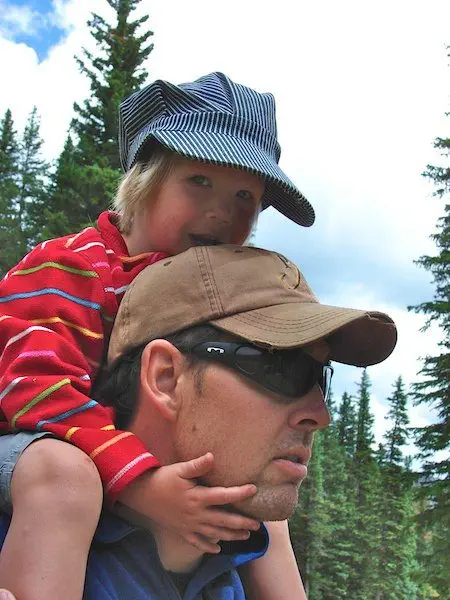 Finn is carried, as usual.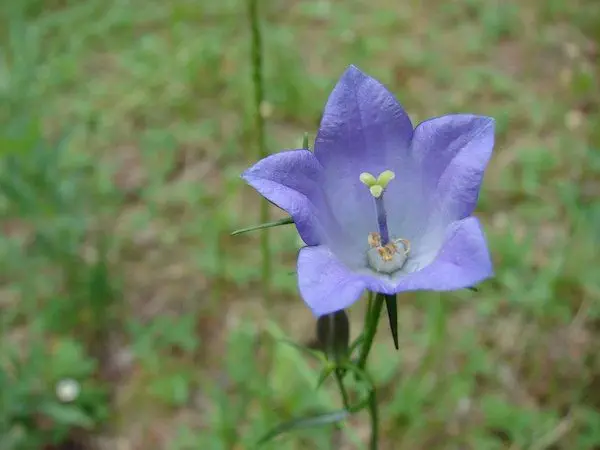 harebell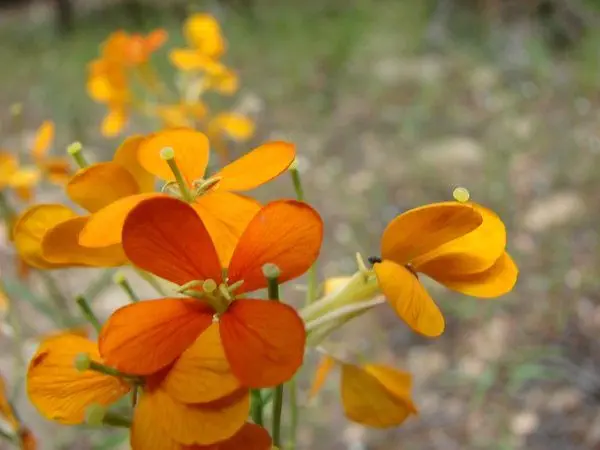 mustard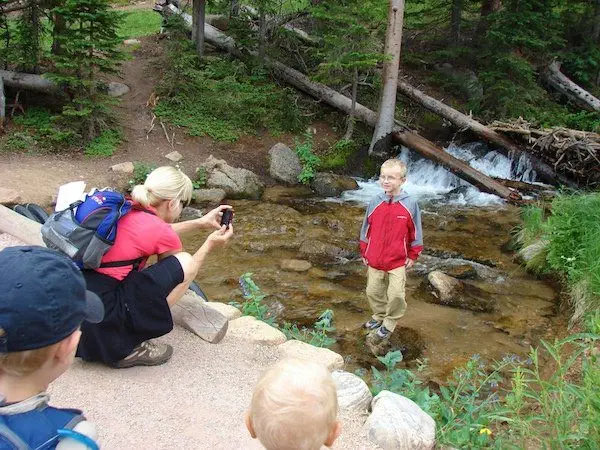 Kristin photographs Jacob in a creek.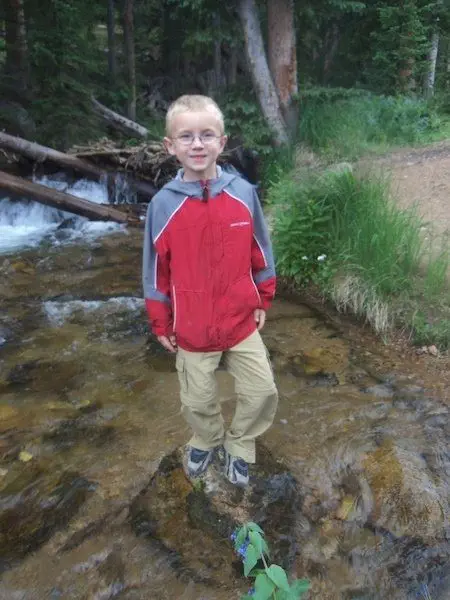 Jacob in a creek. (photo by Kristin)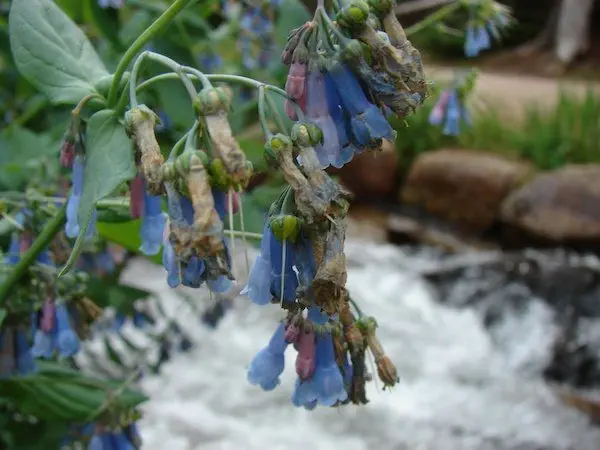 tired bluebells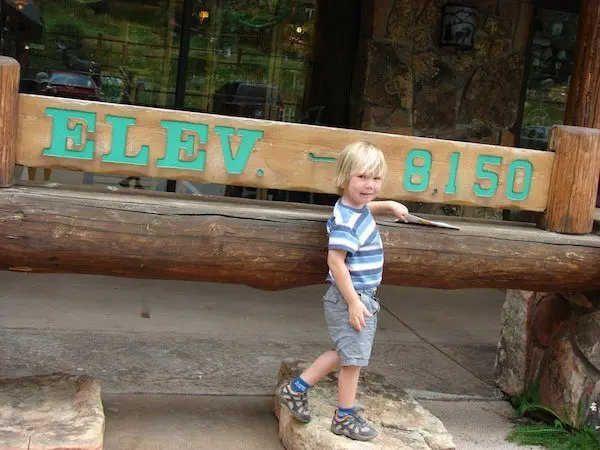 At the Fall River Visitor Center.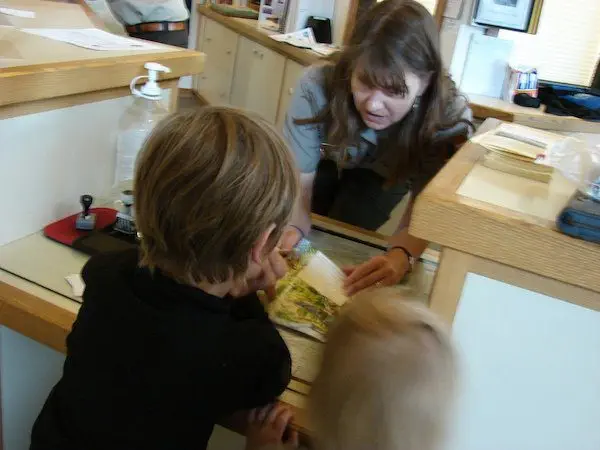 Anders and Finn become Rocky Mountain Junior Rangers.
That evening my mom and Scott came over for dinner and s'mores. Since I am the hostess with the mostess, I made them bring their own dinners, but we did supply the s'more makings. That may have been the night I crowned myself the Queen of S'mores. Finn is still asking, "Are you really the Queen of S'mores?" Heck yeah, I am!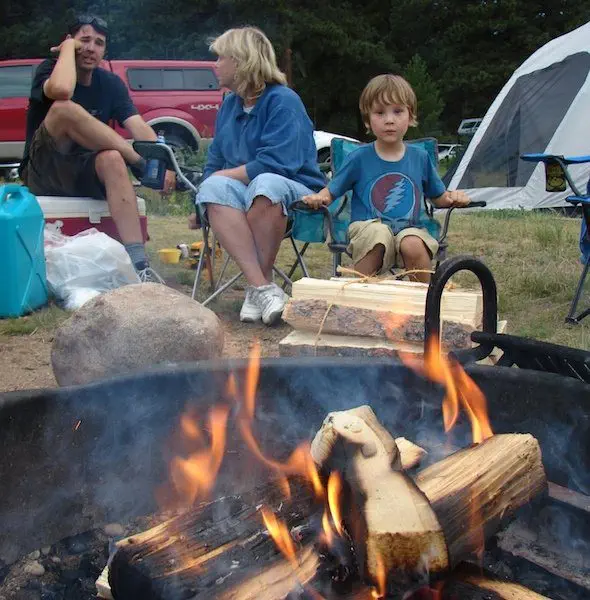 Anders can't wait for s'mores!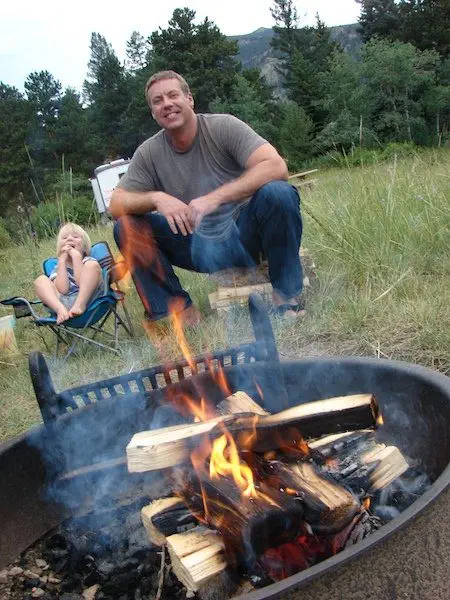 Finn and Scott are ready to roast.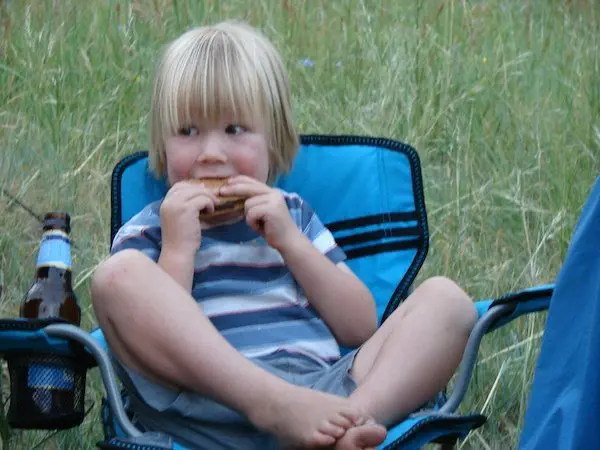 Yum! Who put that beer in Finn's chair?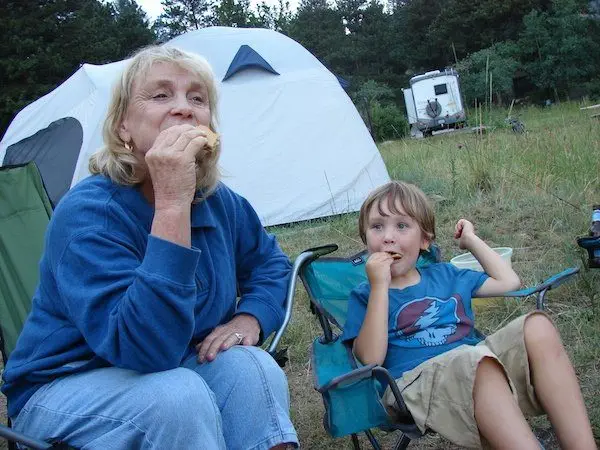 Grandma and Anders chow down.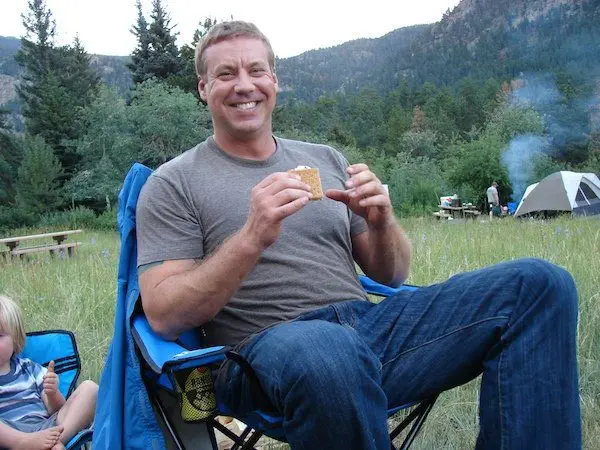 Scott makes the s'more look small.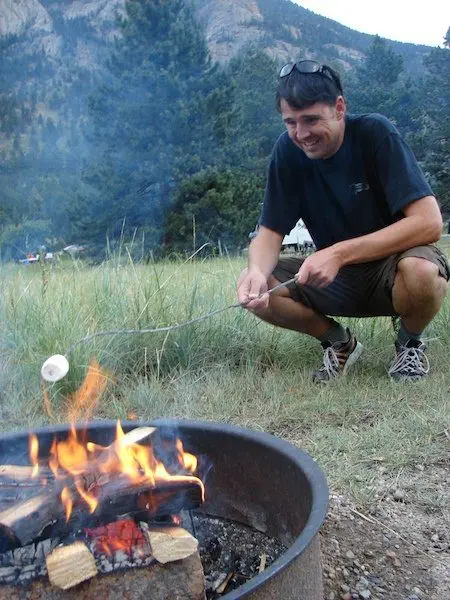 H roasts his marshmallow to perfection.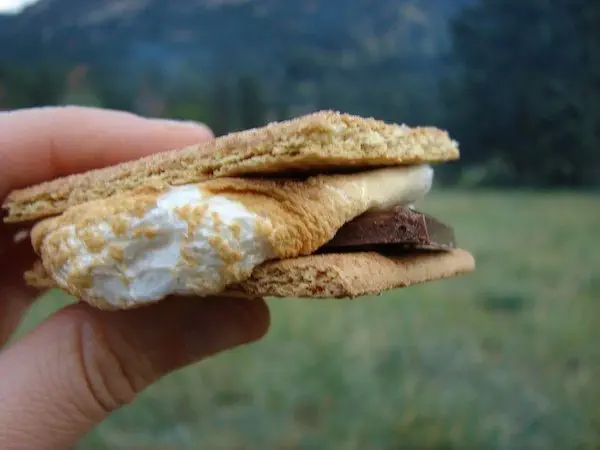 * That's "minute" as in tiny, not 1/60 of an hour.
Wish you could find all the posts from this roadtrip in one place? You can! (Right here)

Roadtrip!
Little Bighorn Battlefield
Devils Tower
Mt. Rushmore
Jewel Cave
Friends and family
Bierstadt Lake
Junior Ranger program and s'mores
Mt. Chapin and Dan turns 30
Ute Trail and Cache La Poudre
Wild Basin and Bear Lake
Night Rangers
Breakfast, friends and going home