Today is the boys' last day at daycare. Anders has gone twice a week since he was 10 months old. Finn's been there since he was three months. It is a great home with loving people, but I never really wanted them in daycare.
I resigned from my job at MSU as of Aug. 24. It's a great job, working with amazing people, during a bad recession. In some ways I think I am nuts to quit, but I have been just holding on for the last three years. Working 30 hours at MSU, plus freelancing, plus having and raising kids has taken its toll. I'm as surprised as anyone to find out I can't do everything.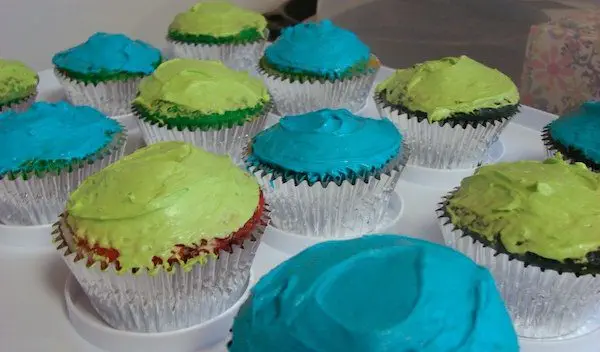 Cupcakes to share with daycare friends on their last day.
With school behind him and contacts made, Henry is working more. I will still be freelancing every chance I get and we are cutting our expenses (daycare was our second largest expense after our mortgage). I'd feel a little guiltier and more selfish if I wasn't so tired.
Now that the end of daycare is near (3 hours!) I am both thrilled and terrified. I want the boys home with Henry and I. I want to be able to do some of the things we haven't been able to do with them gone twice a week. But, I still have to work and I am not sure how that is going to flesh out. I guess we'll figure it out.
I have two more stories and a few miscellaneous items to complete before the 24th, and then I am home, too.