In my mind, what makes a good holiday–or any day for that matter–is lots of time outside. Throw in a couple cute boys, blue skies and hot springs and you get the best Christmas Eve ever.
Anders, Finn and I picked a great day to soak in the Boiling River. It was warm enough to stand around in swimsuits after our swim (30 F) and delightfully uncrowded.
If you haven't seem my 5,982,245 other posts about the Boiling River, it's a big hot spring that flows into the Gardner River in Yellowstone. Where the two meet, people have piled up rocks to create pools for soaking. To get there you park in Montana and walk into Wyoming.
We usually claim the first pool. It has really easy access (the boys can get in and out alone) and almost no current. Unfortunately, there was too much river water flowing into it. Brrrr…. I'm happy to strip down in the middle of winter, but not to sit in lukewarm water.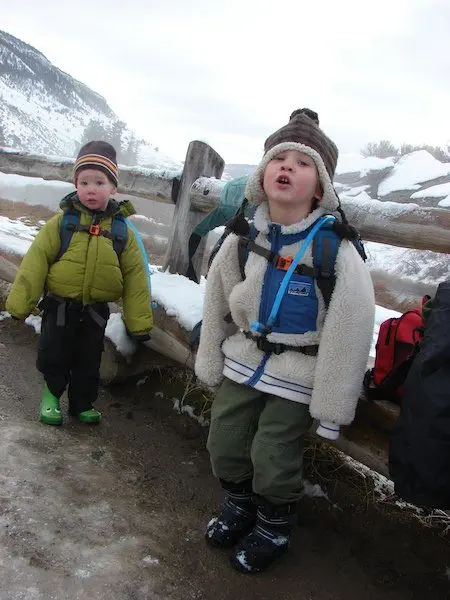 "Less picture taking, more soaking!"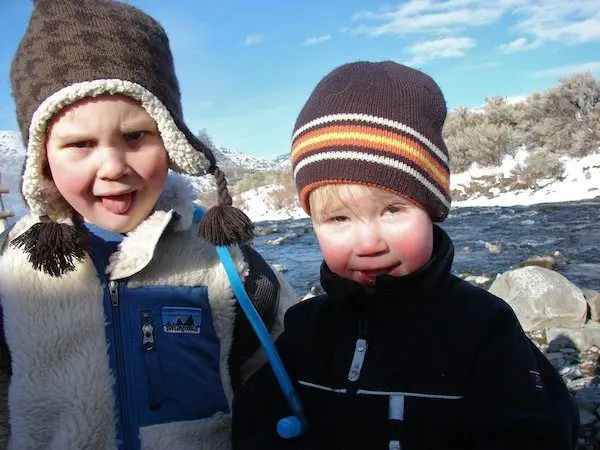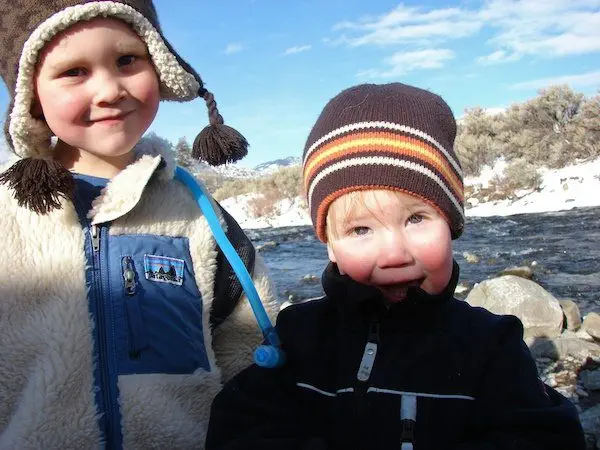 Sometimes the mere sight of those two fills my heart to bursting.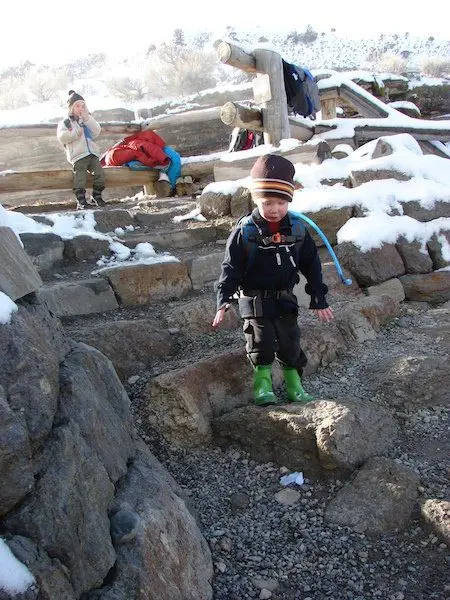 Heading down to the first pool to test the temperature. No bueno.
The other section of the Boiling River requires a walk down a strong current on slippery rocks. It's less than 100 yards, but add a thirty-pounder on one hip and a slip-sliding forty-pounder holding your hand to those conditions and you can understand why I normally pick a pool with easy access.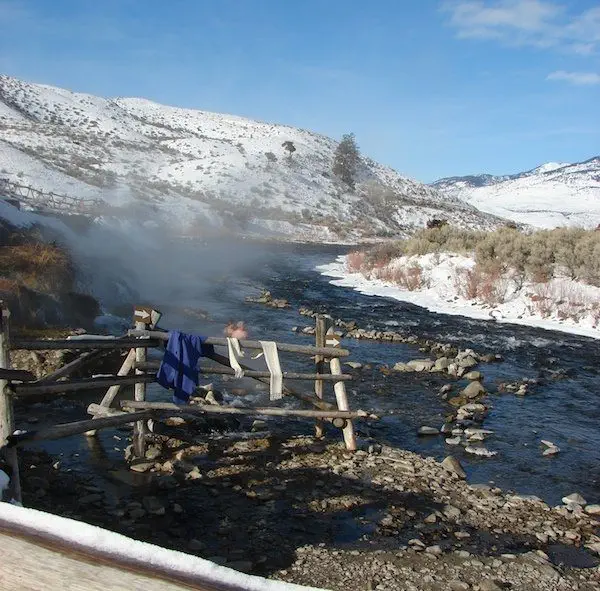 We went downriver here. The camera stayed with our clothes.
We made it. Stopped at the first place we could (scaring away a nice couple) and loved being there. At one point, Finn said, "I love it here." Normally, he says things like "no" and "I want it" and "whaaaaaaaa." It almost makes me cry when I see the boys enjoying something I am in love with.
Since we were sitting in the current (hot, hot water on one side, freezing water on the other) the boys couldn't stray far. I sometimes get tired of being hung on 24/7, but this time I enjoyed having a little buddy on my lap and a medium (don't call him big) buddy next to me.
It's about a 0.5 mile walk to the springs and we had a great time spotting wildlife. Finn walked about half-way or more each direction. While he is perfectly capable of walking a mile, he sure loves to be carried.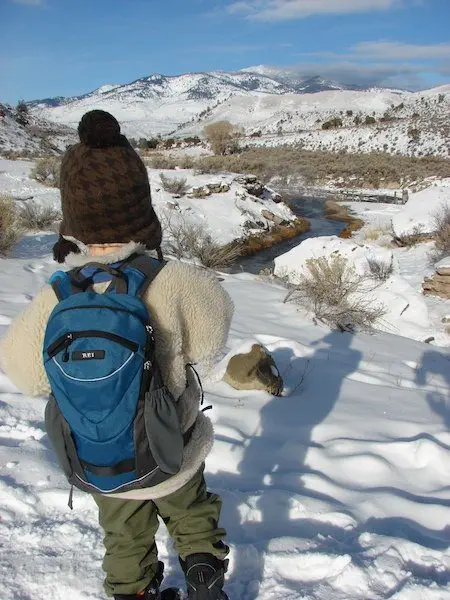 Overlooking the Boiling River near the spring.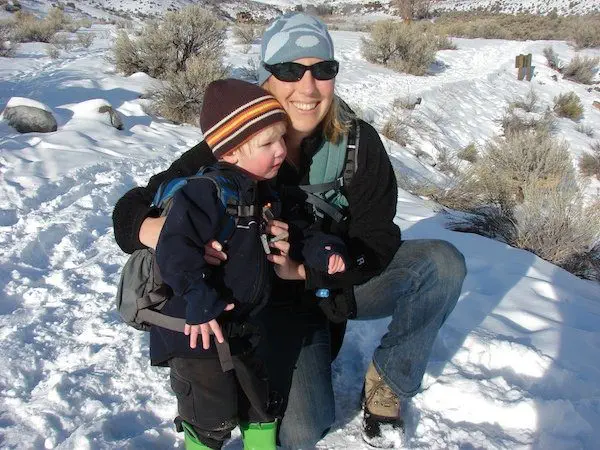 Anders has been having fun using the camera and offered to take this photo.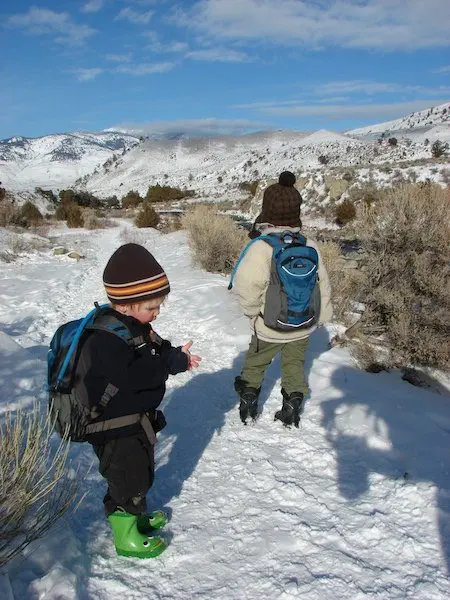 The boys got backpacks from grandpa and nana for Christmas. We opened them a day early to test them out. They are hydration packs, so they can carry their own water from now on. (Of course, if I am carrying Finn….) They're awesome little packs with a lot of neat features and help the boys feel like "real" hikers. The training continues.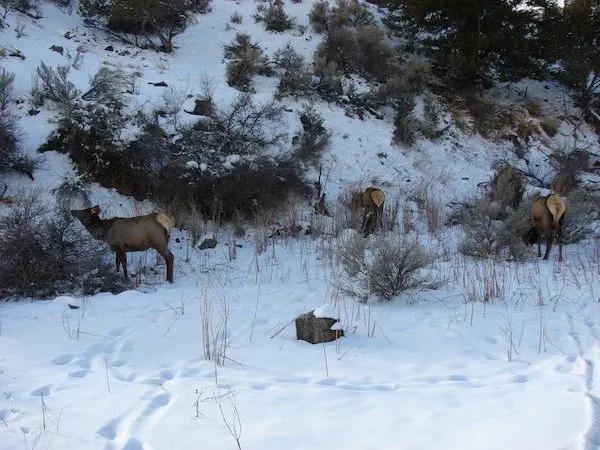 Elk near the trail.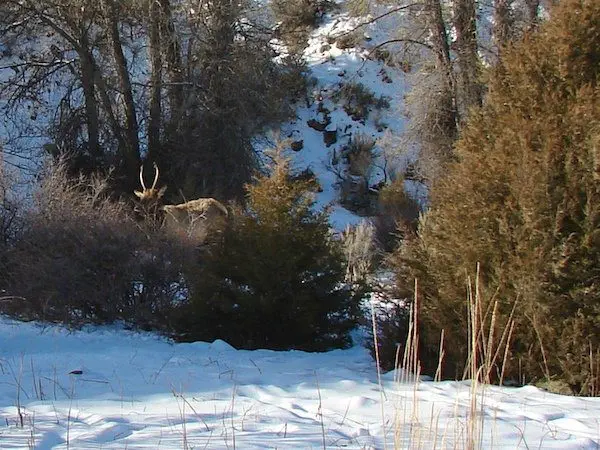 Boy elk.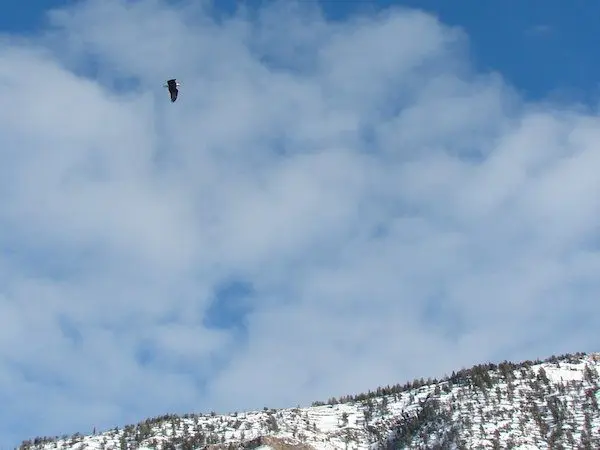 Bald eagle.
We drove home, made an appetizer, grabbed Henry and headed to a pajama party. It was pretty nice to get ready for a party by putting on my jammies and a sweatshirt.
The party was a group of folks who mostly know each other from hanging out at Chadz –the coffee shop. It was small town fun at its best. The folks that own the music store played guitar and flute and we all sang along to popular Christmas carols. A bunch of kids ran wild and tore the place up. There was more food than should be allowed. And we sang Happy Birthday to a couple people who had December birthdays–one on the Solstice and one Christmas Eve. I feel for them; holiday birthdays can be tough (says the woman whose birthday is New Years Eve).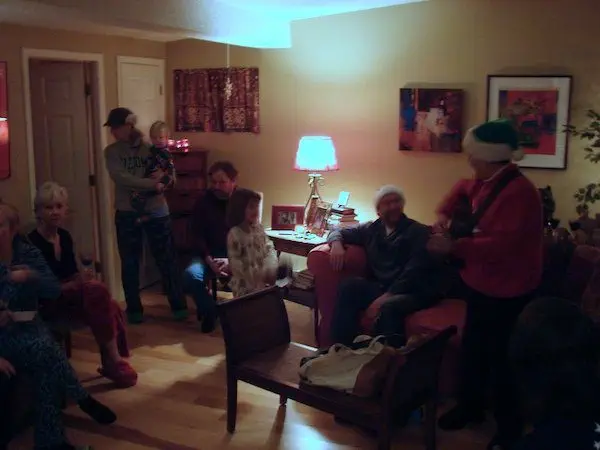 It's days like this that make me think leaving Livingston is going to be hard. As excited as we are to get on the road, we know we will miss this place. I'm sure we'll be back.