Seal Rescue Centre Courtown
One of the highlights of our time in Ireland was volunteering at Seal Rescue Ireland. This article will explain everything you need to know about visiting or volunteering at the seal rescue center in Courtown, Ireland. I'll tell you how you can adopt a seal pup, work with abandoned seals, and other things to do in Wexford, Ireland (Courtown's county).
As part of our unschooling/worldschooling experience, we want to get the boys involved in local organizations. I wish we did a whole lot more of this. I had tried to find places for us to volunteer with animal rescue groups and other environmental volunteer opportunities for kids, but came up short. We were lucky to stumble on this seal sanctuary just ten minutes from our cottage in Gorey, Ireland.
It fit in nicely with our desire to make responsible travel choices.
Seal Sanctuary Courtown Ireland
Seal Rescue Ireland has to be one of the top Ireland attractions we visited. Seal Rescue Ireland cares for orphaned, injured, and sick seals in Ireland. They have a network of volunteers that pick up seals from around the country and shuttles them to Seal Rescue Courtown. There the seal pup is nursed to health, taught how to eat fish, and eventually released back into the wild.
Seal rescue Northern Ireland is handled by Exploris Aquarium.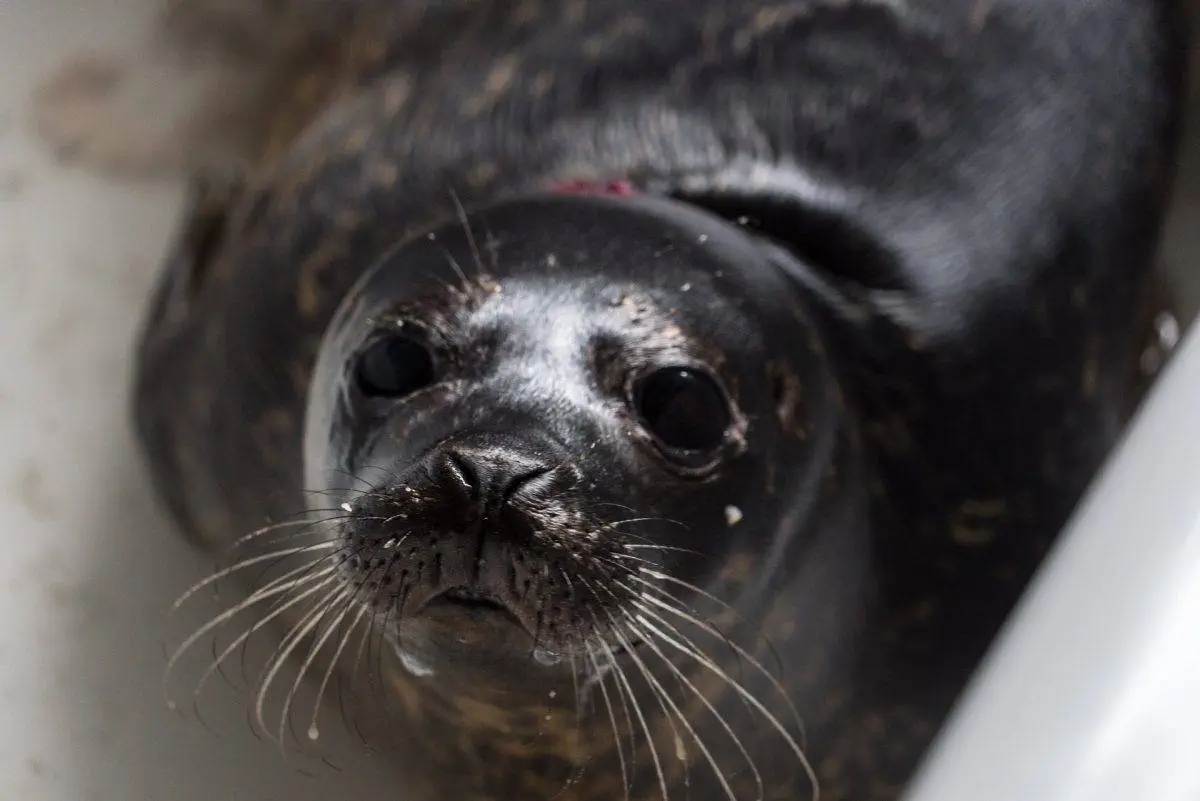 The seal centre gets both common seals (what we call harbor seals in the U.S.) and grey seals. The common seals have a grey/black pup while the grey seals have a white seal pup. We were there in September, so they were working with common seals. Common seals are born during June and July and grey seals between October and December.
---
Visiting Seal Rescue Ireland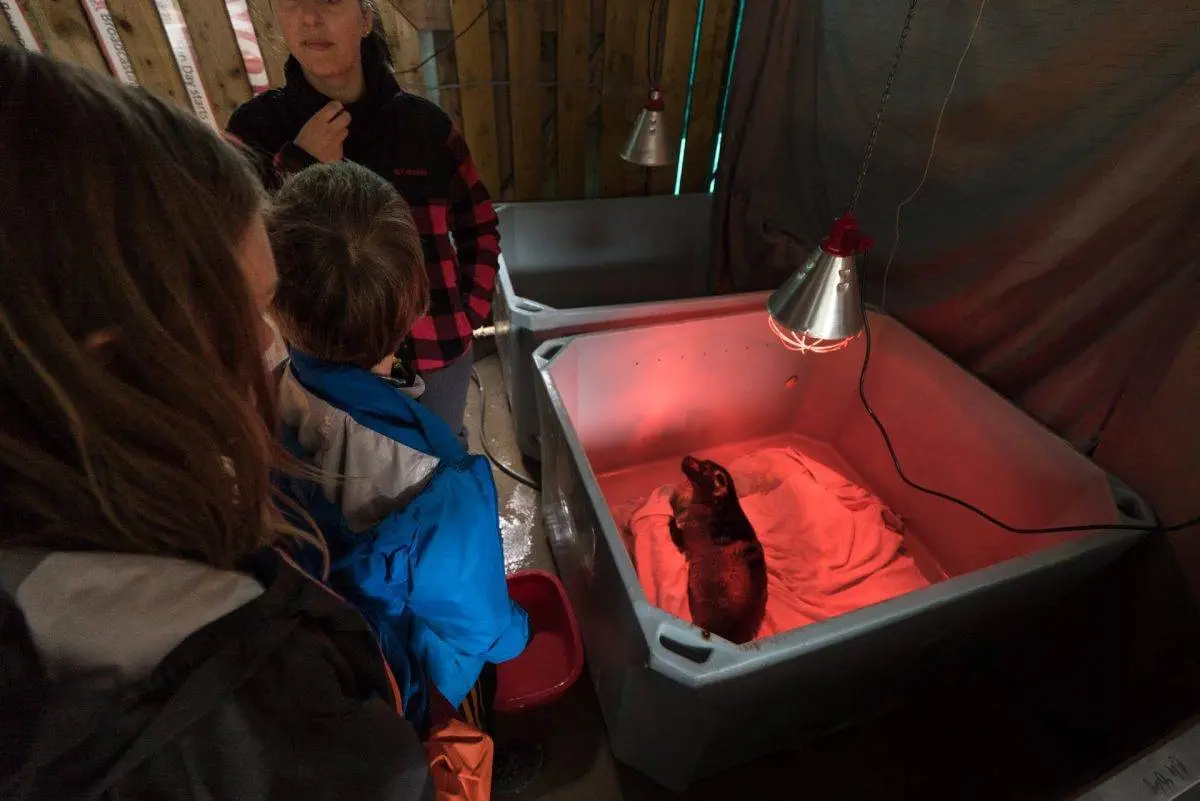 Seal Rescue Ireland is open every day and it's free to visit. The first time we went to the Courtown seal rescue we were given a free tour, learned all about the center and got to see the seal pups. There is a gift shop for all things seal, and of course the proceeds fund seal pup rescue and seal rehabilitation. Seal Rescue Ireland is a not for profit charity.
Call ahead to make sure there are seals in their care. Their aim is to release all healthy seals to the wild, so there may not be seals present at certain times of the year. See contact details below.
Irish Seal Sanctuary Volunteer Program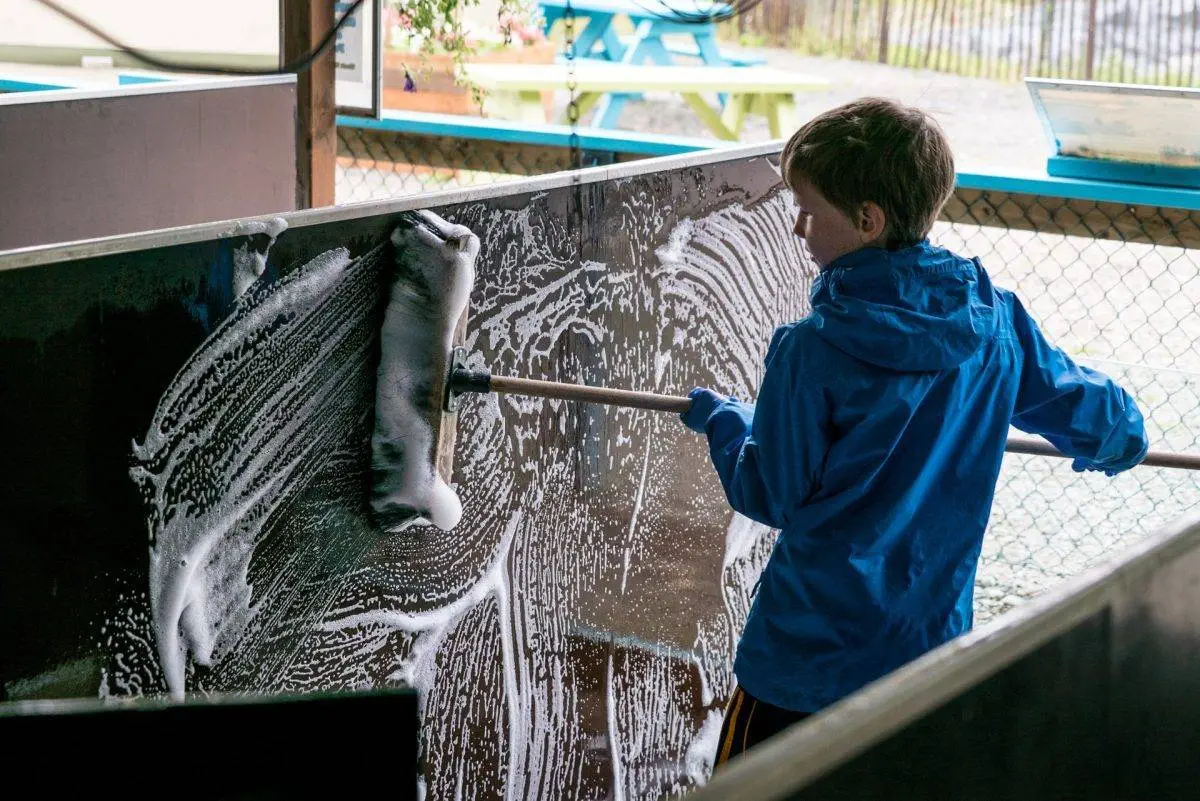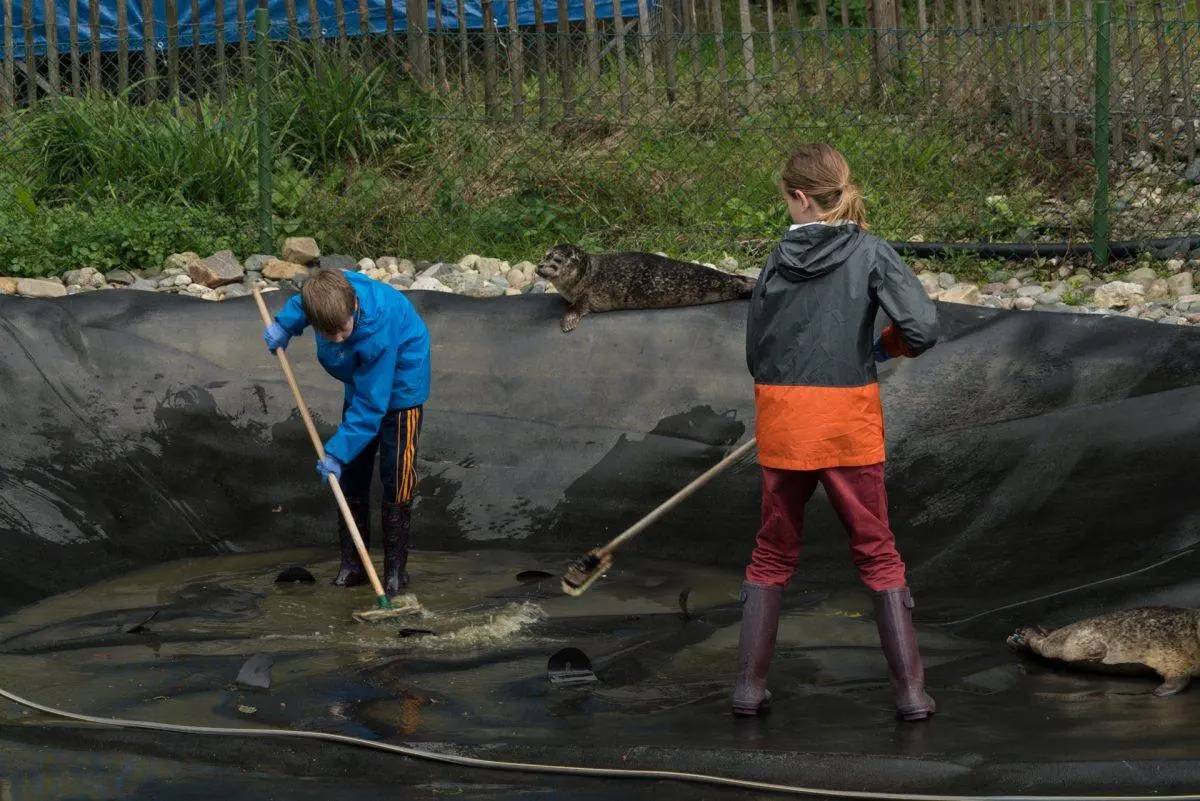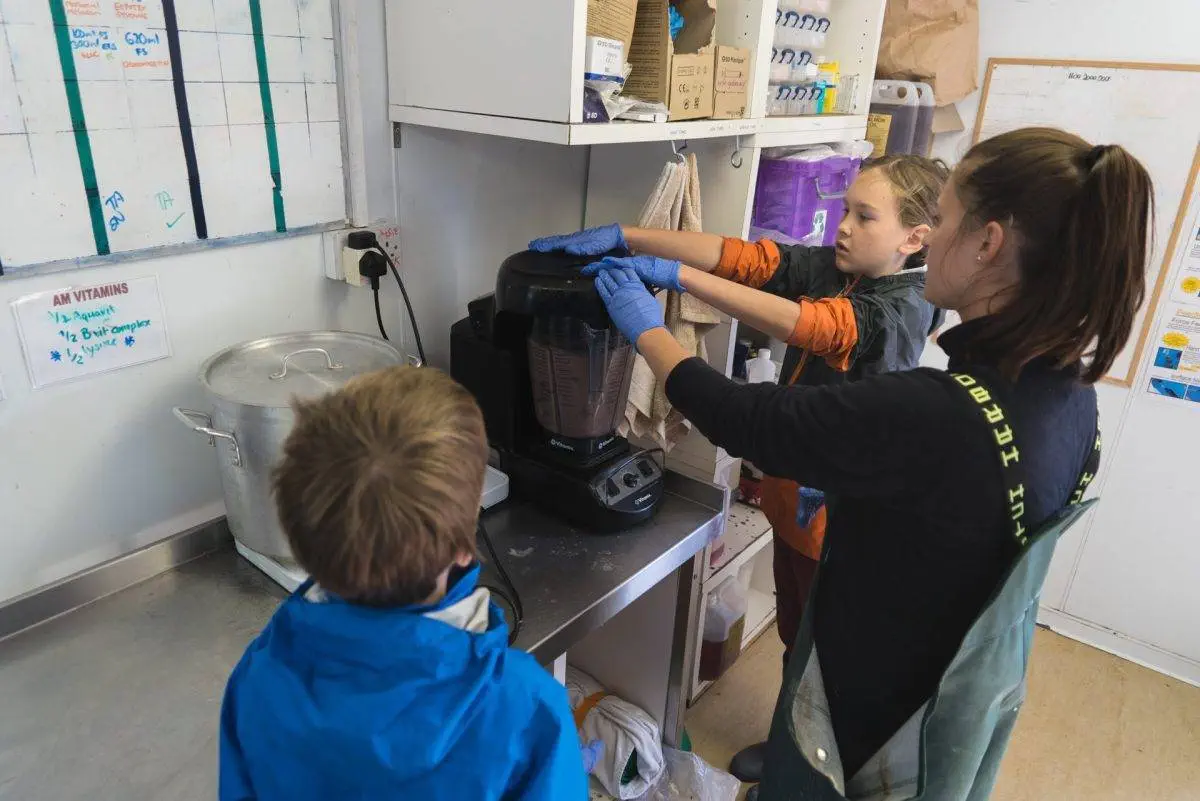 As I mentioned above, one of our goals is to expose our kids to different opportunities and jobs. Finn especially loves animals and is concerned about animal welfare, so we though trying one of the marine life rescue jobs would be right up his alley. We were not wrong.
The kids liked shows about animal rescuers when they were little. Think Wild Kratts or Go Diego Go. But unlike what these cartoons show, animal rescuers don't fly to exotic places in fancy airplanes, cuddle with cute critters, or pluck them from their habitat and use a quick fix to save them. Real animal rescue work involves more cleaning than anything else.
The boys jumped right into their work cleaning seal poop. Honestly, I was a little surprised how willing they were to mop, scrub, and wash seal poop. It's a stinky job! (Henry thought the odor was reminiscent of the Surströmming we ate in Sweden.)
They also separated frozen fish out of a big ice block and made fish smoothies. All the while the awesome intern taught them about seals and seal rescue.
There are a lot of ways to volunteer at the Seal Rescue Centre Courtown. From the Sea Rescue Ireland internship which lasts at least 12 weeks, to maintenance workers, to day volunteers, tour guides, fundraisers….there are so many ways to get involved. The seal rescue Courtown is run totally by volunteers.
We did the Rescuer For a Day program. It's not cheap – 75 Euros/kid, but since they are a charity doing good work, we didn't mind. They book up on weekends, so make sure to make a reservation.
We were hoping to make it to one of their release parties. When they return the seals to the wild, everyone is invited to join them. They released three or four seals while we were there—seals the boys fed!—but we somehow missed the announcement.
In all, we loved helping the Irish seal population and are going to look for more opportunities like this as we continue to travel. And we know a little more about marine animal rescue and rehabilitation jobs. And everyone loves baby seal rescue.
There are so many fun things to do with kids in Ireland, and cleaning up after seals is only one of them.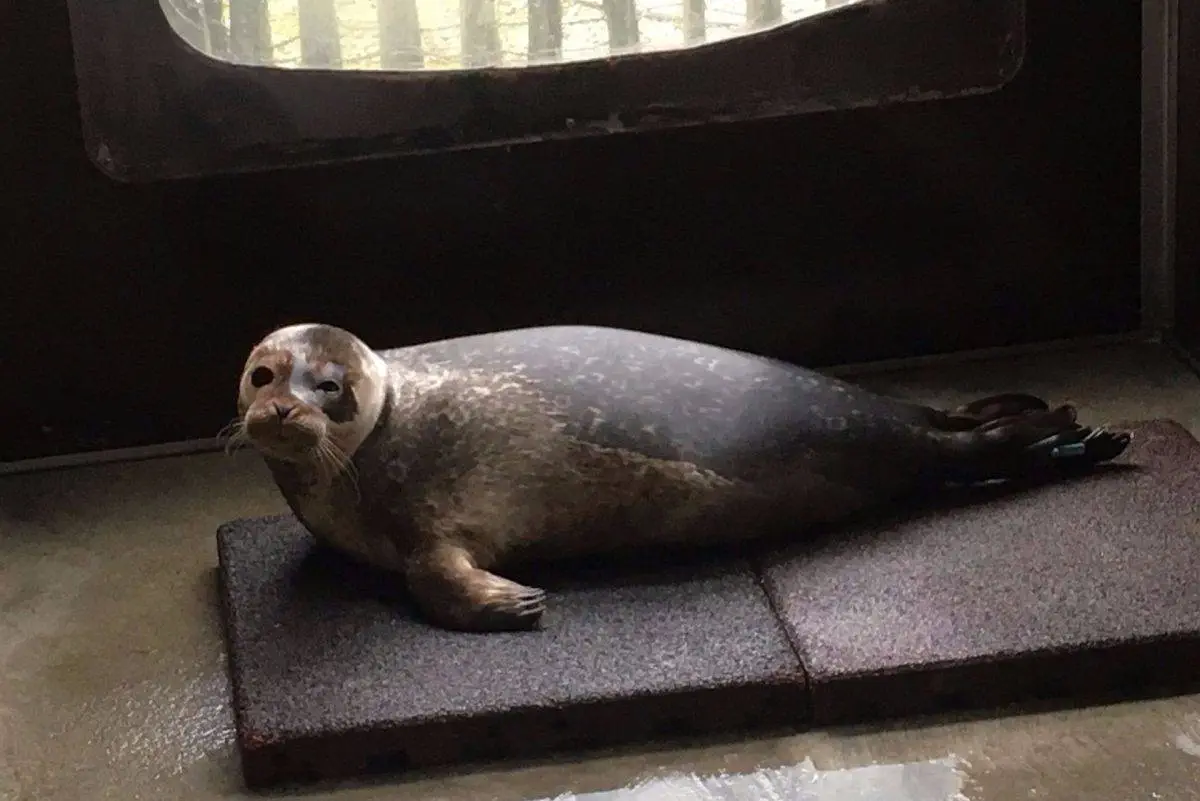 Address: Courtown Harbour, Gorey, Co. Wexford, Ireland
Phone: 053 942 4980 (seal rescue calls: 087 1955 393)
Email: info@sealrescueireland.org
Hours: Summer (June – September):  10 am – 6 pm daily; Winter (October – May): 10 am – 5 pm daily

---
Other Things to Do in Courtown Ireland
There are a lot of County Wexford points of interest, but I will keep it to Courtown activities here. The Courtown Harbour is the focal point of town and shops, restaurants, and hotels run up the street from there. If you want to get beyond Courtown, here's a whole list of things you can't miss on Ireland's southeast coast.
Courtown Beach
The beach is north of the harbor and is a great place to hang out, swim, or walk. It ties into a bunch of trails in the Courtown Woods.
Courtown Sea Safari
If you didn't get enough seal time at Seal Rescue Ireland, you can go seal watching. Or just check out Courtown and the coast from a Courtown Sea Safari boat.
Forest Park Leisure Centre or Courtown Leisure Centre
This Courtown adventure centre is home to the Courtown swimming pool, 25 meter swimming pool with a 65 meter waterslide and a water playground. Courtown Adventure Leisure Centre has a state of the art gymnasium, sauna and steam room. Forest Park Courtown is open year round and offers fitness classes and swimming lessons to the public.
Gravity Extreme Adventure at Courtown Adventure Centre has a high ropes course, low ropes course, laser tag, orienteering course, archery, and a junior adventure playground.
Pirates Cove
Pirates Cove Courtown is a family attraction center in Courtown Harbor. At Pirate Cove golf is one of the activities. There's bowling, an arcade, a soft play area, bumper boats, bubble rollers, an aqua zone and more. They are open every day, but some activities are seasonal.
---
---
TravelingMel.com is a participant in the Amazon Services LLC Associates Program, an affiliate advertising program designed to provide a means for sites to earn advertising fees by advertising and linking to amazon.com, amazon.co.uk, amazon.ca. Amazon and the Amazon logo are trademarks of Amazon.com, Inc. or its affiliates. Read our full Disclosure Policy for more.