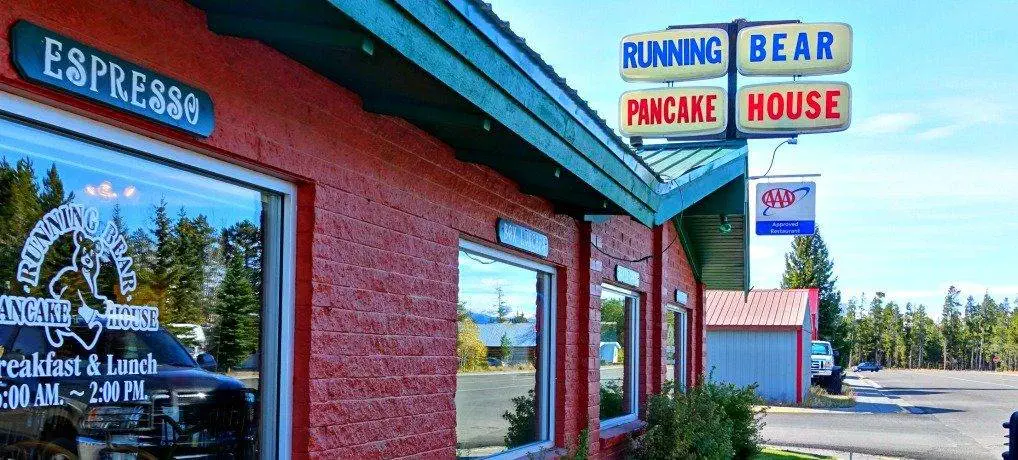 In the early 1960s two schoolteachers from California vacationed in West Yellowstone. Like many people who explore the conifer-filled mountains, beautiful Hebgen Lake, and stunning Yellowstone National Park, the Thompsons wanted to stay. In 1964, they bought property where the Running Bear Pancake House now sits, and built a house.
During their summer vacations, the Thompsons came to West Yellowstone and built a restaurant onto the living quarters. At the end of the workday, the construction crew stored their tools in a small building behind the build site. One morning they came to work, opened the storage building door, and were surprised to find a black bear locked inside. As soon as they opened the door wide enough, the bear came running out and into the woods, hence the name for the Running Bear Pancake House.
Today Running Bear is owned by Kelly and Matthew Burden.  The Burtons bought the restaurant from Kelly's parents, Mike and Dixie Klostrich, who ran it from 1980 until 2012.
"We forced them into retirement," Kelly joked.
The Running Bear is open daily, year-round, from 6 a.m. to 2 p.m. serving breakfast and lunch.
"We are the only place in town that serves breakfast all day," Kelly said.
Matt said one of the breakfast favorites in the Grizzly Bear —chicken-fried steak covered with homemade sausage gravy, along with two eggs, hashbrowns and toast with jelly. It's enough to get the hungriest tourist through a morning of geyser gazing in Yellowstone National Park.
Another breakfast favorite is the Cinnamon Roll Cakes. Two fluffy buttermilk pancakes are filled with cinnamon roll filling and topped with frosting.
Lunch favorites include the Walleye Tacos consisting of flour tortillas filled with beer-battered walleye, crisp, shredded cabbage and a creamy jalapeno sauce, and The Geyser Delight, bacon, cheddar cheese, lettuce, tomato, and mayonnaise on a hogie bun.
The espresso drinks Kelly creates are almost meals in themselves. The popular "Jailhouse Rock Latte" is made with steamed milk, peanut butter, banana, bacon, and two espresso shots. The "Iced Grasshopper Latte" has milk, creme de menthe, two espresso shots and whipped cream.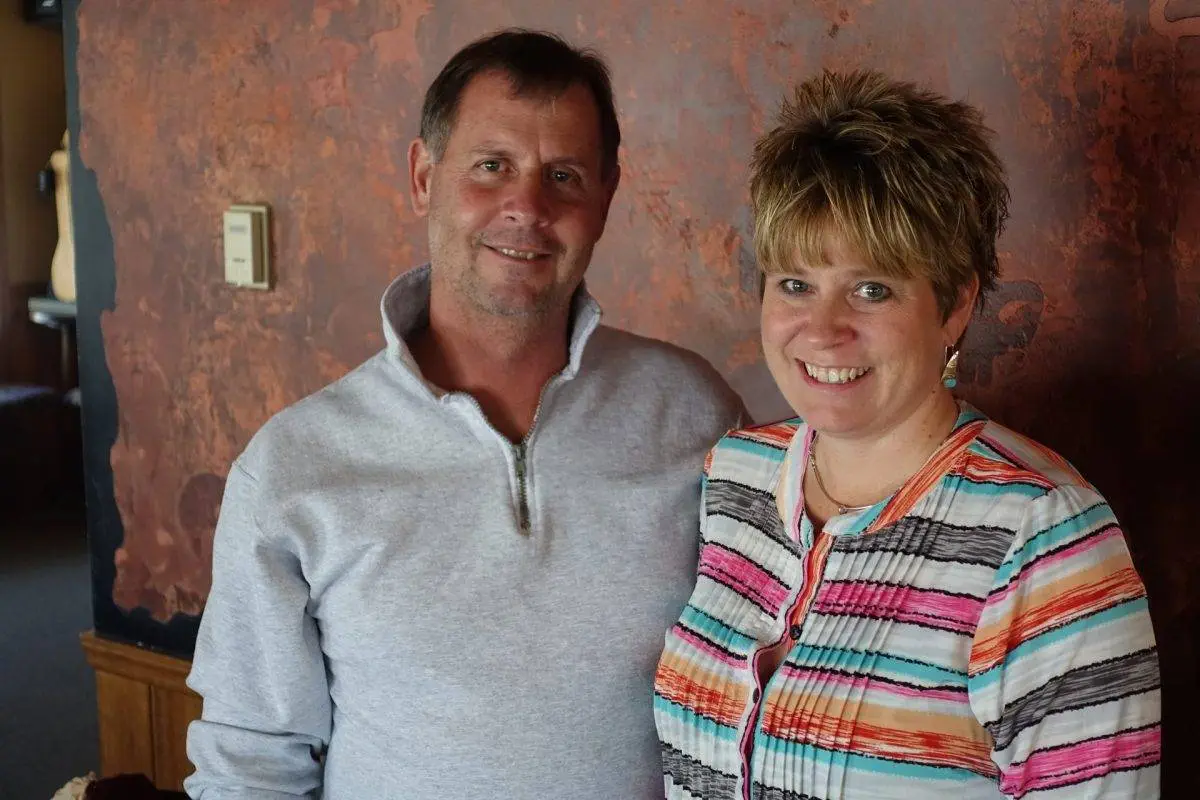 Matt comes in at 3 a.m. most mornings to bake. The cinnamon rolls, muffins, quick breads, including apple-pecan, banana-walnut, and zucchini-pecan, and other baked goods are homemade. Kelly is the face of the Running Bear.
"I'm out front, Matt's in the back," Kelly said. "We make a good team."
They also make a good breakfast, lunch, box lunch and espresso drinks. In summer, the restaurant is filled with tourists fueling up for their vacation activities. Once the summer visitors start to wane, the locals come back.
"We get a lot of repeat business from West Yellowstone, Island Park, Bozeman and Livingston," Matt said.
"I really enjoy getting to meet people," said Kelly.
Consistency is what Kelly feels keep the Running Bear open after all these years and filled with customers. The food is good and consistent and the core group of people who work here has been with us for quite awhile."
Kelly's parents, the Klostrichs, may have officially retired, but they can't stay away. They play barista and make Snickers Mochas, greet customers and bus tables.
"Dad is always out talking to people," Kelly said.
"We'd like to keep the business in the family," Kelly said. She grew up in the Running Bear Pancake House, helping out with anything that needed doing. The Burton's son, now in college at the University of Montana still works for his parents in the summer. And their 13-year-old grandson works a couple hours a day wherever he is needed, making it a four-generation eatery.
"When I was younger I had no desire to run the restaurant," Kelly said.
But, when it was time for her parents to retire she knew it was a good opportunity. "And it's really fun," she added.
Running Bear Pancake House
Address: 538 Madison Ave., West Yellowstone
Phone: 406-646-7703
This story first appeared in the Great Falls Tribune.