Rodeo is the iconic sport of the West. Buckin' broncos, cowboys roping calves, horses weaving in and out of barrels—they all spring to mind when one thinks about the Old West. Rodeo is uniquely American, and specifically, western Americana. Rooted in our country's past, but thoroughly modern, rodeo links western traditions with contemporary sport.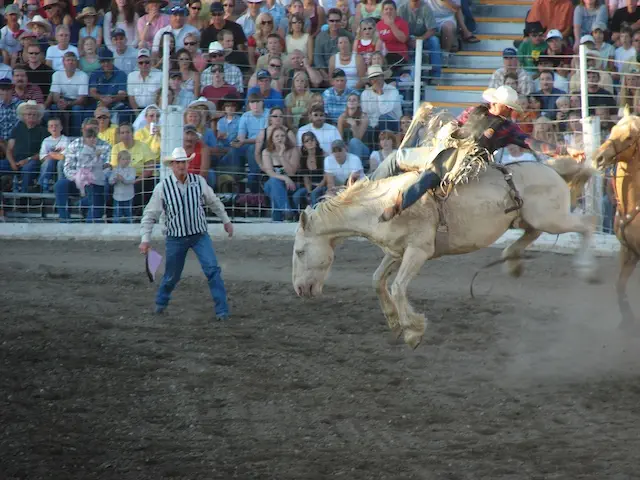 Buckin' Bronco at the Livingston Roundup Rodeo
Rodeo has a rich history in the west, but it actually originated with Spanish vaqueros or cowboys. These horse-riding cattle wranglers passed their traditions to the new Americans learning to make a living by raising and selling livestock.
The word "rodeo" comes from the Spanish verb rodear, "to surround" or "to round up". Spanish vaqueros influenced American cowboys in the 1700s both with the term and the idea for rodeo. Like bear cubs play-pouncing on each other to develop their skills for real hunts later in life, those rodeo-like contests allowed cowboys to practice their skills and prove their prowess.
The cowboy competition sprang out of ranch chores such as roping, horse breaking, herding and branding, and evolved into tie-down roping, team roping, bronc riding and the other events well known from modern day rodeos.
In the early days, ranchers would organize long cattle drives to get their animals to stockyards in places like Kansas City where they could be slaughtered and shipped out to the rest of the country. After the long trail ride, cowboys would often gather for competition, to show off, and to blow off some steam by wrestling steers and roping calves.
With the expansion of the railroad and the invention of barbed wire, long trail rides—and the cowboys themselves—were no longer needed the way they once were. Many cowboys turned to Wild West Shows that were burgeoning in popularity. Partly theater and partly competition, these shows lent the pageantry seen in modern rodeo.
Of the Wild West Shows, Buffalo Bill Cody's was, and is, the best known. Out of work cowboys performed feats of showmanship, sharp shooting, racing and rodeo-style events. Native Americans staged "Indian Races", recreating famous battles such as the Battle of Little Big Horn. Buffalo Bill's show featured bears, bison, Conestoga wagons, real cowboys, and Native American chiefs and warriors in a show that would now be considered decidedly un-politically correct, but at the time offered a glimpse of what was already becoming America's past.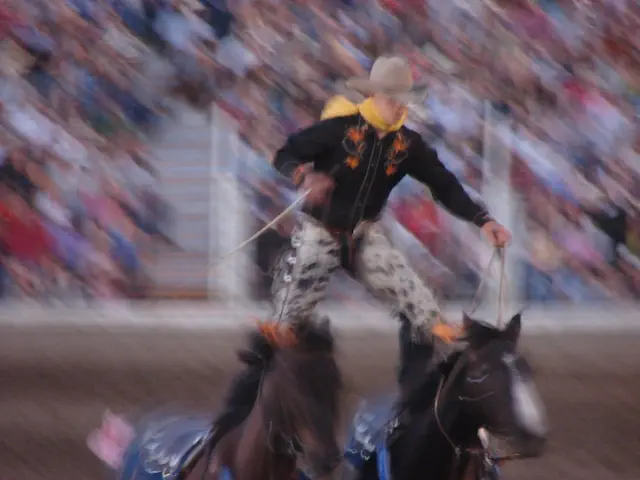 Trick Riding at the Livingston Roundup Rodeo
When the Wild West Shows became too expensive to produce, the theater aspect was dropped and the competition part was left to become contemporary rodeo. Today, Cowboys and cowgirls travel the country, sometime surviving exclusively on rodeo winnings, or purses.
If a cowboy is good—and most of the money goes to cowboys, women participate almost exclusively in barrel racing—he can bring home a fair chunk of change. The rodeo circuit climaxes over the fourth of July weekend—known as Cowboy Christmas because of the large number of rodeos taking place and therefore the large amount of money that can be won—and concludes with the Wrangler National Finals Rodeo in December in Las Vegas.
If the cowboy isn't winning, he is just getting beat up by a big animal that is not interested in being ridden. Life in the winning circle may be grand, but many rodeo participants drive from rodeo to rodeo, sleeping in their truck and hoping to make it big before their bodies give out.
For both winners and everyone else, rodeo consists of two types of events: timed and rough stock. As the name implies, in the timed events, judges use stop watches to determine who can be the fastest at skills such as calf roping, steer roping, steer wrestling and the like. In rough stock events (bull riding, bareback bronc riding) athletes try to stay on top of a bucking animal as long as possible.
It's not just skill or strength that wins the contest, there is also a modicum of luck. Before the rodeo all the contestants randomly draws the animal they will be competing against. Athletes try to edge their luck by invoking an array of superstitions. Among the many rituals used to entice Lady Luck into a participant's corner are: wear different colored socks during competition, eat a hot dog before the event and never, never set your cowboy hat on a bed.
While the casual rodeo spectator may not notice the nuances of some of the events, the pageantry always stands out. Rodeo queens gallop around the arena, pearl buttons reflecting back the lights; rodeo clowns—both amusing and essential for safety—leap and bound, trying to distract an angry bull; and announcers make bad jokes over an even worse PA system.
Rodeos today are often part of a bigger community celebration. The Livingston Roundup includes a hoedown in the local park, a parade that seems to have almost as many participants as there are residents, live music, fireworks, and of course, the rodeo itself.
Spectators can take a living-history tour of Wild Horse Gulch, or visit with chuck wagon crews at the "Daddy of 'em all"—Cheyenne's Frontier Days. Originating in 1897, Frontier Days is now a full-fledged spectacle. Big name bands delight crowds every night during this ten-day event and during the day a carnival, an art show, and other non-rodeo activities keep the crowds busy.
Nostalgia for the mythic west lives on in rodeos, although much has changed since the early days of ranch chores turned informal competition. Still, today's rodeo circuit is rich in old-fashioned Americana and good clean fun that can make or break a hero for the day.
Here are some regional favorites to check out this year. (THESE ARE 2007 DATES, CALL FOR CURRENT DATES)
IDAHO
Mackay Rodeo
Billed as "Idaho's Wildest Rodeo", the Mackay Rodeo starts off with a parade Saturday at noon and proceeds with and open rodeo, including bull riding, timed and stock events and half-time entertainment. It all wraps up with a concert Sunday afternoon.
June 16 and 17
Mackay Rodeo Grounds
2:00 p.m. Tickets are $8 for adults, $4 for children 6-12
(208) 588-3027
Hailey Days of the Old West
More than just a rodeo, the Old West Days also include a parade, shootout, BBQ, antique market, farmer's market, garden tours, flapjack breakfast and fireworks. The rodeo was named "Rodeo of the Year" by the Intermountain Professional Rodeo Association two years in a row.
July 2-4
Hailey Rodeo Arena
7:00 p.m.
(208) 788-4235
Lewiston Roundup
The Lewiston rodeo has kept up the tradition of "no frills, no fancy stuff" since 1935. Even so, this year's event features "Tough Enough to Wear Pink Night" (to raise awareness and funds for breast cancer), "Xtreme Bulls", a Roundup Parade and dance.
September 5-9
Lewiston Roundup Association
Thursday 6:29 p.m., Friday and Saturday 6:59 p.m., Sunday 1:29 p.m. Tickets vary depending on day and event.
(208) 746-6324
MONTANA
Big Timber Rodeo
Events include the traditional calf roping, steer wrestling, bronc and bull riding, and barrel racing. Children 10-13 can try youth miniature bull riding right alongside the big boys and everyone can watch the parade Saturday at 2:00.
June 29 and 30
County Fairgrounds
Friday 7 p.m., Saturday 6 p.m. Tickets are $7 for adults, $4 for children 6-12
(406) 932-6228
Ennis Rodeo
July 3 and 4
Part of the 4th of July celebrations, the Ennis Rodeo consists of standard rodeo events and is preceded by a parade. The rodeo attracts top cowboys, cowgirls and stock.
Ennis Rodeo Grounds
Tuesday 8 p.m., Wednesday 2 p.m. Tickets are $10 reserved, $8 general admission and children 5 and under are free.
(406) 682-4230
Livingston Roundup Rodeo
10,000 spectators flock to Livingston each year to watch cowboys and cowgirls compete for the 10th highest purse in the country over the Independence Day holiday. A hoedown on June 30 and a parade on July 2 round out the events.
July 2- 4
Park County Fairgrounds
8 p.m. Tickets are $21 for reserved seats, $13 for general admission, children under 3 are free.
(406) 222-7277
Wild West Yellowstone Rodeo
The Wild West Yellowstone Rodeo series started in 2000 and has been gaining popularity ever since. There are several rodeos throughout the summer, so it is easy to catch one coming or going from Yellowstone National Park.
June 15-16, 22-23, 29-July 1
July 7-8, 12-14, 19-21, 26-28
Wild West Rodeo Park
8:00 p.m. General tickets are $10 for adults, $5 for children.
(406) 560-6913
WYOMING
Cheyenne Frontier Days
Cheyenne Frontier Days are the "Daddy of 'em all"—the world's largest outdoor rodeo and western celebration. In addition to ten days and nights of heart-pounding rodeo action, the Frontier Days boast entertainment, a carnival, a colorful Indian Village, and a whole lot more…
July 21-29
Frontier Park
1 p.m. Tickets are $11-$25
(800) 22-RODEO
Cody Nite Rodeo
This nightly rodeo has taken place for 55 years and earned Cody the name "Rodeo Capital of the World". Even the kids can get in the action in the calf scramble.
Every summer night except June 30 and July 1-4
Stampede Park
8 p.m. Tickets are $17 for adults, $8 for children 7-12
(307) 587-5155
Cody Stampede Rodeo
Contestants often call the Stampede "Cowboy Christmas" because of the big purses and fine stock.
July 1-4
Stampede Park
Sunday-Tuesday 8 p.m., Wednesday 5 p.m. Tickets are $20, children 2 and under are free.
(307) 587-5155
Jackson Rodeo
A smaller rodeo, Jackson maintains it's local, "anyone who has the gumption can do it" attitude that makes it representative of both the community and the original intention of the sport.
Jackson Fairgrounds
May 26-September 1. Wednesdays and Saturdays 8 p.m. Tickets are $12 for adults and $8 for children 4-12.
This story originally appeared in the summer 2007 issue of Big Sky Journal.