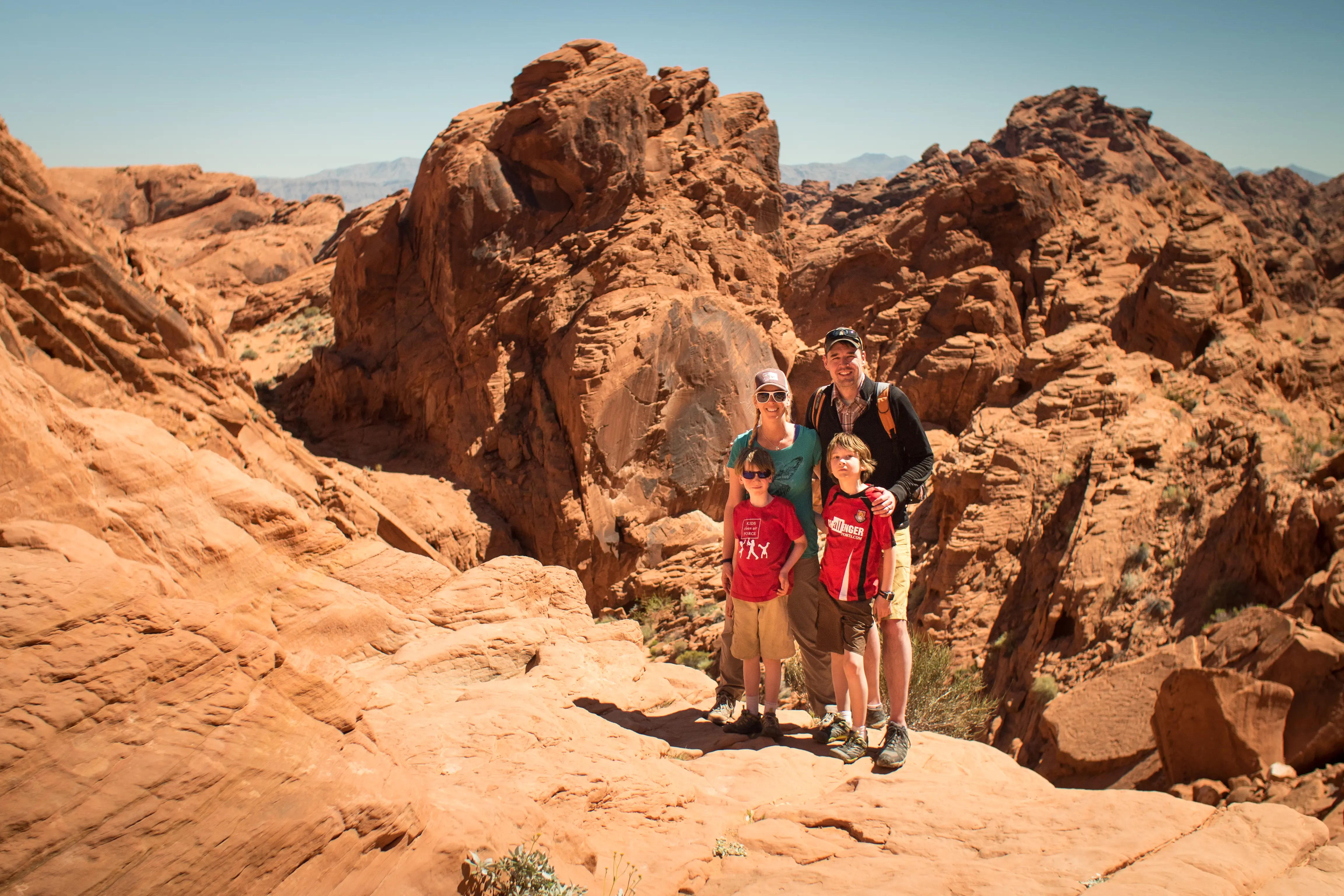 Planning Your Valley of Fire Trip
Valley of Fire State Park is Nevada's fist state park. As we discovered while camping there in March, it's packed with goodness. From striped red and white rock formations, to spring wildflower blooms, to sweeping vistas and entertaining trails, this little park kept our interest for four days. And we could have stayed longer. Here's what you need to know for planning YOUR Valley of Fire Nevada trip.
Our boys loved climbing on the rocks around the campsite, along the trail, and anywhere else we paused for more than five seconds. In fact, if we didn't do anything other than let the boys climb around, they would have been happy.
Henry was thrilled with the rocky surroundings that look so good in 360 video (keep scrolling for video).
The countless wildflowers of the Mojave desert kept my attention: beavertail, primrose, brittlebrush, phlox, phaecelia, wild rhubarb, and many others. I could wander the trails all day looking at flowers.
Put all that together –climbable rocks, scenic views, and wildflowers—and you have a perfect camping trip.
Keep reading for all the info you need to plan your own trip. Don't miss the comment section where I tell you the best spot for sunrise photos and where you can mountain bike in Valley of Fire.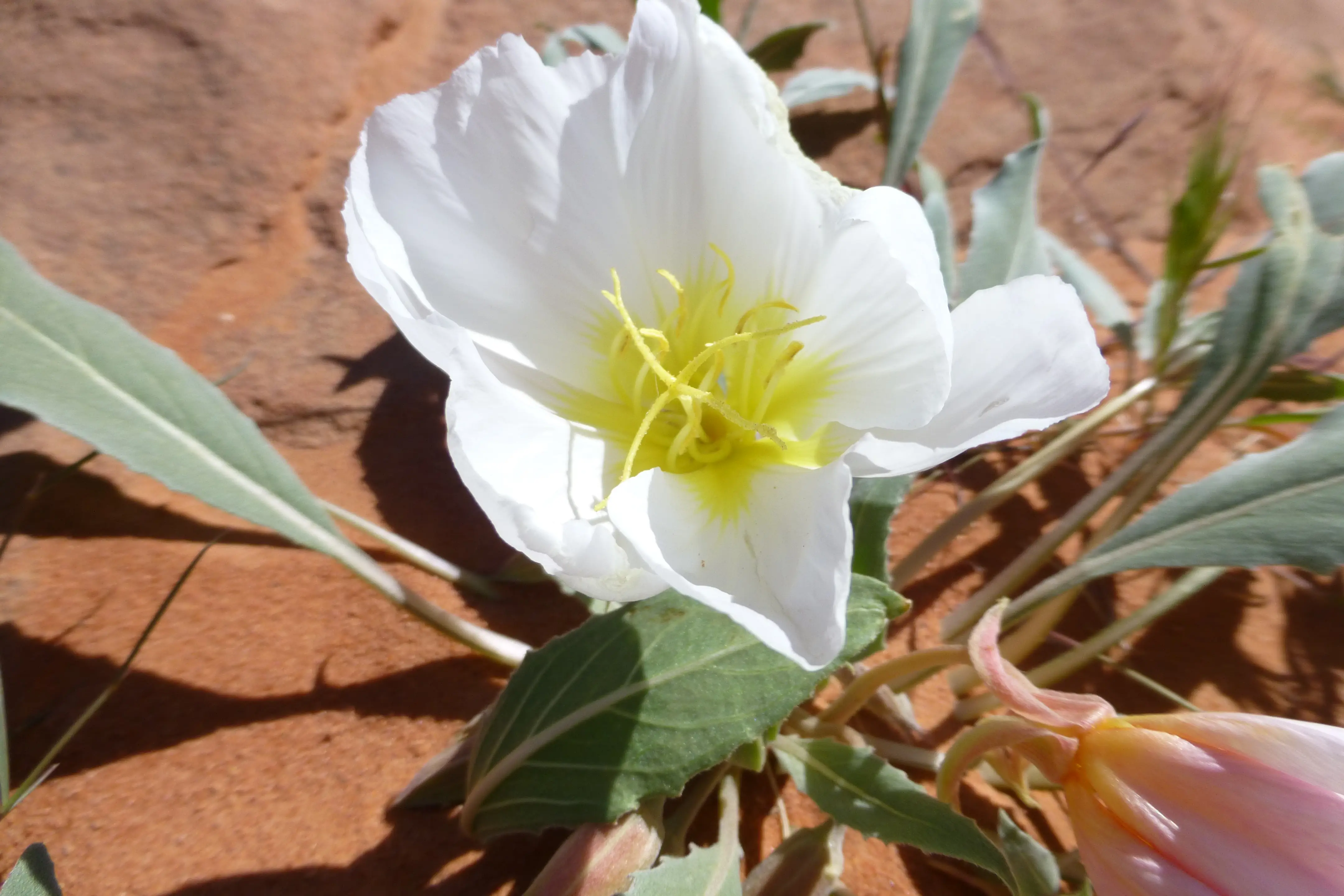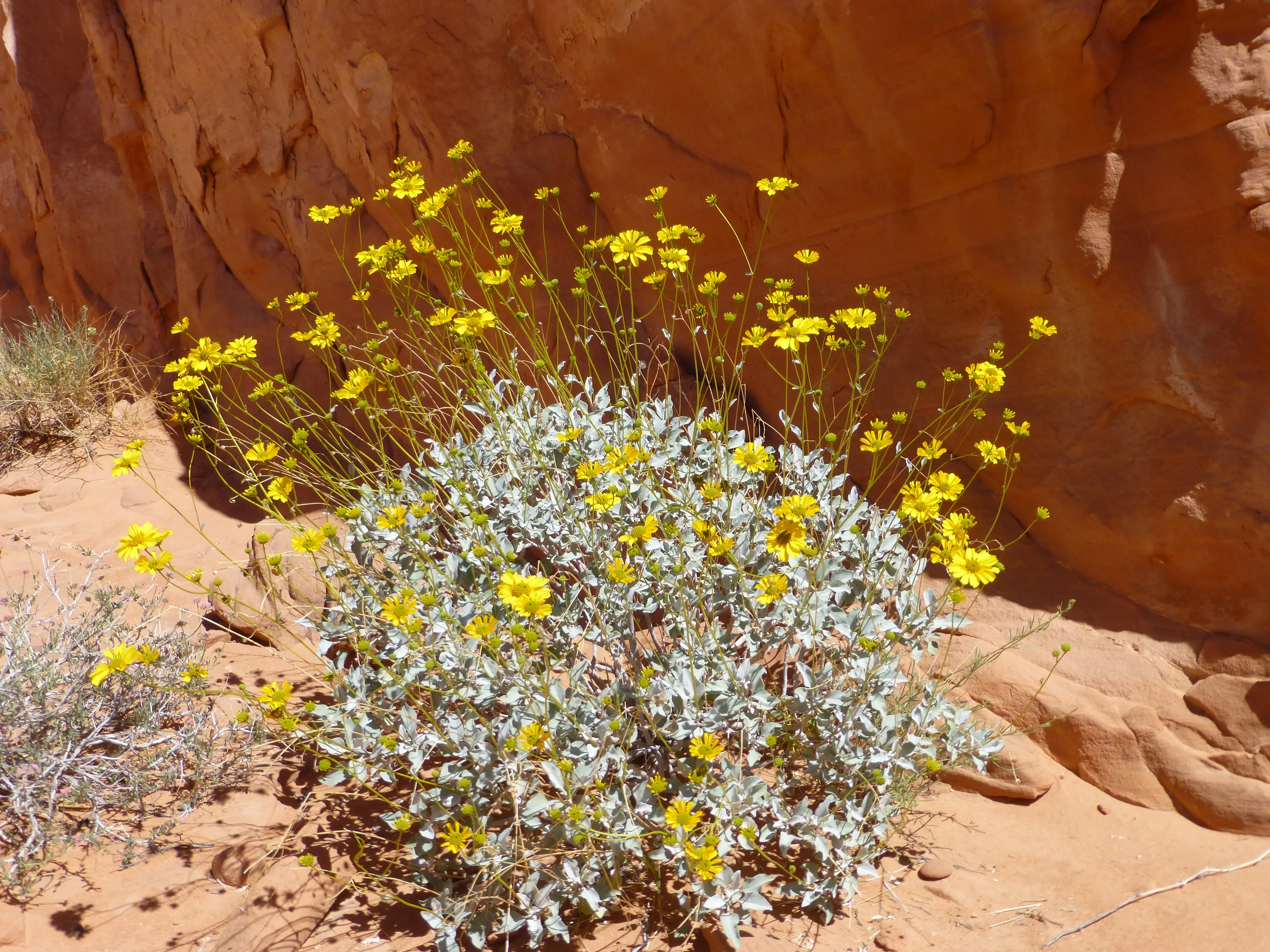 When to Visit Valley of Fire
Nevada State Parks says: Winters are mild with temperatures ranging from freezing to 75 degrees. Daily summer highs usually exceed 100 degrees F and may reach 120 degrees. Summer temperatures can vary widely from day to night. Average annual rainfall is four inches, coming in the form of light winter showers and summer thunderstorms. Spring and fall are the preferred seasons for visiting the Valley of Fire.
Ranger Walks and Talks
The Valley of Fire State Park rangers offer a variety of walks and talks, in addition to a very nice visitor center. When we were there they were out of Junior Ranger booklets, otherwise we would be all over that.
We did attend a wildflower walk, you know how I love wildflowers. From the visitor center, we caravanned to the west end of the park. The walk was short, in distance, but we saw a bunch of flowers. And Henry got stung by a nasty (but cute) caterpillar and ended up with huge welts for days. Watch out for those.
Luckily, I had myMojave Valley Wildflowers book and my Mojave Desert Wildflowersbook with me. When the ranger couldn't identify a few flowers, I quickly found them in my handy books. The lesson here? Always carry a plant book. Two, if possible. These had all the Valley of Fire wildflowers we saw.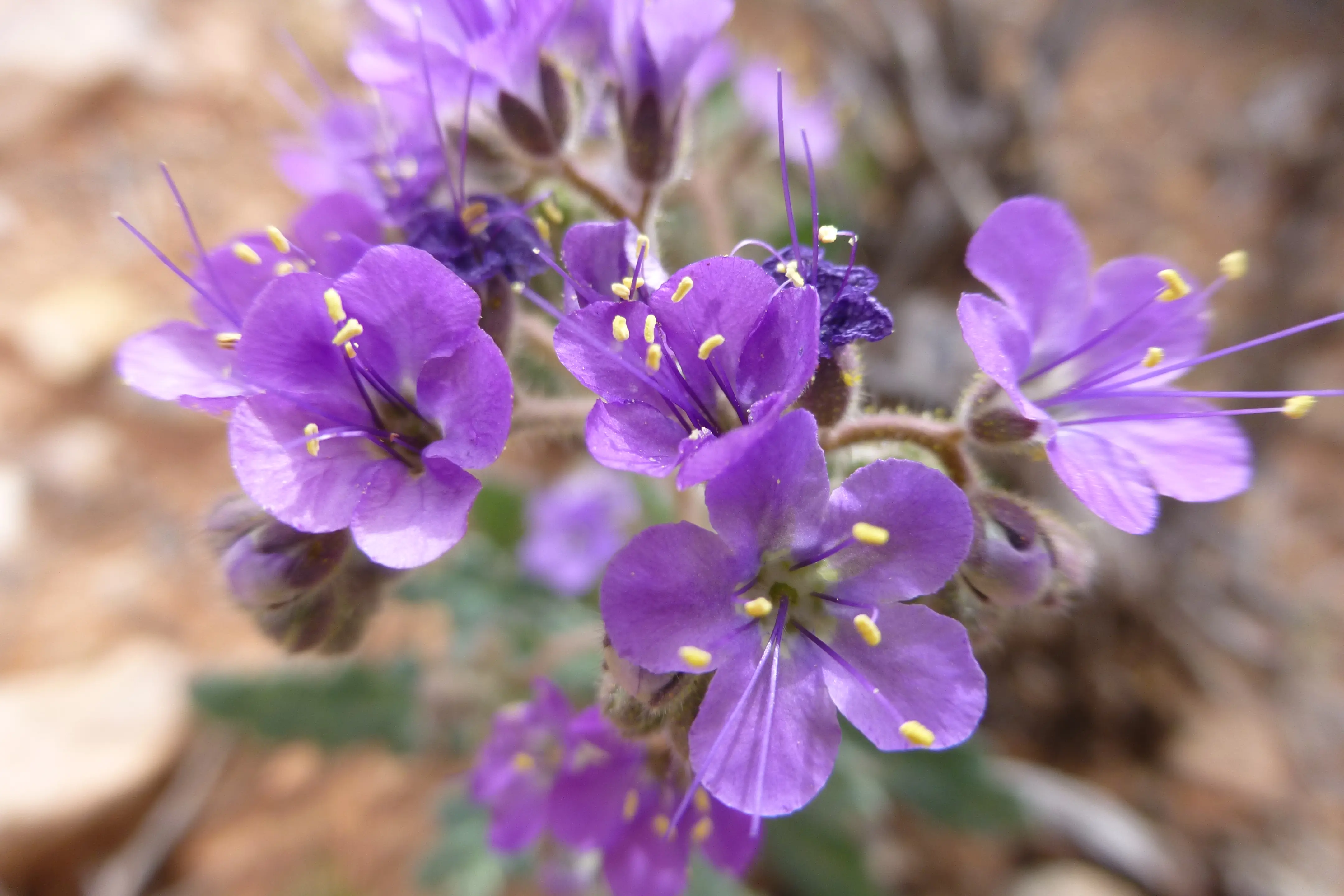 Valley of Fire Trails
Our main diversion was Valley of Fire hiking. There are a bunch of short trails with high payoff—panoramic vistas, meters and meters of striped rock, slot canyons, and petroglyphs. We took our time on each trail, looked around, climbed some stuff, and ate a ridiculous number of snacks.
The trails get crowded with all the day-trippers from nearby Las Vegas, but we found getting to the trailhead early(ish) paid off.
If you plan of hiking Valley of Fire, you may want to grab one of these books: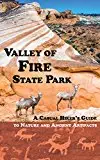 Read on for six Valley of Fire State Park hiking trails.
Rainbow Vista
1.0 miles (round trip)
Valley of Fire State Park hiking is gorgeous no matter which trail you pick. Rainbow Vista is a favorite photo point with a panoramic view of multi-colored sandstone.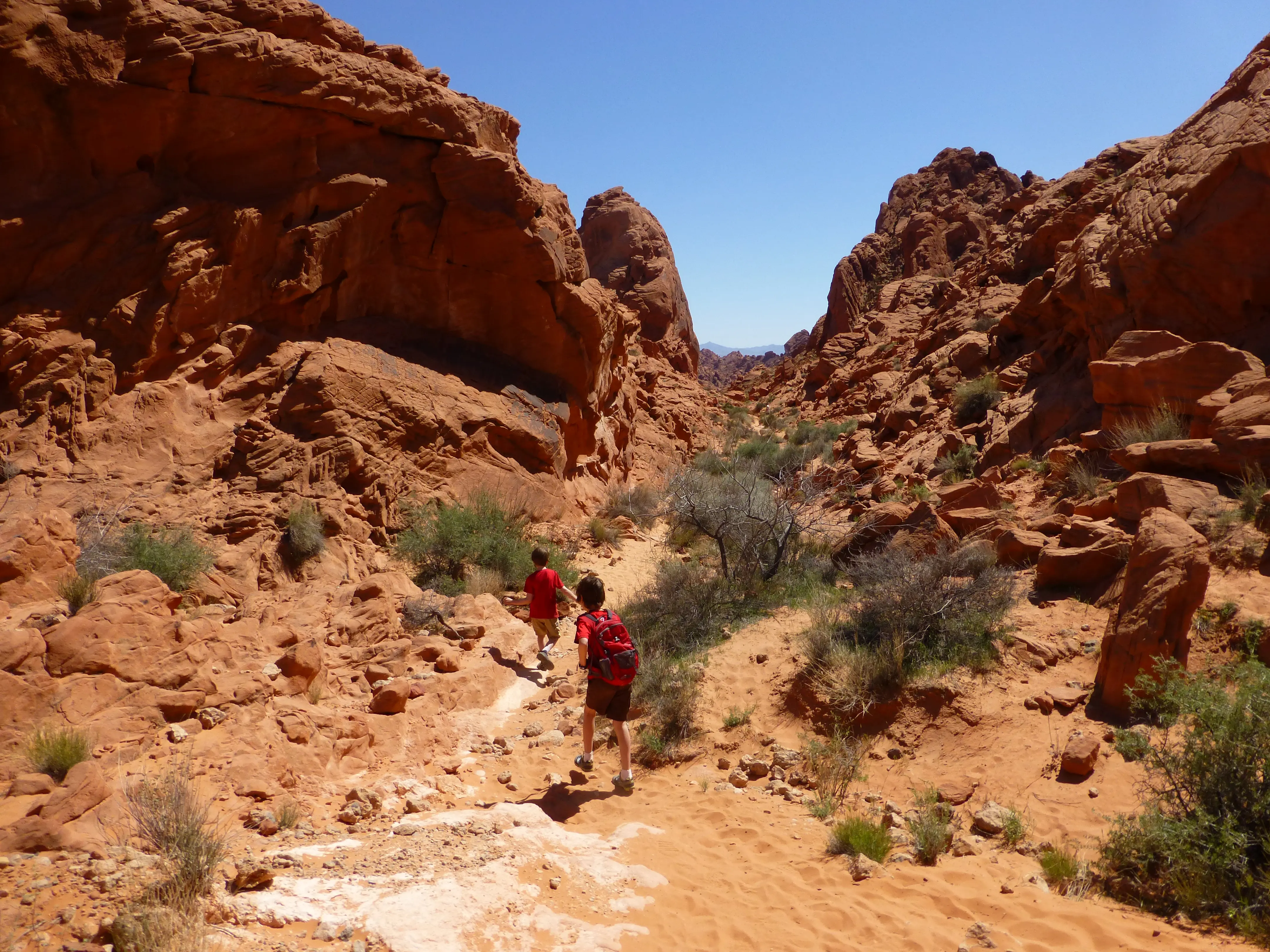 Mouse's Tank
0.75 miles (round trip)
The trail passes a lot of prehistoric petroglyphs on both sides of the aptly named Petroglyph Canyon, including the crazy bat woman—my favorite. The Valley of Fire petroglyphs, both here and near our campsite were really spectacular. It ends at a tank (a natural basin where rainwater collects and stays for months). It was named for a renegade who used the area as a hideout in the 1890s. We climbed above the tank for a spectacular view.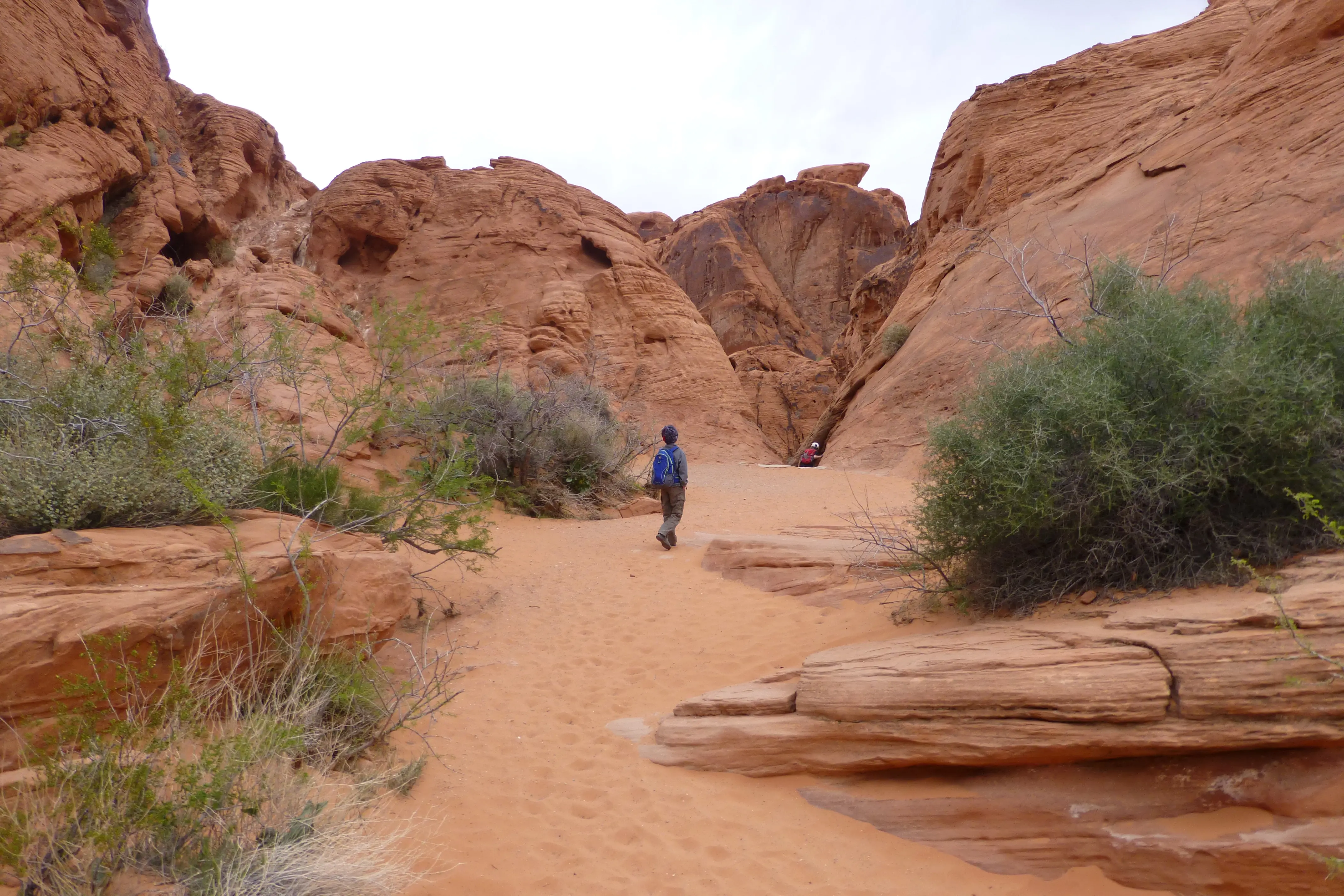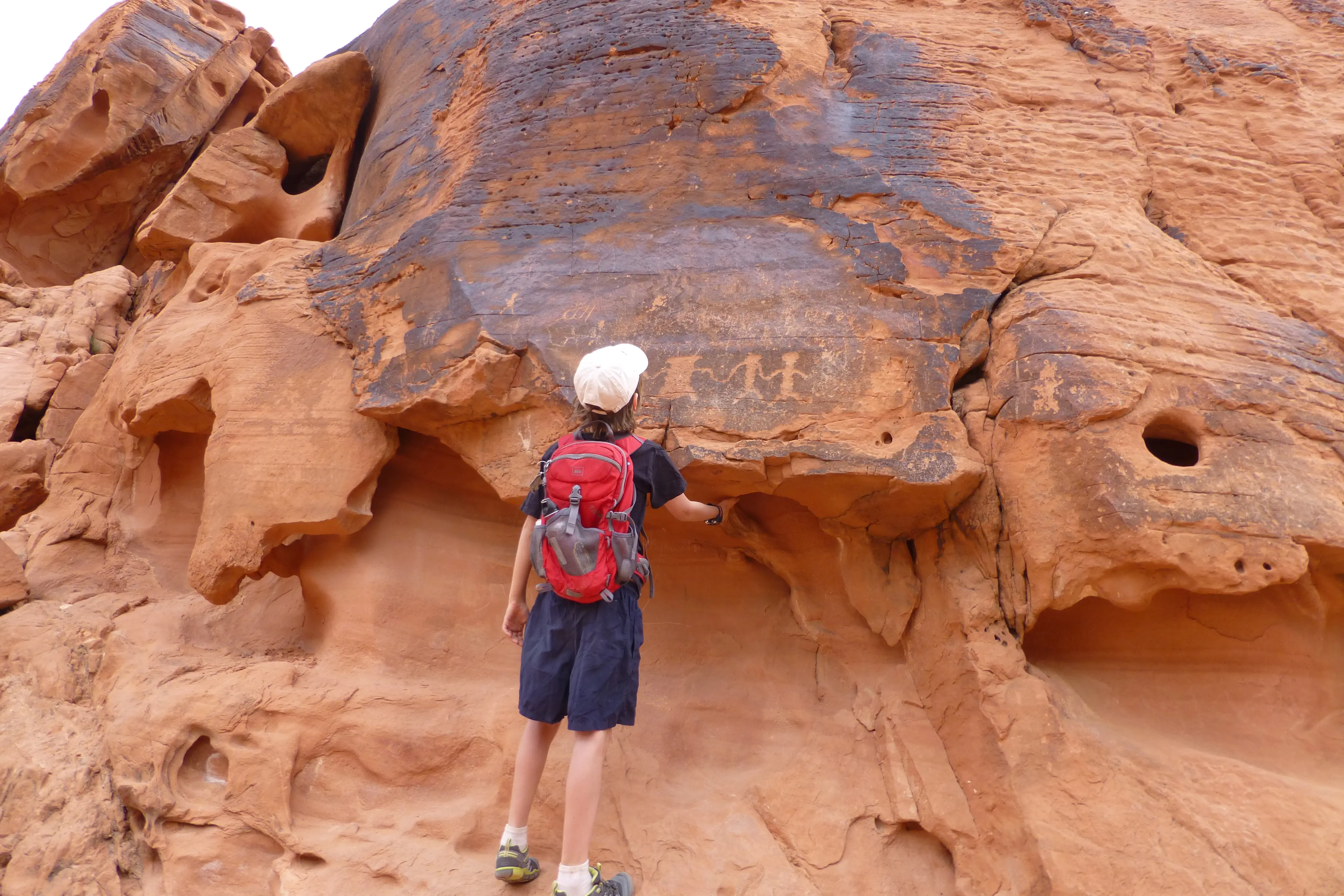 Fire Wave Valley of fire
1.25 miles (round trip)
If you've seen pictures of large spans of red and white striped rock, you've seen the Fire Wave, it's the most popular of the Valley of Fire State Park hikes for a reason. It is a jaw-dropping feature. It is a lovely walk and one you don't want to miss; just get there early to avoid the crowds and the heat. There is little to no shade.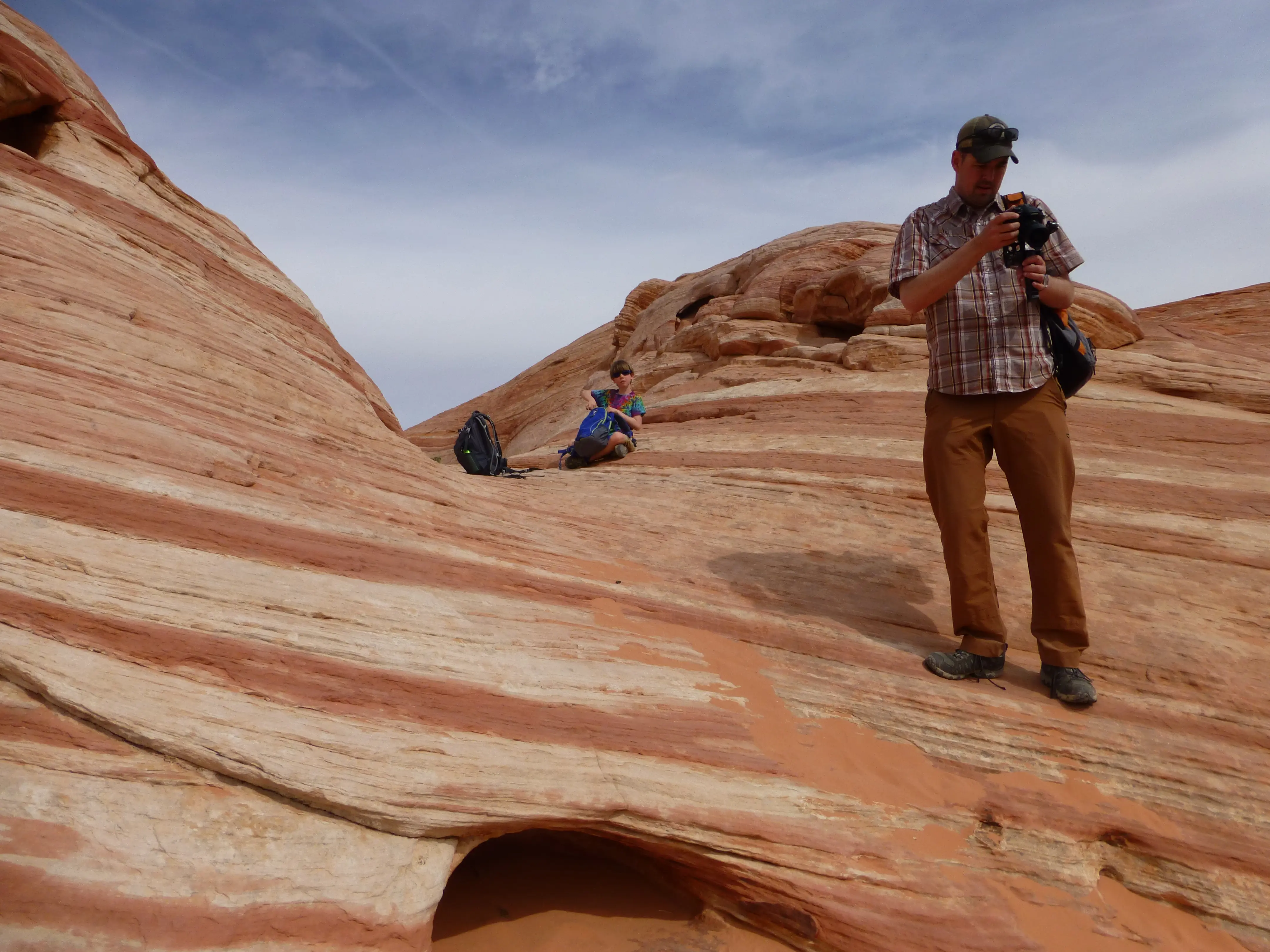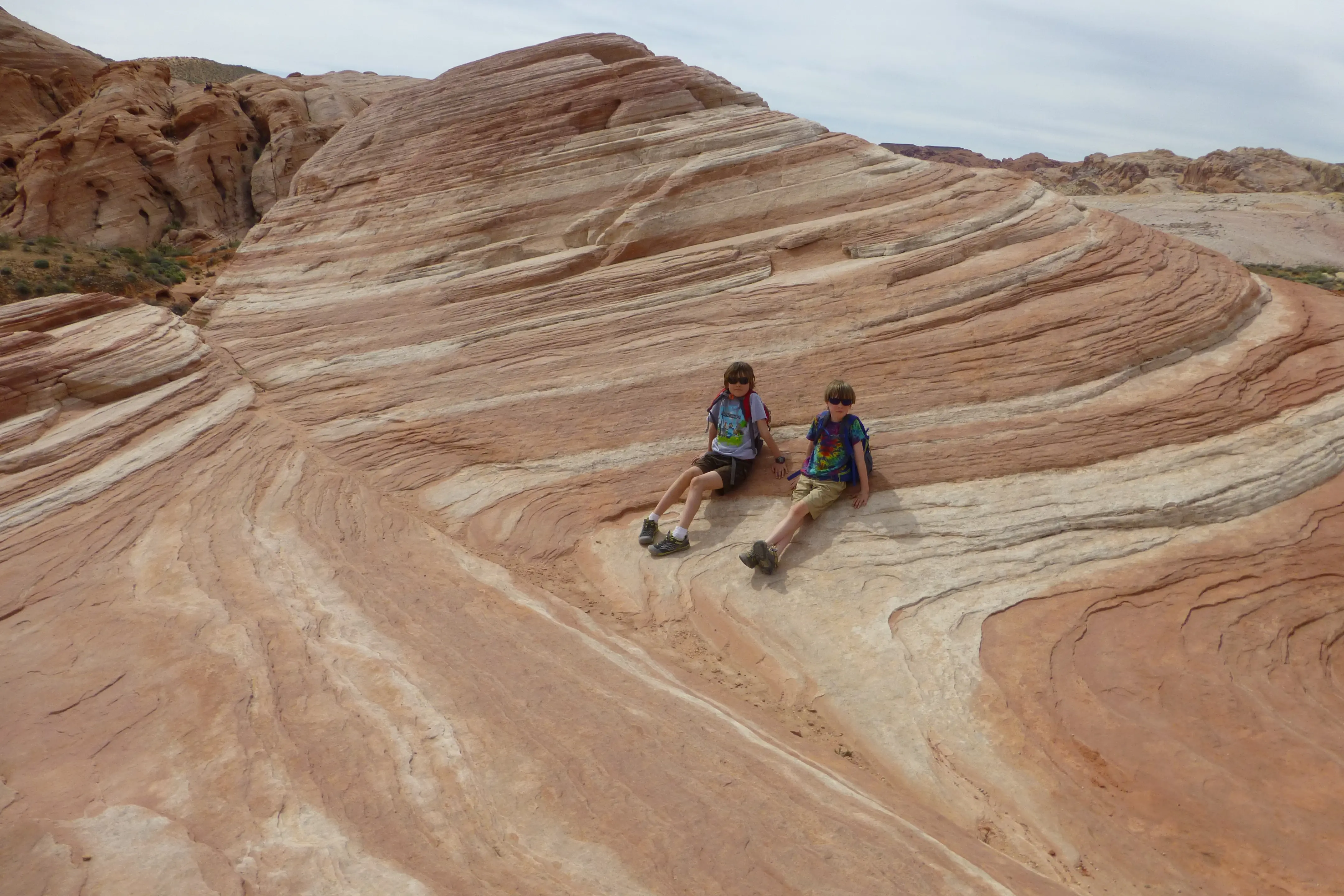 White Domes Loop/Prospect Trail Valley of fire
1.25 mile (loop)/4.5 miles (one-way)
This trail was really fun- it was one of our favorite Valley of Fire hikes. There was a lot to climb on, over, and around. There is a little slot canyon, which was gorgeous, and so many sandstone formations with brilliant contrasting colors. I had heard about the Valley of Fire slot canyon and was excited to see it.
About half way around the loop, the Valley of Fire Prospect Trail peels off and heads south. Our plan was for Finn and Henry to turn around and get the car, while Anders and I walked back to the campground. Anders and I quickly lost the trail and tried to find it by climbing to the top of the ridge. We knew the trail was on the other side of the trail, so it should have been easy to find. Only, it wasn't the top of the ridge we climbed to, it was the top of a side ridge. So we went wild and just walked across the rocks to the road, then flagged Henry down when they drove by. Anders dubbed it our "survival adventure."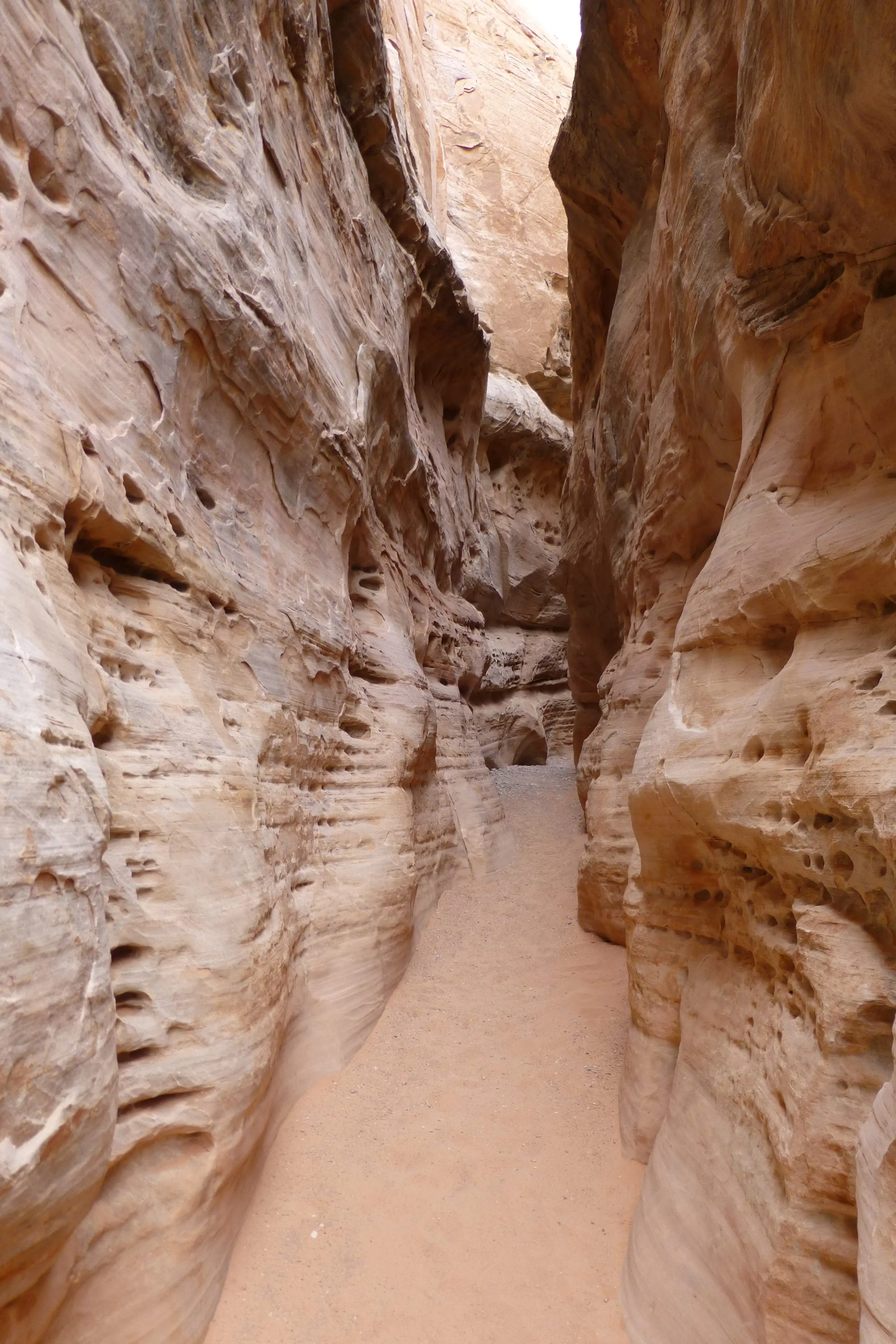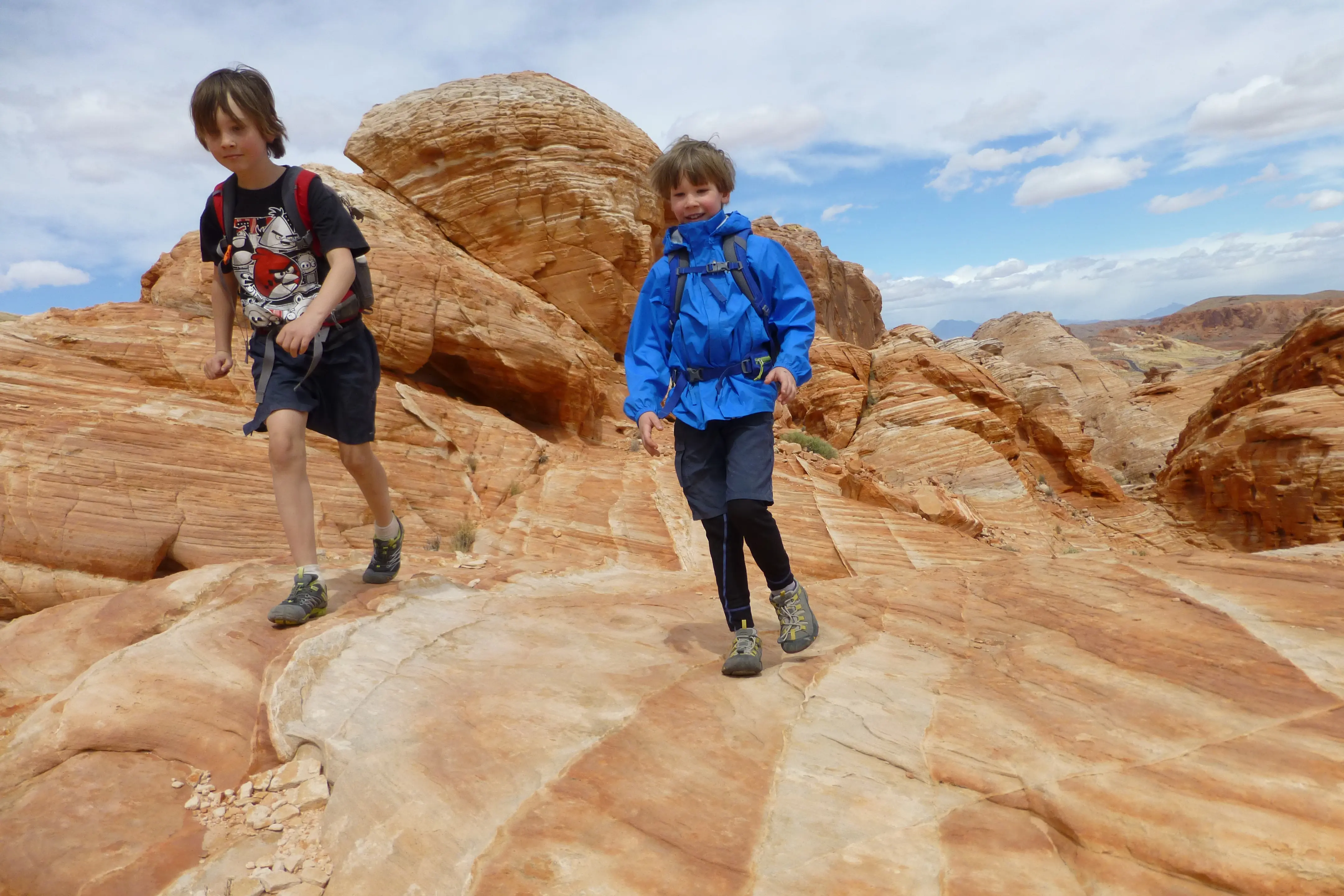 Check out three spots on the Prospect Trail in 360 video.
Elephant Rock
0.25 miles (round trip)
Edit: We heard this formation has collapsed!
You can see this formation from the road, but somehow we couldn't find it when driving past. Then we walked up to it, and it is so obvious. Duh. It's still pretty great to see it up close, though, so let's pretend that was the plan all along.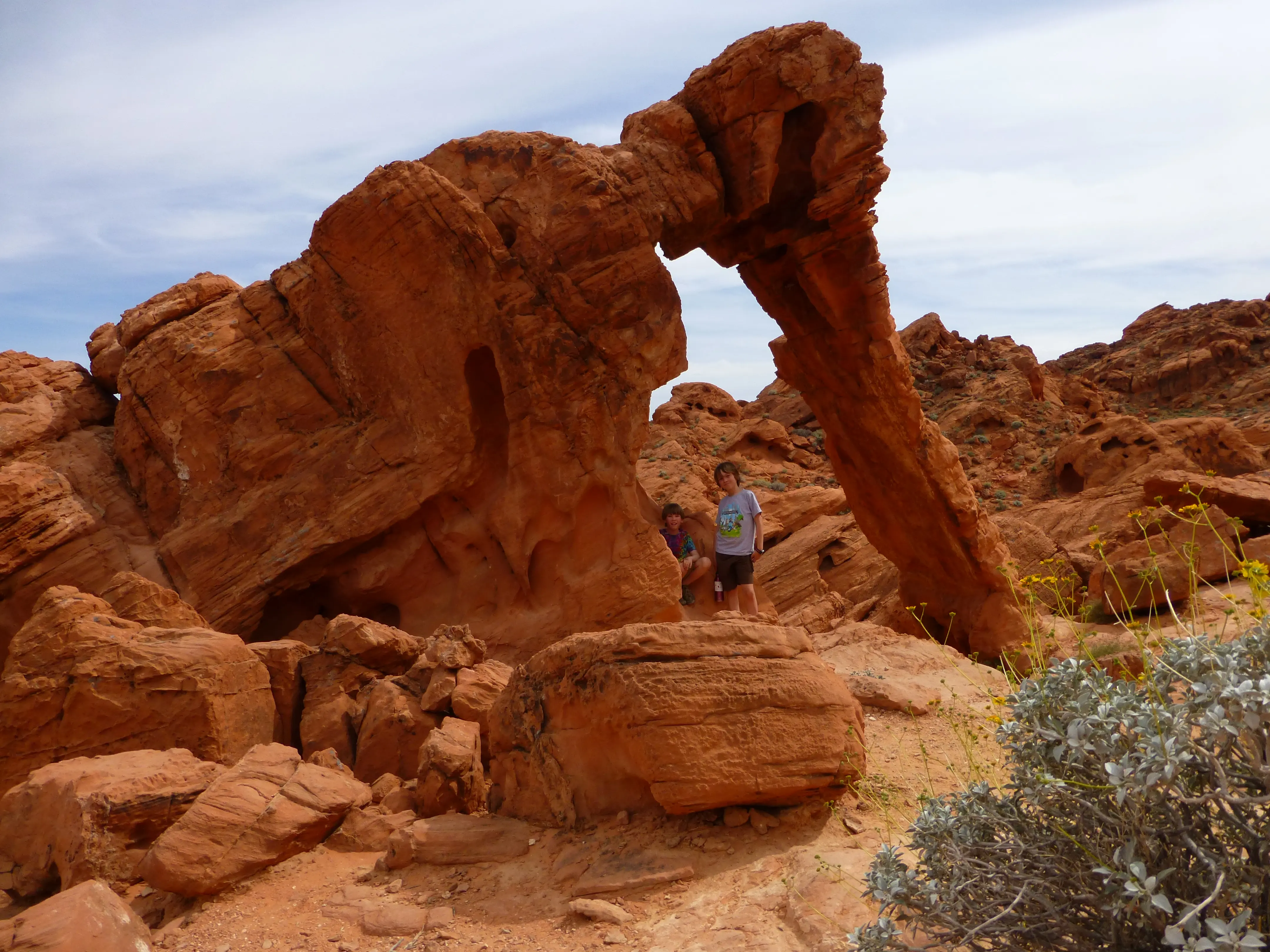 Pinnacles Loop
4.5 miles (loop)
I hiked this trail alone (yay!) and stopped a lot to look at flowers. I hiked it backwards, meaning I had to turn around to see the trail markers, but I think it was the better option. The trail starts in bona fide Mojave Desert. There doesn't look to be much going on from the road, but once I got in there, it was beautiful. The far end of the trail goes through the Pinnacles—a group of rock spires. This is yet another fun place to scramble around. The walk back, should you choose to walk in the direction I suggest, follows a wash back to the road, passing several other interesting rock formations. I think this would be a real trudge to walk uphill through the loose sand.
When you are in Valley of Fire, Las Vegas is nearby, so most trails have a lot of day trippers, but no one else was on this trail that I saw. All alone in the desert — perfect. That's one of the things I liked about this Valley of Fire hike.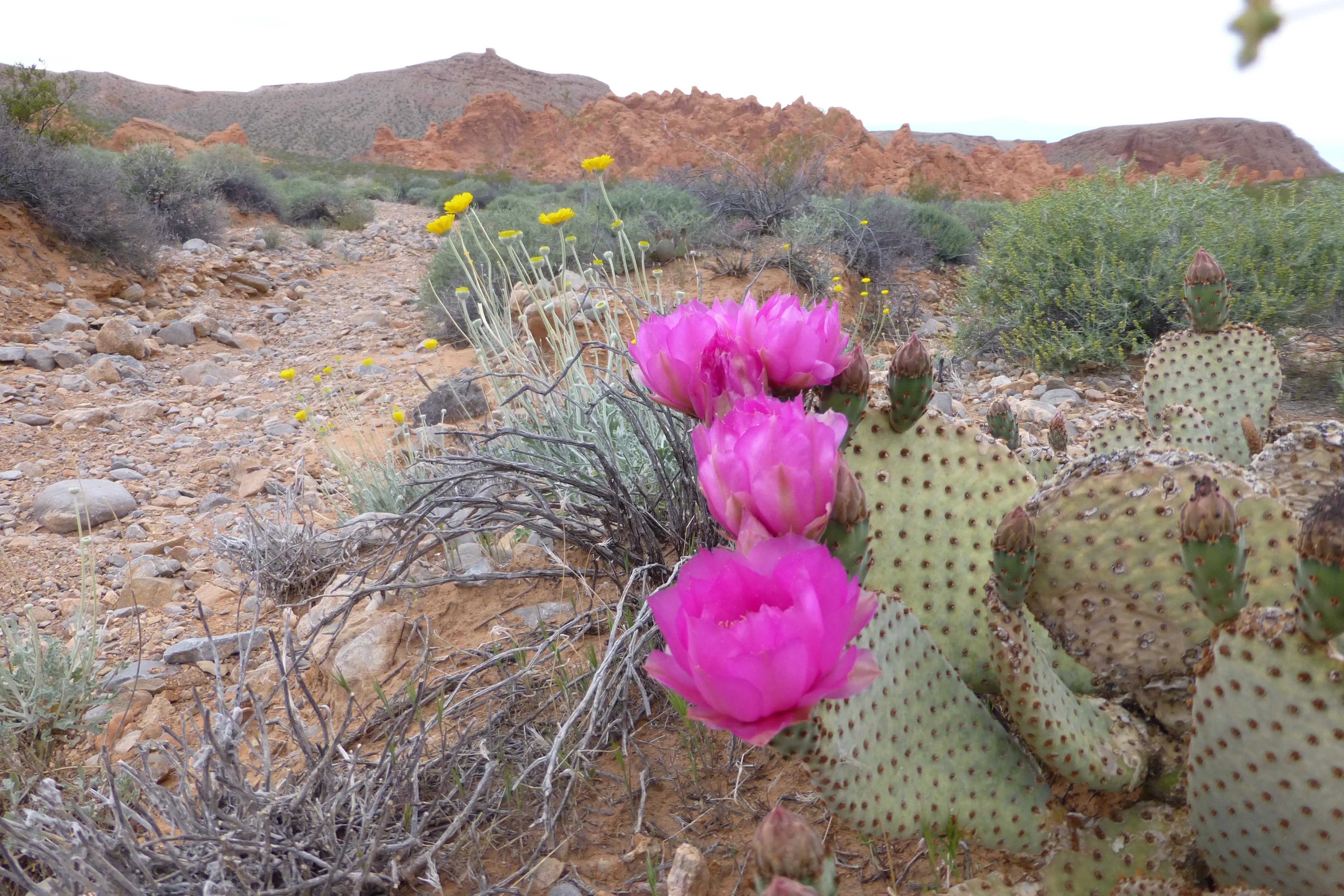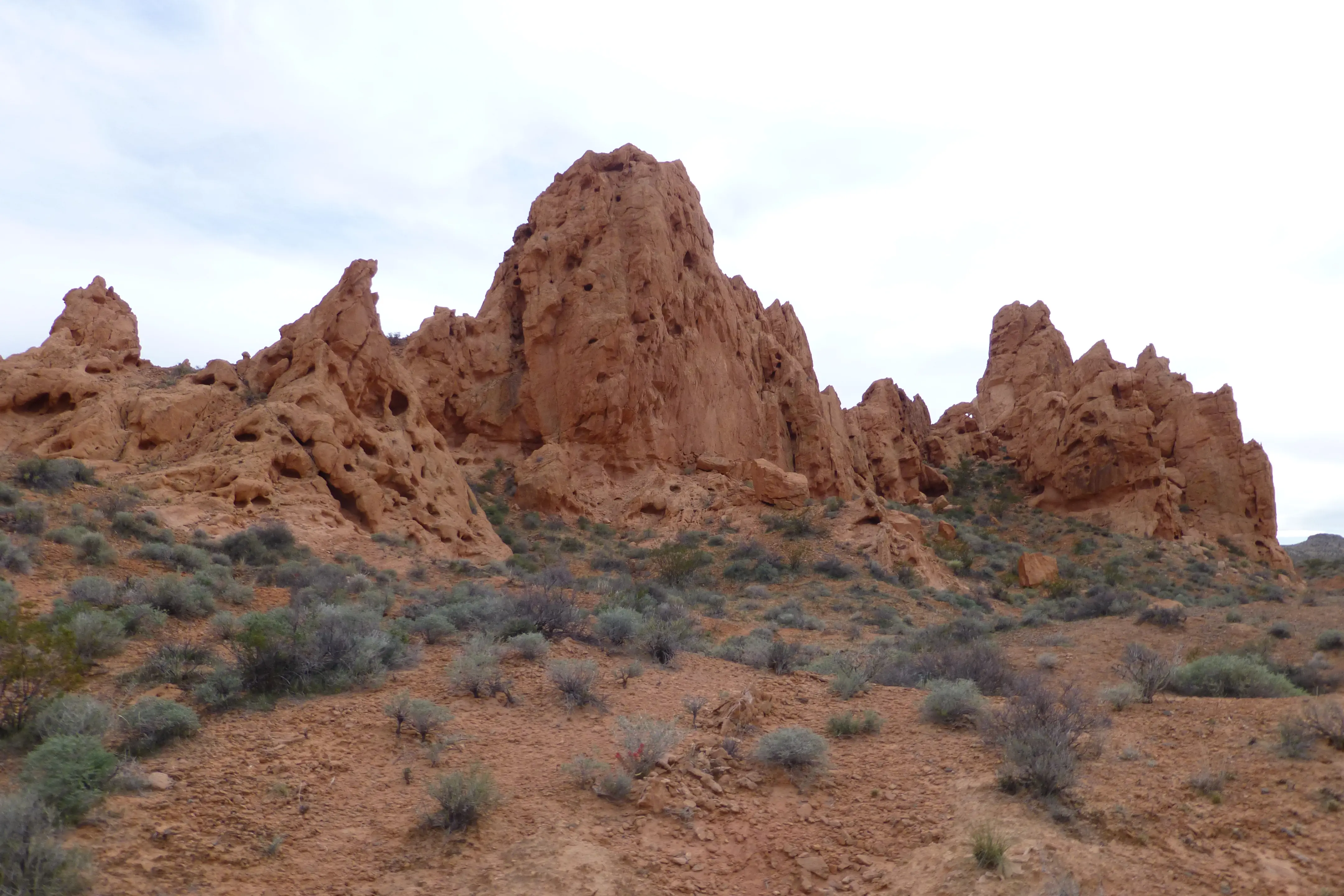 Valley of Fire State Park Camping
Valley of Fire Campground: If you want to stay in the park, camping is your only option. Both campgrounds are first come, first serve. We were a little nervous about that, but even over Easter weekend, at the height of wildflower season, there were always a couple sites available until mid-afternoon. We spent the night prior in Mesquite, Nevada so we could get to the park relatively early.
We stayed at the Atlatl Campground in site 1. This was a great spot with lots of rock climbing options; it exceeded our Valley of Fire camping expectations. We were also a few minutes walk from panels of petroglyphs. The reality is that all the sites are pretty great, although some have less space – we had a ton of space. What we didn't have was wind protection and it got crazy windy a couple days. Our tent had more fine, red sand that you can imagine.
As an added bonus, the ranger came around with the Easter Bunny and candy for the kids. They probably only do this on Easter.
---
Find the Best Travel Backpack for your Valley of Fire Trip or any travels!
---
The Atlatl Campground has showers and flush toilets. There are 44 campsites and about half are RV hook-up sites. There is a water faucet in each site (super convenient!), covered picnic table, fire ring, and tent pad. There is also a dump station just before entering the campground.
Arch Rock Campground is a smaller, more primitive tent campground. The sites here are more secluded.
There are three group areas, each accommodating up to 45 people, though parking is limited. They are available for overnight camping and picnicking by reservation only. Call the park for reservations: 702.397.2088.
Campsites are $20 per night which includes the $10 daily park entrance fee.
You can take a 360 video tour of our campsite with Henry.
Click to this post to find out "How Much Does it Cost to Go to Valley of Fire?".
Where to Stay — Other Lodging
We loved camping in Valley of Fire, but it's not the only option. A lot of Valley of Fire visitors come up for the day from Las Vegas – 50 miles to the west. Obviously there are a zillion places to stay there. Overton, 14 miles to the east has a couple hotels, restaurants, fuel, and groceries.
---
Check current prices and latest deals on Las Vegas hotels.
---
Valley of Fire State Park Video Tour
Let me show you around the park to aid in planning your Valley of Fire trip.
What to Wear in Valley of Fire State Park, Nevada
It's the desert, so it's hot, it's cold, and it's windy, sometimes within the ten minutes. Bring a lot of water and prepare for a variety of conditions. Here's some of what we wore.
Sunscreen
I want to be decent to the planet while I am good to my skin, so we use MyChelle Sun Shield, SPF 28 on our faces and Alba Botanica SPF 45 Sunblock for Kids everywhere else that isn't covered.
Sun Hats
The kids usually wear Sunday Afternoon sun hats. They provide great coverage and fold up easily to stuff in a backpack.
Rain Jackets
We all carry rain jackets, which double as wind shirts. Mine is the oh-so-bright, lime green Torrentshell Jacket from Patagonia. I don't think they make that color anymore, but the jacket has served me well. It keeps me dry, and the rain out. I love that it is made with recycled nylon.
Finn wears a Columbia Boys' Watertight Jacket. I buy it big and try to get two (or three!) seasons out of it.
Valley of Fire State Park map
We carried the Lake Mead National Recreation Area map, which includes the Valley of Fire.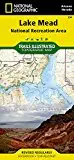 Need anything else for planning your Valley of Fire trip? Ask me in the comments!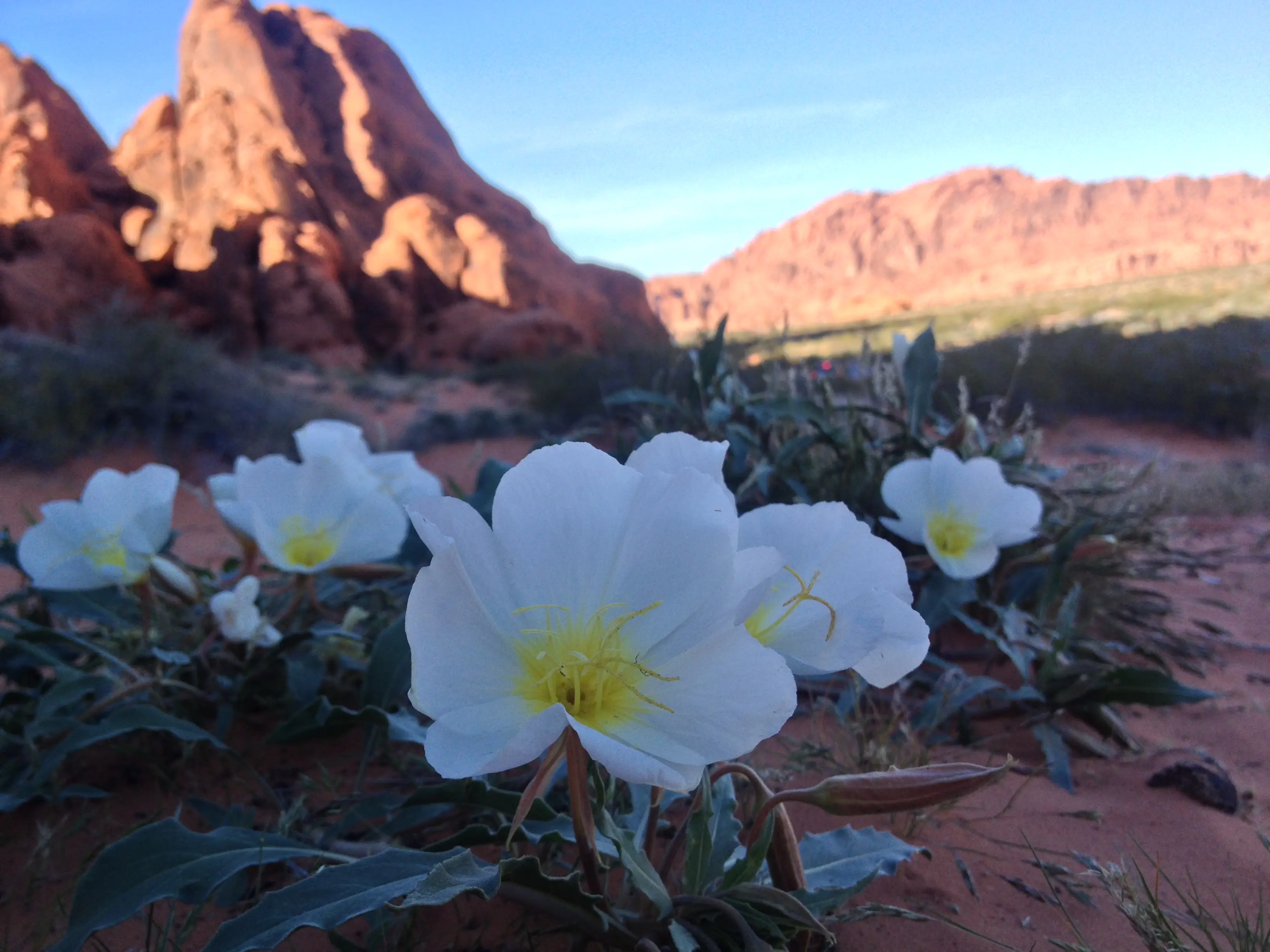 Other Mojave Desert Camping and Hiking