I thought I'd summarize my top wildlife encounters for 2015 because I've had a banner year for seeing and interacting with wildlife. In the last 12 months I've snorkeled with beluga whales, watched 12 grizzlies dig bulbs in a field, and spotted a bobcat stalking ducks.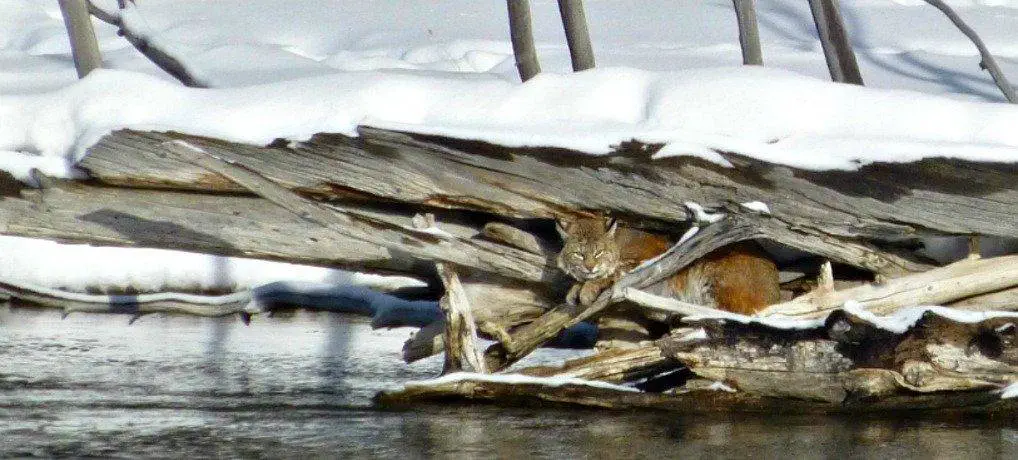 Even though I consider myself more a "plant person" than an "animal person," it has been pretty exciting. I was going to do a "Top Five" list, but had trouble even getting it down to six. But for you, I did.
Here's my top six wildlife encounters in the last year, starting with the most recent.
Top Wildlife Encounters:Bobcat
Last weekend I was in Yellowstone at the Yellowstone Expeditions Yurt Camp. For four days we skied to backcountry thermal areas, along the edge of the Grand Canyon of the Yellowstone, and through lodgepole pine forests. One of the highlights occurred on the ride in. We stopped next to the Madison River. Two filmmakers I know (The Greater Yellowstone is a small world) were standing in the snow, giant cameras pointed across the river.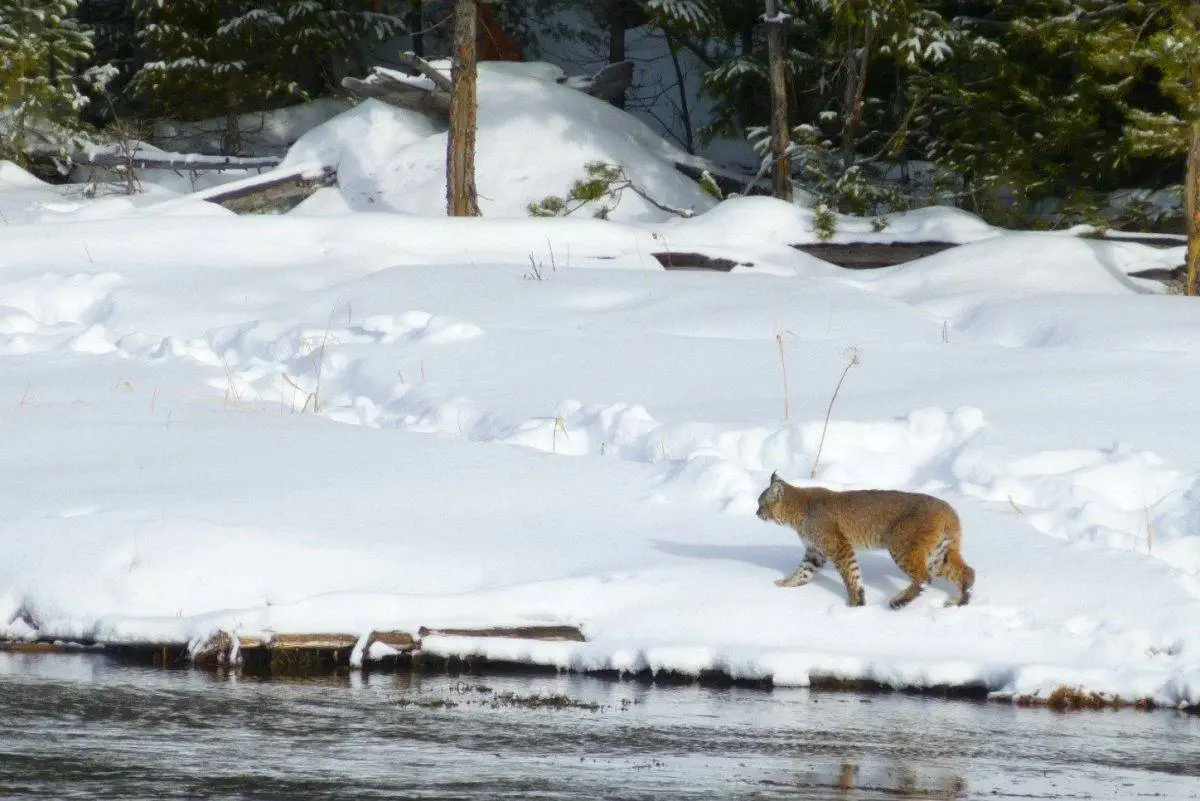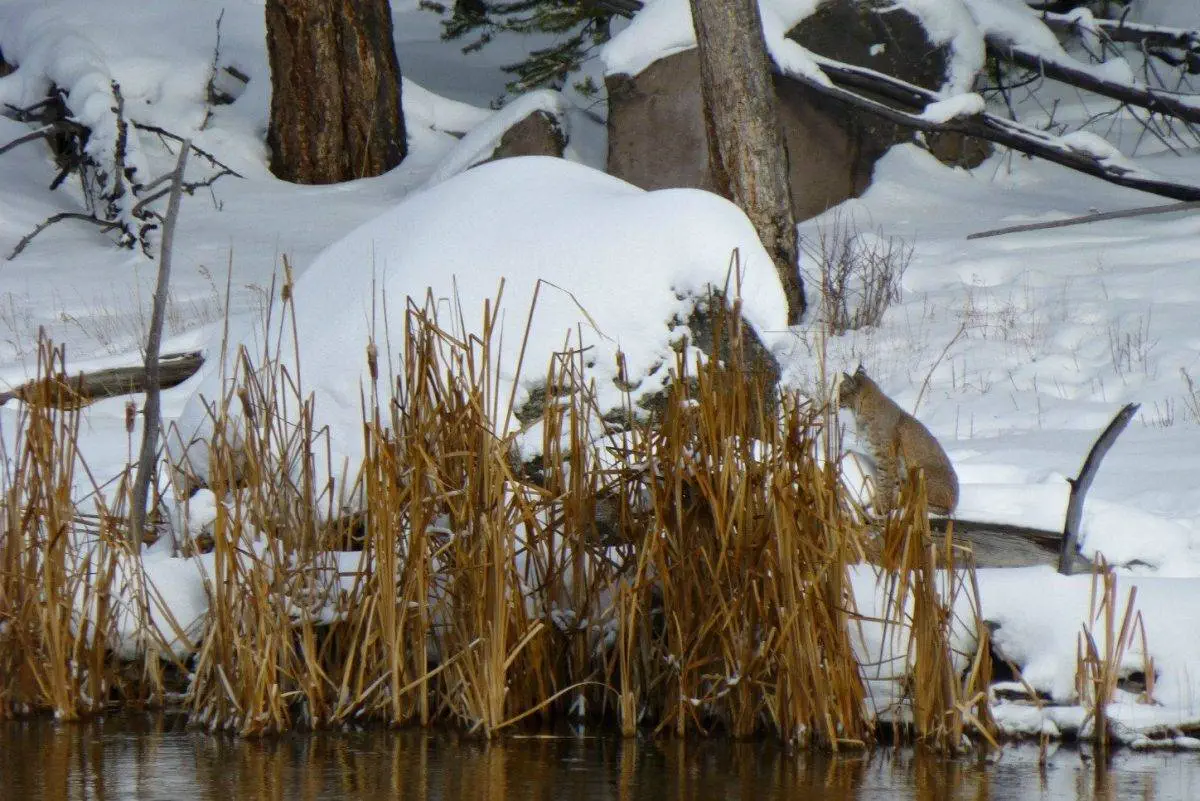 A bobcat was crouched on a branch jutting into the river. Then it got up, walked down the shore, sat majestically among some reeds, and sauntered on to another log. There it stared at some ducks, willing them, I imagine, to get a little closer. We heard it caught a fish a few days after our siting. (More on that trip to come.)
---
Top Wildlife Encounters:Long-eared Owls
I already wrote a little about this, but for a story I went up to the Mission Valley and the Owl Research Institute. That night I stood on the porch of the field station listening to great horned owls hoot.
The next day I was in a willow patch catching long-eared owls in a mist net. Well, I watched someone catch them, but then I got hold an owl and stare into its unblinking, bright yellow eyes. "Face to face with wisdom," I imagine the owl was thinking.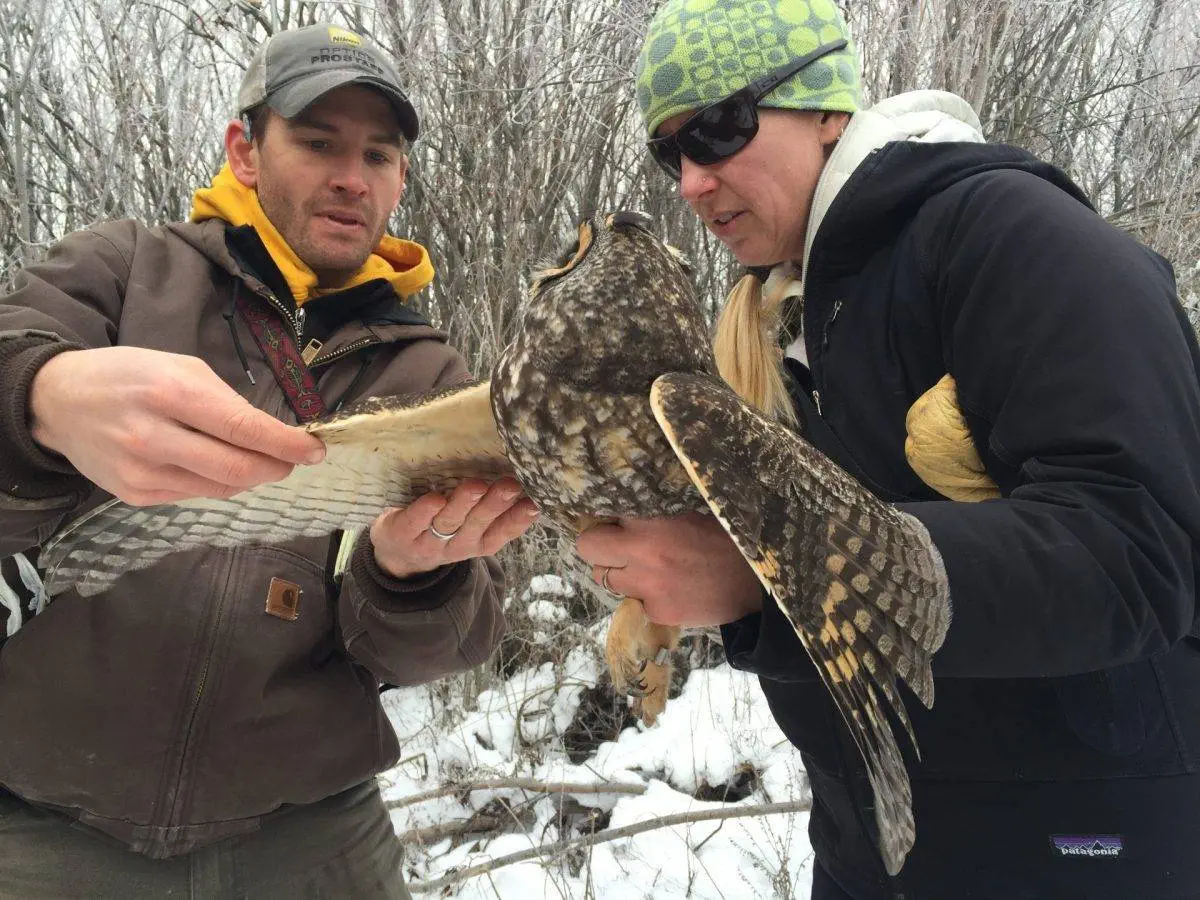 I'm writing a couple stories. One for Big Sky Journal that will come out next winter, and another for the Great Falls Tribune that will be out any day now. I'll link it here when it does.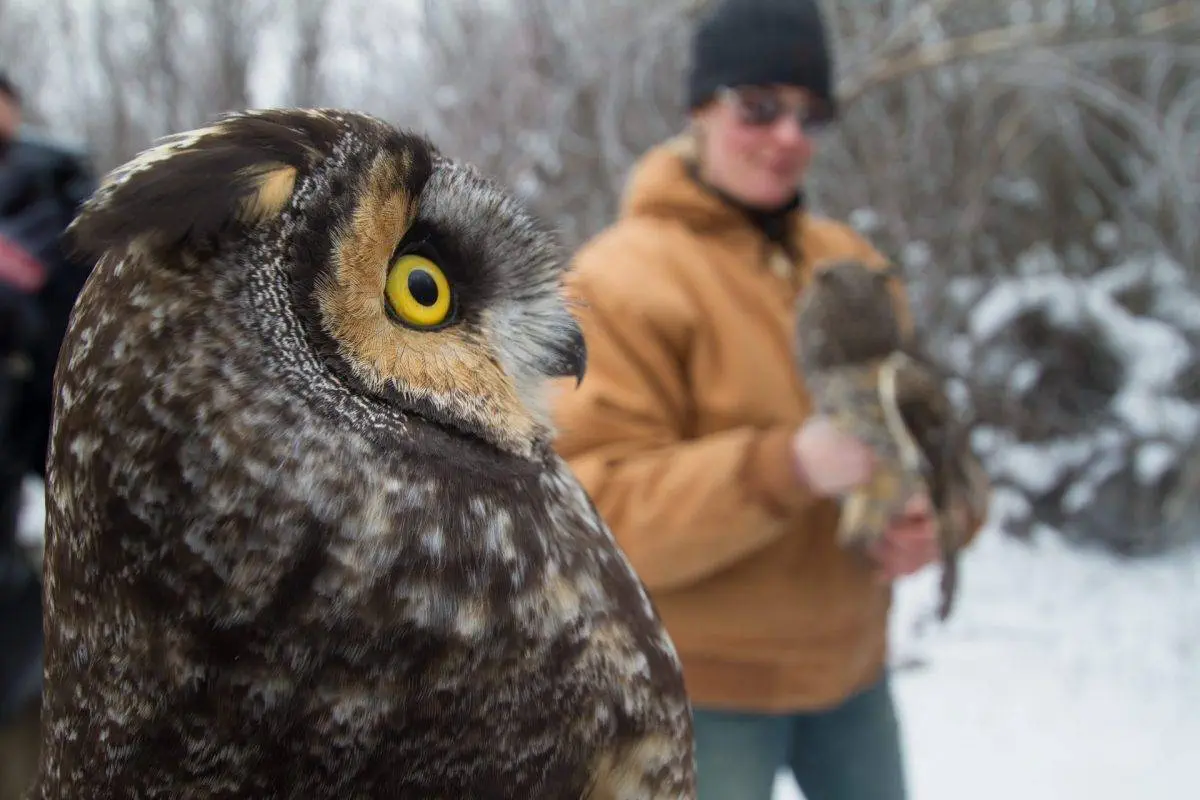 ---
Top Wildlife Encounters: Beluga Whales
This summer, the whole family went to Churchill, Manitoba. Since Henry and I have both contracted with Polar Bears International, we've been there several times during bear season (October/November), but never in the summer. The kids got to see their first two polar bears in the wild and a whole slew of beluga whales.
We took turns going out on the beluga boat and seeing those white whales right next to the boat. Then I went snorkeling with them. Wow! One of the most amazing things I've ever done. This video says it all.
I'm so glad that Henry picked this frame to use as the title page. I've never looked better.
---
Top Wildlife Encounters:Grizzly Bears
In late September we drove down to the Tom Minor Basin in the Gallatin Mountains. It's about an hour from our house. There we watched three grizzly bear sows with three cubs each ramble out of the aspens and dig for bulbs. And Jeff Bridges parked right next to us, so that was cool.
I wrote,
"Historically, a bear or two grazes in the area each fall, so there is a generational knowledge to go to that area when more traditionally used areas are low in food.

Montana Fish, Wildlife & Parks Spokesperson Andrea Jones said that because of last winter's weather: "There is a limited food source of things like berries at higher elevation drawing the bears down to this private property."

"This is not unusual bear behavior, just digging for roots," Jones said.

About 900 yards away from the bears, people line up most nights to watch the grizzlies. Spotting scopes are locked into their tripods and binoculars are passed around as wildlife watchers get ready for the nightly show.

The bears don't disappoint. Moms and cubs wander and dig in a state of hyperphagia — a period of excessive eating and drinking to fatten for hibernation. Occasionally, a cub will stand on its hind legs, and seemingly, look right at its admirers."
Yes, I just quoted myself. You can read the whole article here.
And Henry made a little video.
---
Top Wildlife Encounters:Herons
I saw a lot of herons this year. In the Puget Sound, along the Yellowstone River from our raft, in the Malibu Lagoon in California, and on the Madison River in Yellowstone National Park.
Herons are my favorite birds. They seem to know something we don't.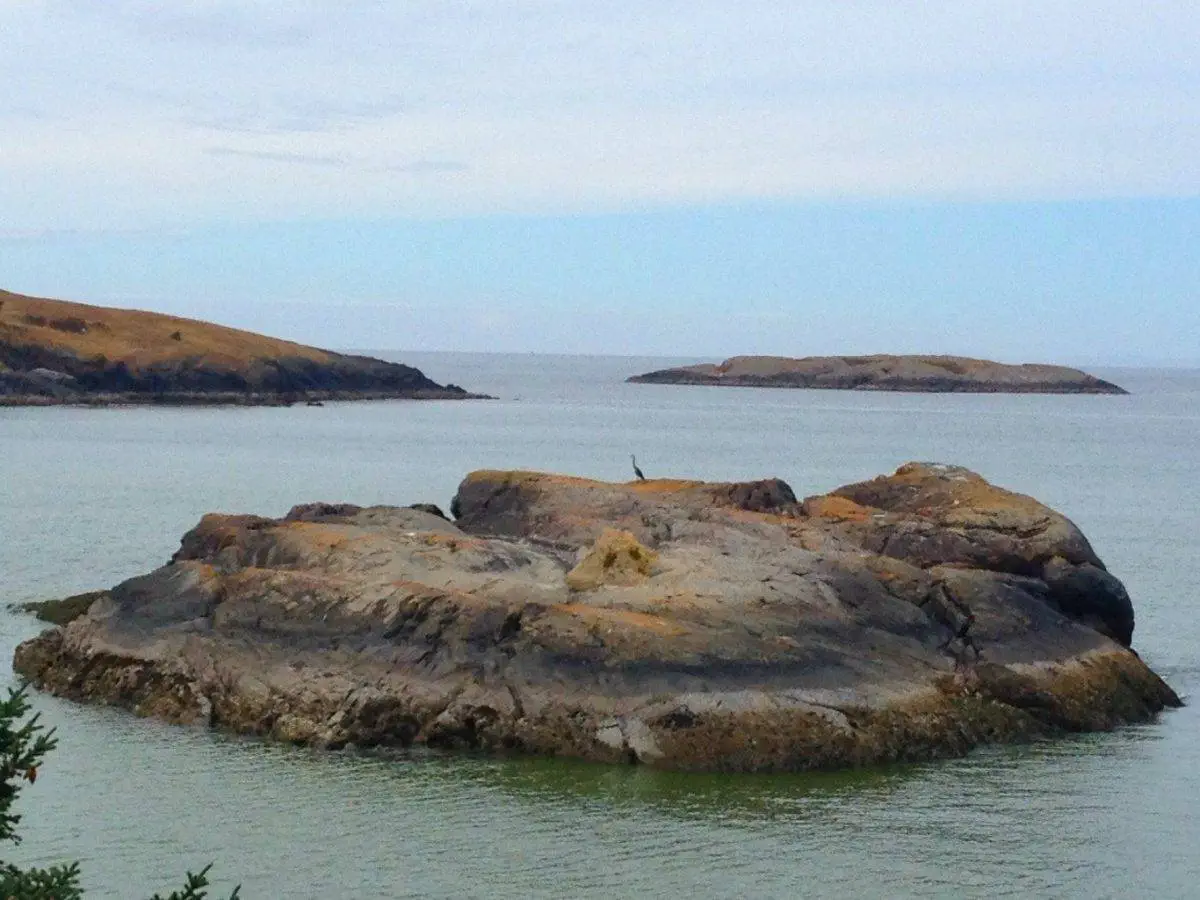 Mary Oliver wrote a poem called Heron Rises From the Dark, Summer Pond. It starts like this:
So heavy
is the long-necked, long-bodied heron,
always it is a surprise
when her smoke-colored wings

open
and she turns
from the thick water,
from the black sticks

of the summer pond,
and slowly
rises into the air
and is gone.
---
Top Wildlife Encounters:Orcas
While camping on Lopez Island this summer we took a whale watching trip into the Puget Sound between Lopez and San Juan Island. We weren't in the boat long before we spotted the first orcas. While there are fish-eating resident pods in the Sound, we saw a seal-eating transient pod.
We didn't see any seal-eating, but the whales got really close to the seals. In fact, they were so close to shore they seemed to be hitting bottom. There was a lot of splashing and thrashing about.
I didn't get any great photos, but it was very cool watching killer whales in the wild.
That's just a few of the animals encounters from the last 12 months, but I think these are the ones that will stick with me for awhile.