Continuing on the Red Lodge theme, here's another hike not too far from town. The dirt road from Red Lodge to the trailhead is only about 7.5 miles, but it is a slow drive. Most of the route is pretty good, but there are some rocky sections. And watch out for the cows that hang out in the road.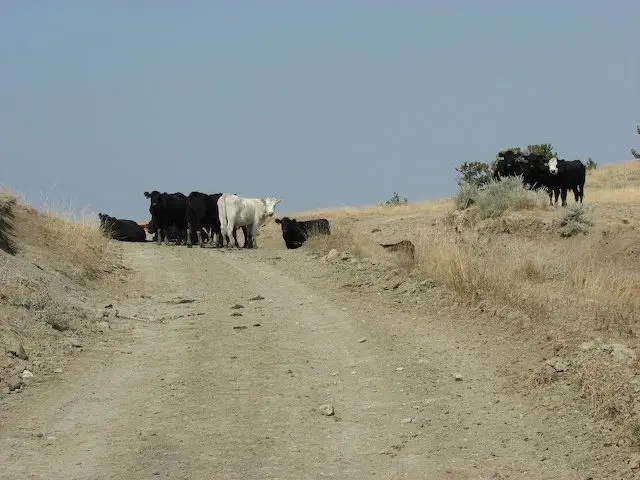 Montana Highway
The "trail" is really a road that climbs steeply from the trailhead and parallels the South Fork of Grove Creek. The best part about this walk is the view of the Meeteetse Spires—part of the Palisades (a dramatic limestone formation). In fact, the trail goes right through the spires.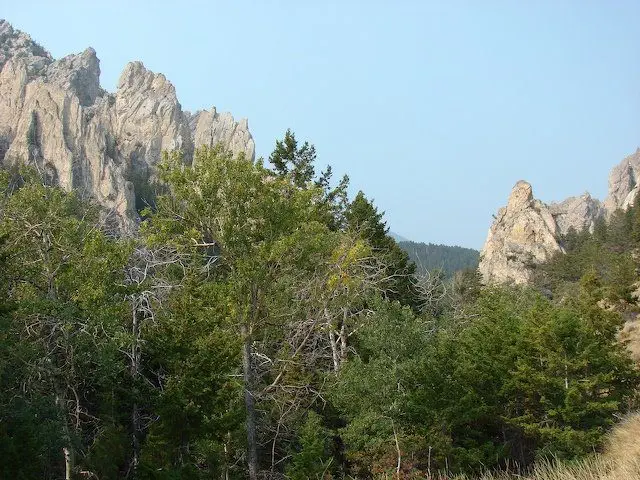 View from the trailhead
Meeteetse Spire
The road climbs through Douglas-firs, limber pines and aspens. At the first junction (about 1 mile) stay to the right (you'll come back this way) and continue for 1.7 miles from the trailhead to the remnants of an old rock structure near the creek. Cross the creek and go left at the next junction, heading back towards the trailhead, making a lollipop loop.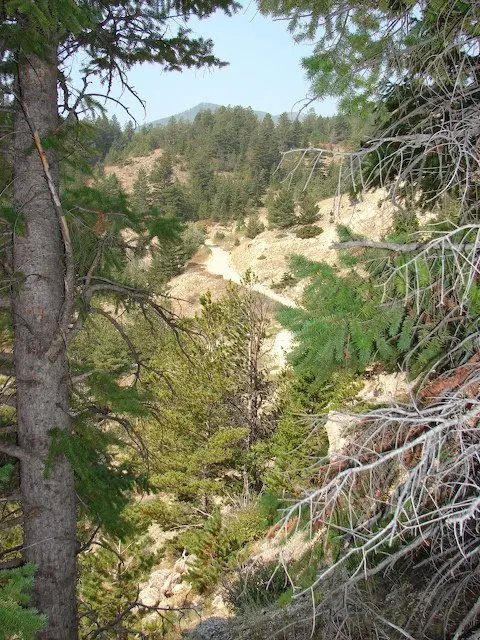 A history lesson: The Meeteetse Trail began as an Army supply trail in 1881 that started at Meeteetse, Wyoming came through Red Lodge and continued on to Coulson (now Billings). The road brought the first mail, supplies and settlers the 100 mile distance from Meeteetse to Red Lodge and was originally called the "100 Mile Route". Several years after its opening, stagecoaches began to travel the Meeteetse regularly.
Just the Facts
Getting There: From the south end of Red Lodge, turn left (east) onto Meeteetse Trail. Follow the dirt road 7.4 miles to a "Y" junction (.9 miles past North Fork Grove Creek access). Stay to the right .25 miles to a parking area.
Distance: 3.5 miles round trip
Elevation Gain: 1,200 feet
For more hikes around Red Lodge and in the Beartooth Mountains check out Robert Stone's day hike book.


Day Hikes in the Beartooth Mountains, 4th (Day Hikes) by Robert Stone
Another good book for hiking in the Beartooths:


Best Easy Day Hikes Absaroka-Beartooth Wilderness, 2nd (Best Easy Day Hikes Series) by Bill Schneider
Other Red Lodge posts
Red Lodge Road Trip–Are we there, yet? from Montana Parent magazine
Hike the Silver Run Ski Trails Near Red Lodge, Montana
Hike South Fork Grove Creek Near Red Lodge, Montana
Hike to Island and Night Lakes in the Beartooths
Drive the Beartooth Scenic Highway from Red Lodge to Cooke City
Beartooth Nature Center: Red Lodge, Montana