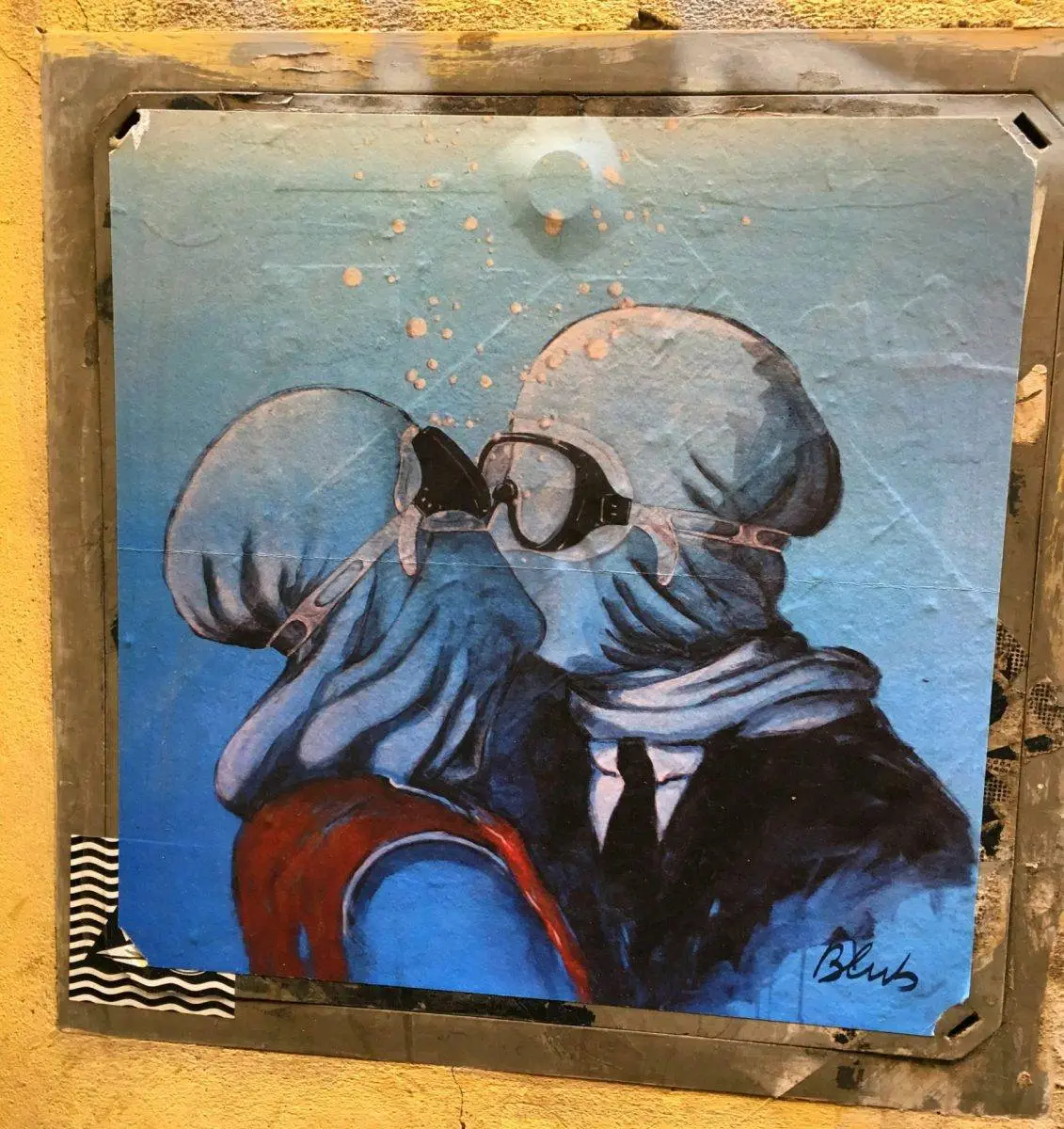 When you come to Florence, Italy you have to see certain pieces of art. The David, Primavera, and the frescoes in the Cathedral of Santa Maria del fiore are essenziale. We've loved those, in fact, some of them made our list of must-see museums in Firenze, but we have also been delighted to stumble upon Florence street art.
In the narrow streets and on the street signs, contemporary art is everywhere. We are big fans of guerrilla art and it's delightful to see the classics with a fresh eye. Searching for street art became one of the top things to do in Florence with kids in our minds.
---
If you don't have a month to spend in Florence, like we did, take a step back into the Renaissance on this Florence vacation with Great Values Vacations.
It includes air, transfers, hotel and breakfast.
Blub's Art Knows How to Swim
We first noticed the underwater paintings by Blub. The David wearing a scuba mask, two masked kissers, Girl with a Pearl Earring and mask. Famous people, including the Pope and member of the Medici family are included in this romp.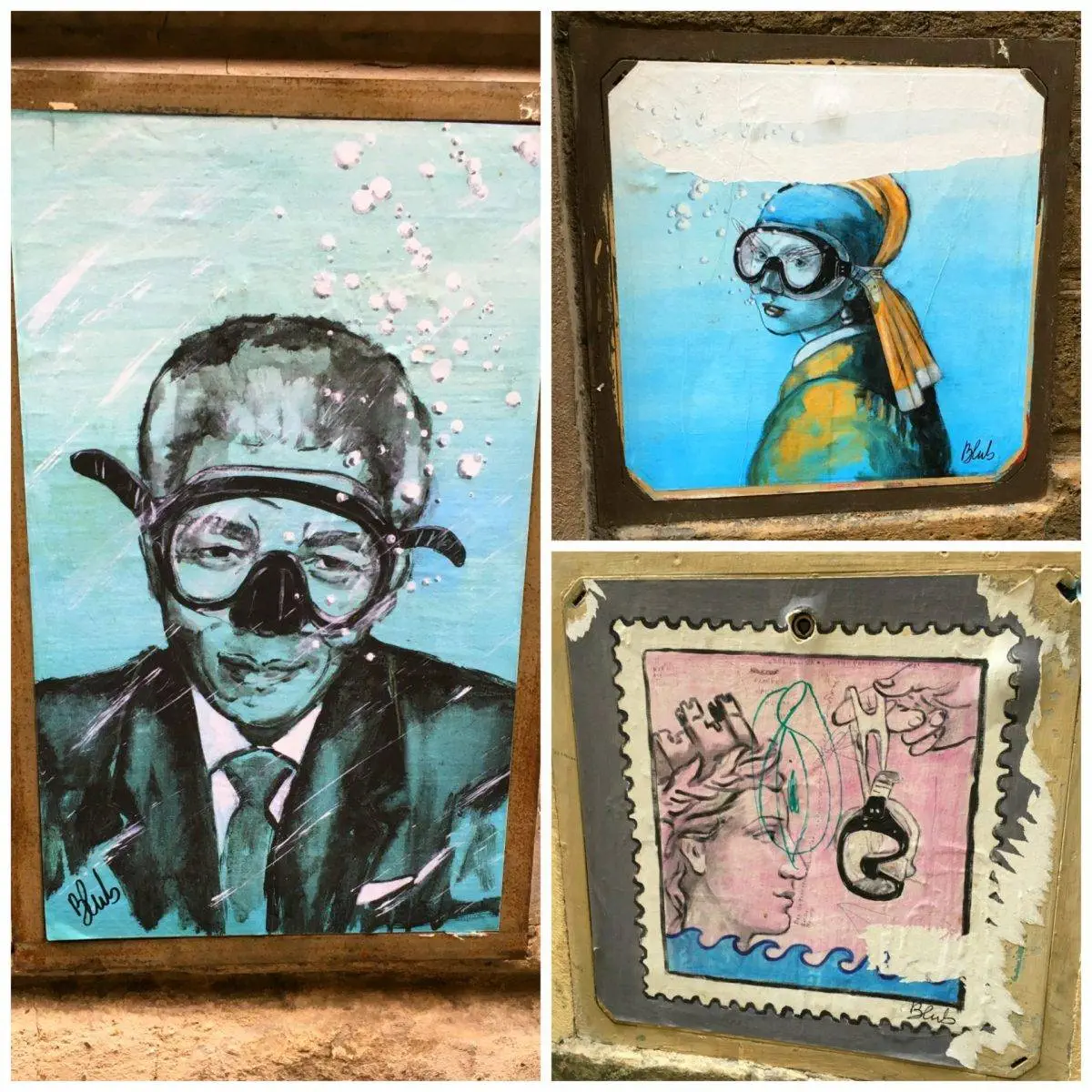 I did a little search around the web and found a good piece about Florence street art by Girl in Florence. There I learned that the installation is called 'L'arte Sa Nuotare,' or 'Art Knows How to Swim.' And that Blub keeps his/her identity secret, not surprising given the pseudonym.
I'd love to know why the underwater theme, but for now it's enough to find these treasures as we stroll around Florence.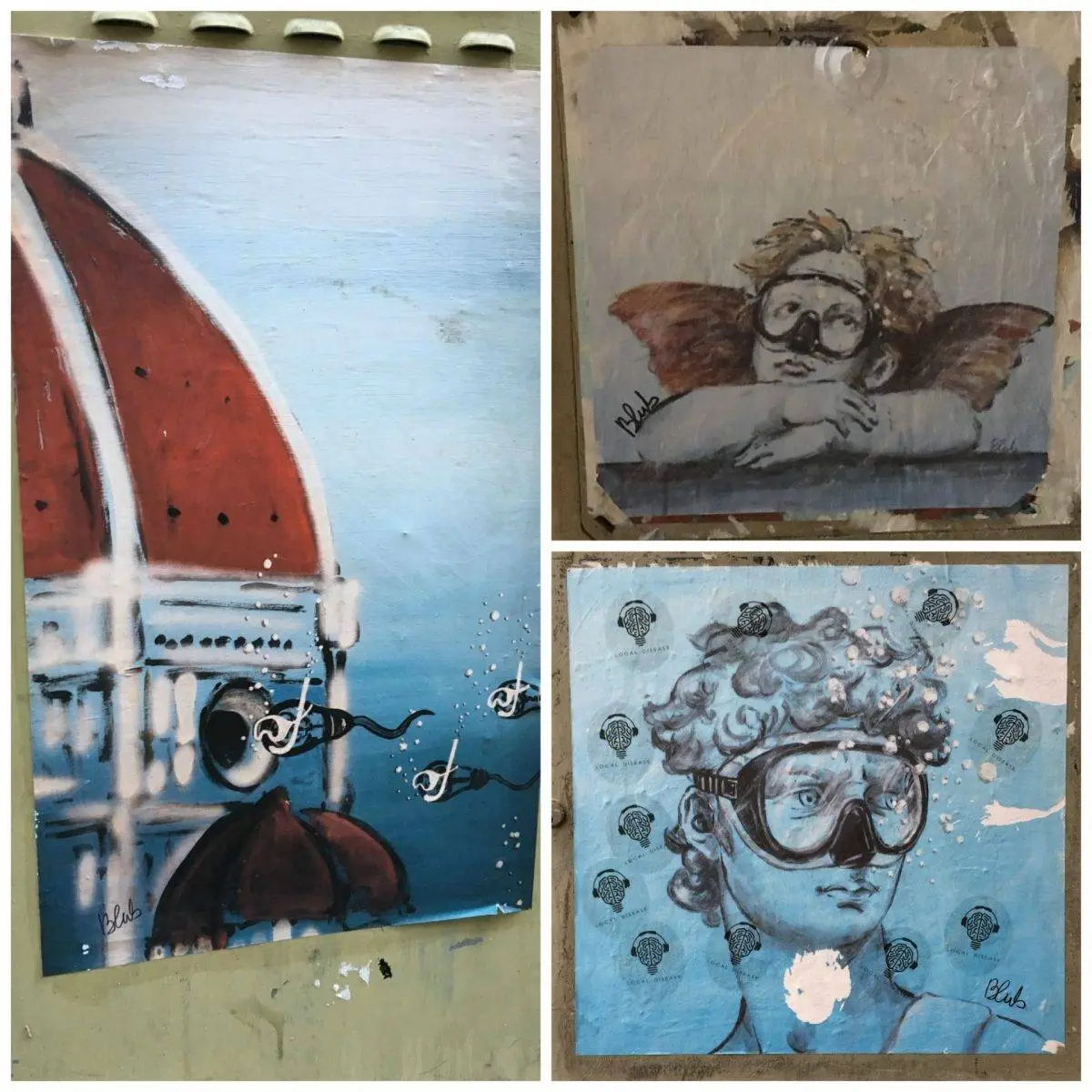 ---
Clet Abraham's Street Signs
At first I couldn't tell if Clet Abraham's street art was guerrilla art or if the city of Florence just had really cool signs. They are pretty convincing.
Art Trav posted a nice piece about the artist.
She quotes Abraham, "I'm not sure exactly what the fundamental difference is between a graffiti artist and my work. I can say for sure that my stickers are easily removable. It's essential to me to create works that are in thematically in keeping with the support upon which I am working, to adapt myself thus to any situation with complete respect for the work of others; I try to offer a service with my talent and knowledge. It's possible that some graffiti artists have a similar work ethic. We do have in common a taste for the mysteries of the night and of surprise; a healthy attitude [or preference] for liberty of expression and breaking of rules – but these are the bases of being an artist!"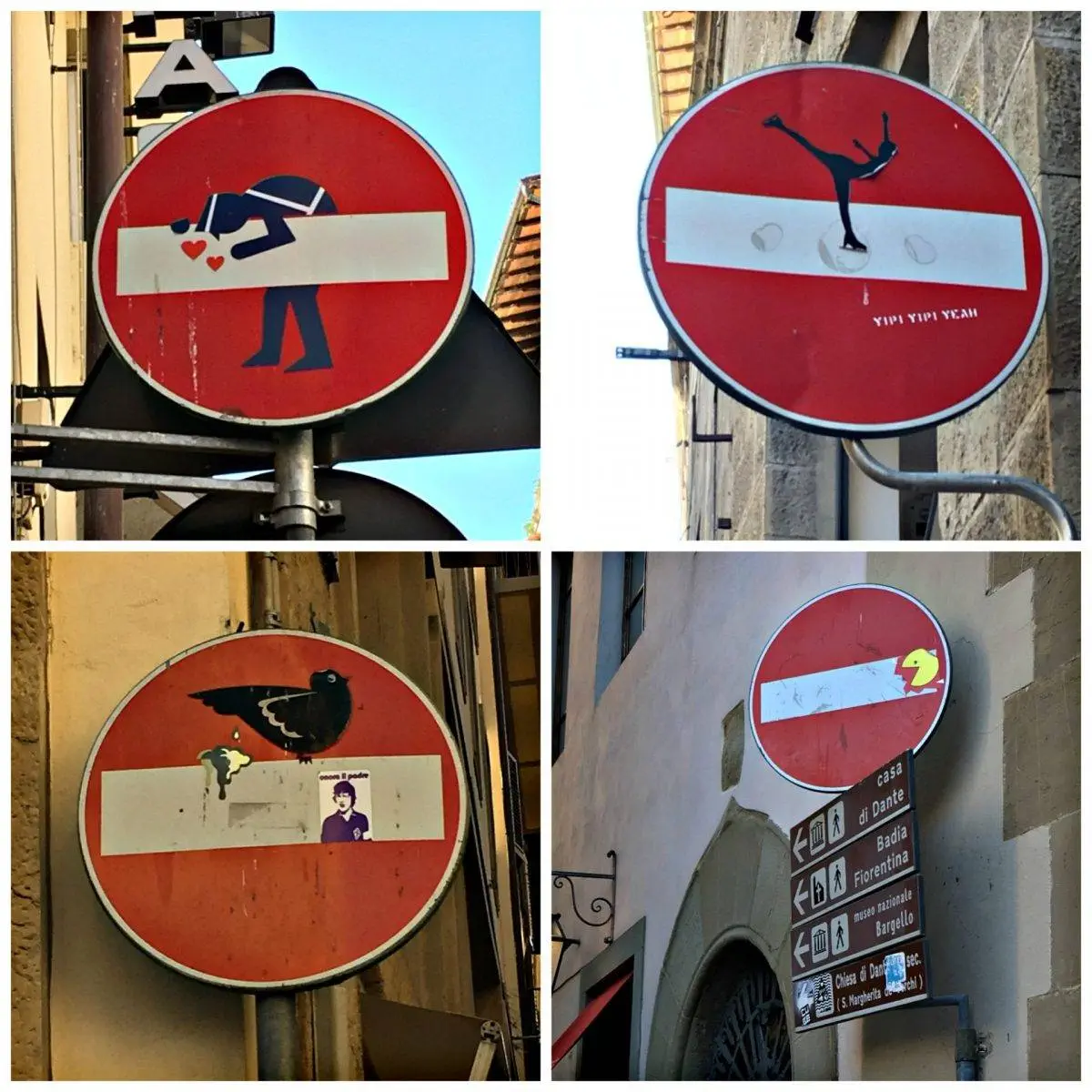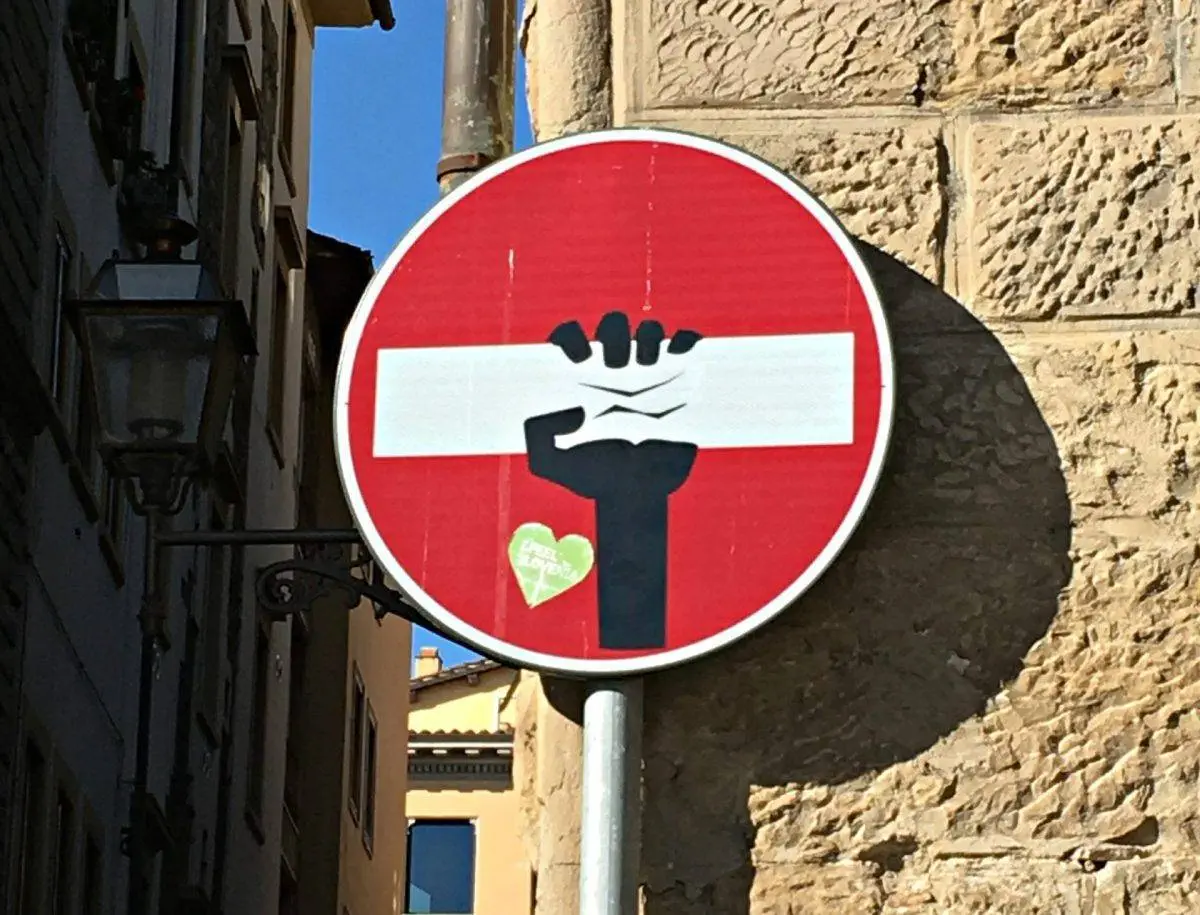 More on Florence Street Art
See my interview with Montana rock artist, Montana Banksy, here.
Girl in Florence covers several other guerrilla artists. I'm looking forward to finding more!
Blub's Facebook page and Instagram feed.
Clet's Facebook page and Instagram feed.
Other Street Art
The Bushwhick Street Art Tour in New York by the Flying Vegetarian.