Last night I whipped up a little deliciousness I like to call "Curried Carrot Soup". I call it that because that is the title of the recipe in the book "A Beautiful Bowl of Soup" by Paulette Mitchell.
The recipe follows the pictures.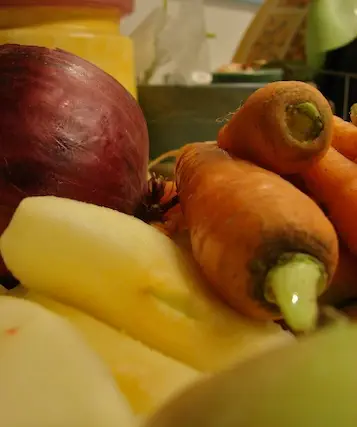 Soup ingredients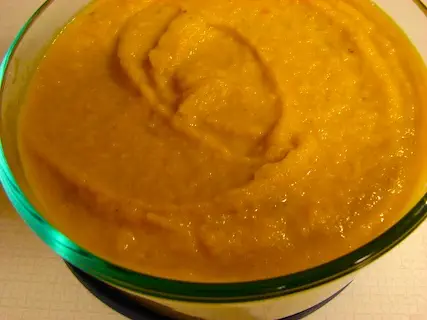 The soup, minus the milk or half and half. I'll add that when we defrost and eat the soup.
2 Tbl unsalted butter
1 apple, cored, peeled and coarsely chopped
1 c coarsely chopped red onion
2 tsp curry powder
1.5 c vegetable stock
1 pound (about 5) carrots cut into .5-inch chunks
1 c half and half or milk
salt and freshly ground pepper to taste
Melt the butter in a dutch oven over medium heat. Add the apple and onion. Cook: stirring occasionally until the onion is translucent; about 5 minutes. Add the curry powder. Stir for 30 seconds.
Add the stock and carrots. Increase the heat to high and bring to a boil. Reduce the heat, cover and simmer until the carrots are very tender, about 15 minutes.
Puree soup in a blender (I use a hand blender right in the pot).
Return soup to the pan. Add half and half or milk. Stir over medium heat until warmed through. Season to taste.
You can also throw a dollop of sour cream in for good measure.