I took a long weekend and flew out to Stockton, California to visit my friend Jen. Jen and I were roommates my first semester of college at Humboldt State. It was Jen's sophomore year (she's always been older and smaller) and she was in the National Student Exchange program from U of Montana in Missoula.
We hit it off right away, and even though I left the next semester to work at Outdoor School, we stayed close. We spent a summer in Sequoia National Park working as cave guides and then I did the exchange program and spent a year in Missoula.
We used to hike, ski, backpack and be hilarious together. Now we both have kids so we mostly sit around.
I thought it was time for Jen and I to spend a little quality time together so I flew out to Stockton to visit her. (If you are thinking that Stockton is the foreclosure capital of the country, do not be alarmed. Jen's lovely home is not in foreclosure.)
Jen is now married (almost 10 years!!!) to James and they have 2 super cute girls–Caitlyn (8) and Sophia (5.5).
After Jen picked Finn and I up at the airport we went straight to a Nature Conservancy area that I forgot the name of. Maybe she will be so kind as to write the name in the comment section. We walked around and I soaked in the warmth and all the greeness.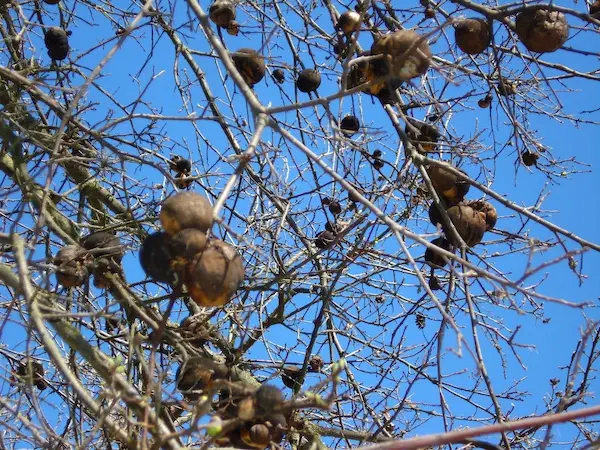 Lots and lots of burls. Each one of those round things was created when an insect laid its eggs and infected the tree. As a response, the tree grew around the insect babies to protect itself (an unwittingly feed and protect the babies).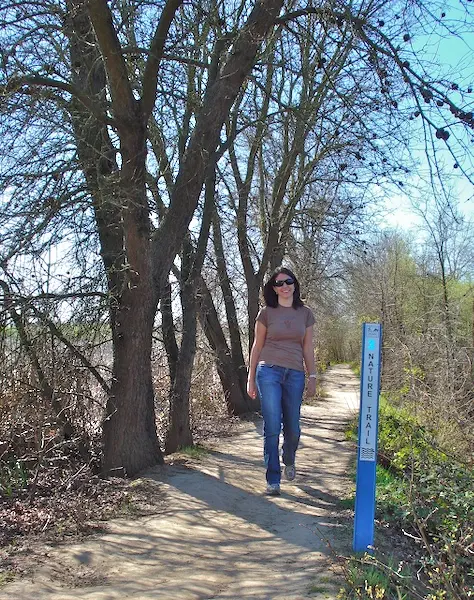 Jen hiking down the trail. I took lots of photos of Jen because you never see her in her own family photos. Someone had to show the world what it was missing.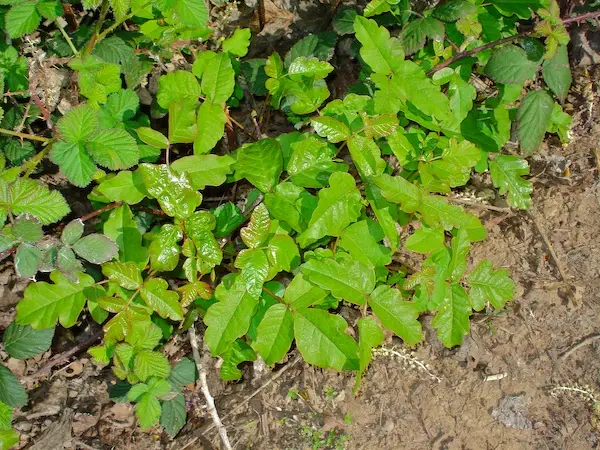 Leaves (actually leaflets) of 3, let it be.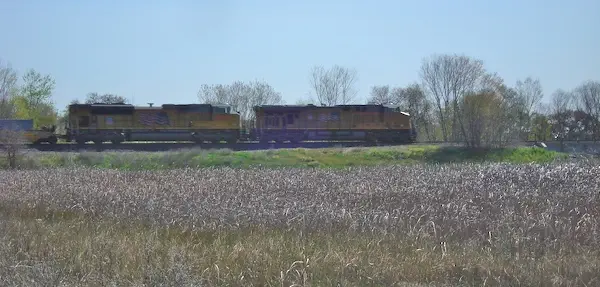 Orange engine picture for Anders.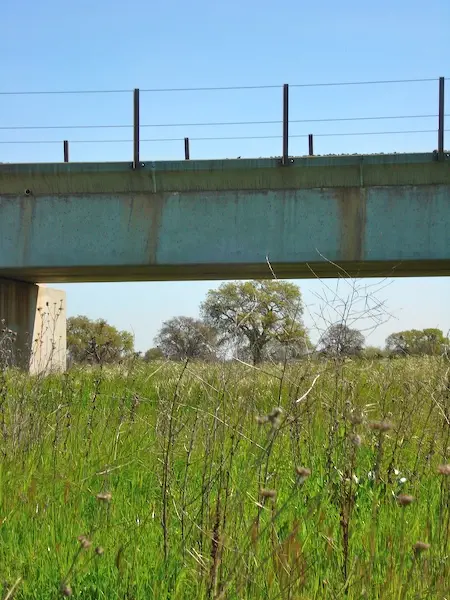 Oaks under a bridge.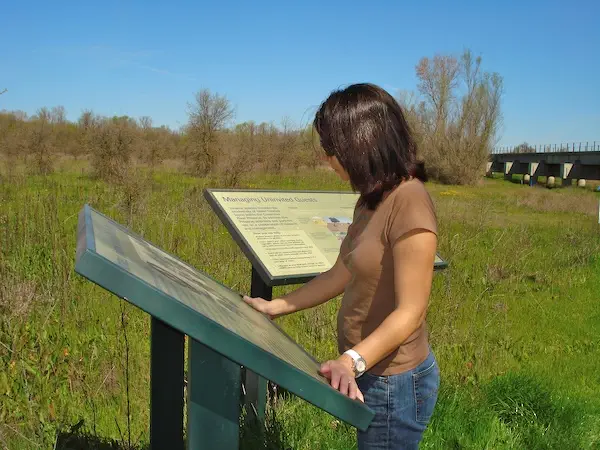 Jen examines an interpretive sign about invasive plants.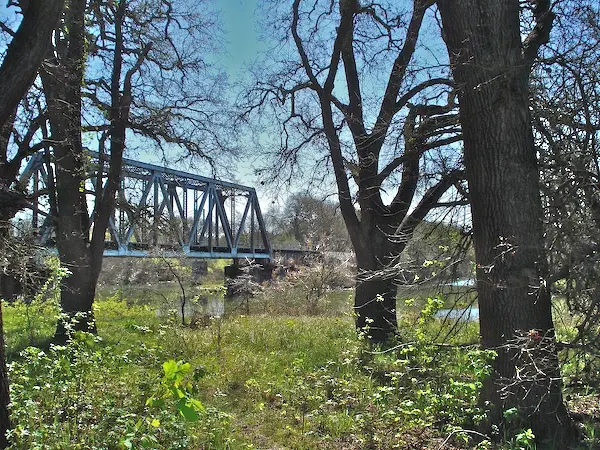 Train bridge picture for Anders…and you!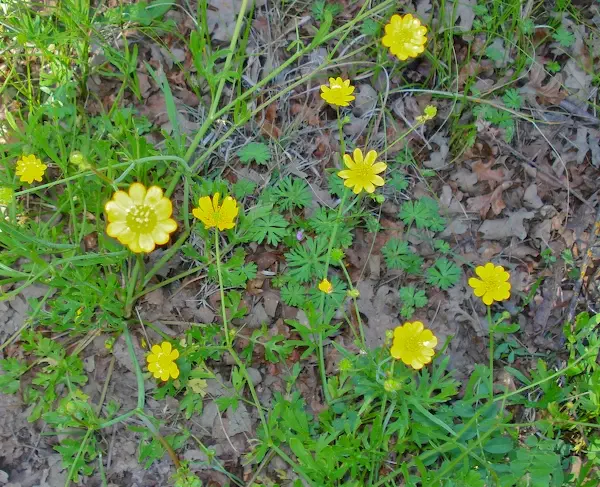 Buttercups.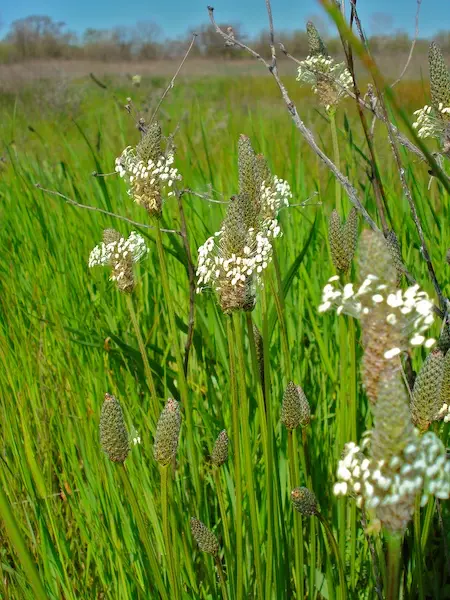 You have to admit that's a nice photo.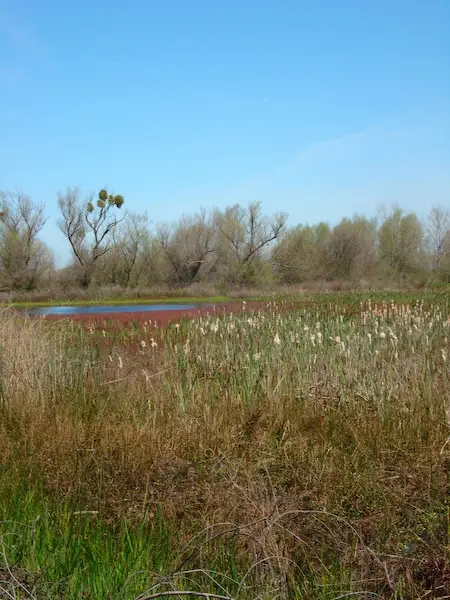 Wetland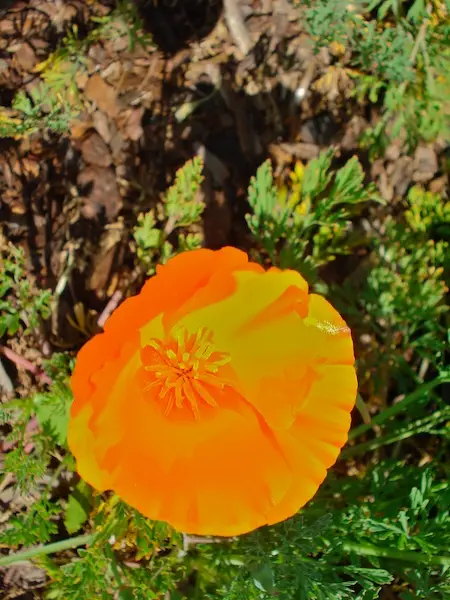 California poppy. It's the state flower, don't you know?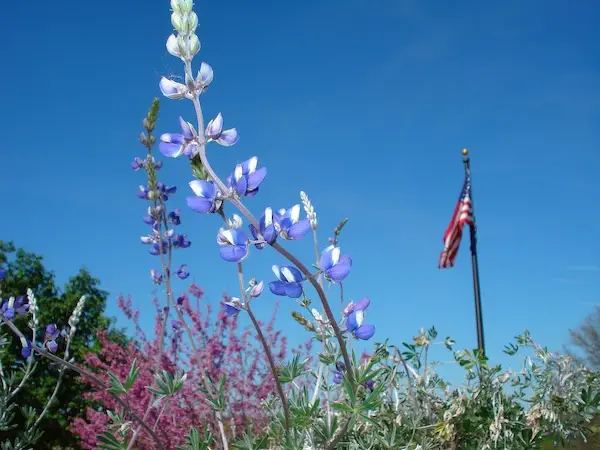 Lupines of America.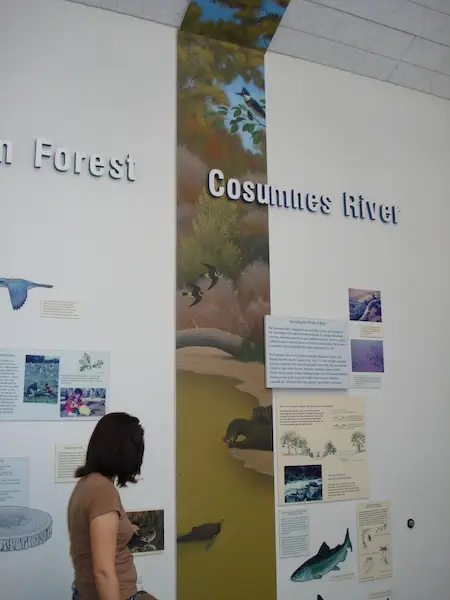 Jen in the visitors center. Or the "VC" as we like to call it.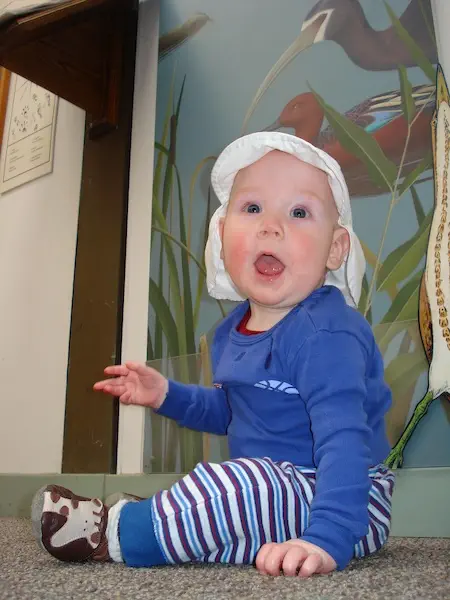 Finn learning things in the VC.
He's pretty cute in California.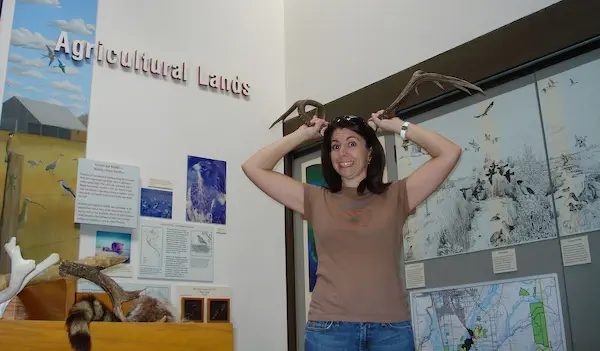 Jen demonstrates how to wear antlers properly.
Then we went back to her beautiful house, had lunch and tried to get Finn to take a nap (yeah, right).
James' sister, Aunt Mandy and her boyfriend Nate were staying there, too. We went for a walk (to get Finn to sleep) had a yummy dinner (Jen is a great cook) and basically hung out.
Saturday morning Jen, Finn and I headed out for an exciting adventure. We went to the Stockton Urgent Care. Finn was not looking too happy and I wanted to deal with anything before we got back on the plane. I recommend avoiding this particular Urgent Care if you are a sane person and would like to remain that way.
Finn had an ear infection and conjunctivitis (don't worry, that's just pink eye). We went to Target where I was thrilled to find out that both of his prescriptions were on the $4 list. I didn't even know there was a $4 list. (I was also secretly glad there was really something wrong and that I wasn't being a crazy, overprotective parent.)
We went to a delicious crepe place to celebrate leaving the Urgent Care and then home for more hanging out and relaxing. Jen made another amazing dinner. I walked Finn around several blocks to get him to sleep.
Are you getting bored of this lengthy retelling, yet? Normally I only post one day's activities per post, so bear with me. Here are some more pictures.
Sunday morning Finn, the girls and I played in the backyard.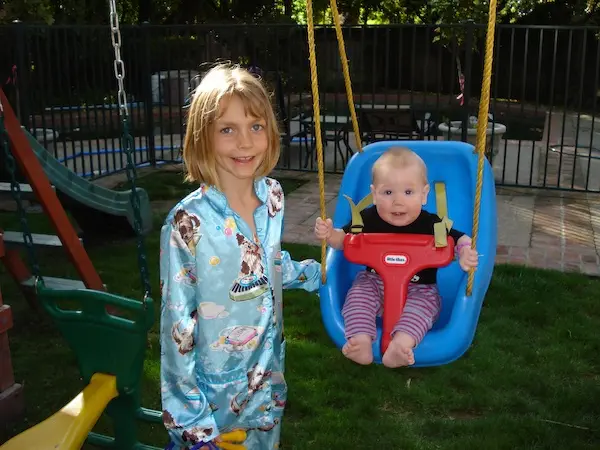 Caitlyn and Finn hang out on the swingset.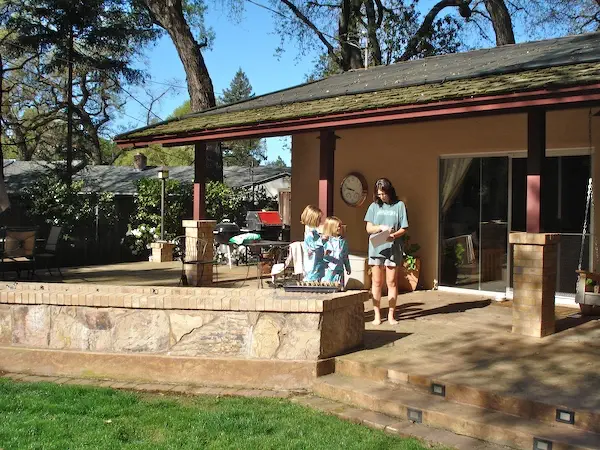 Jen talking to the girls on the porch.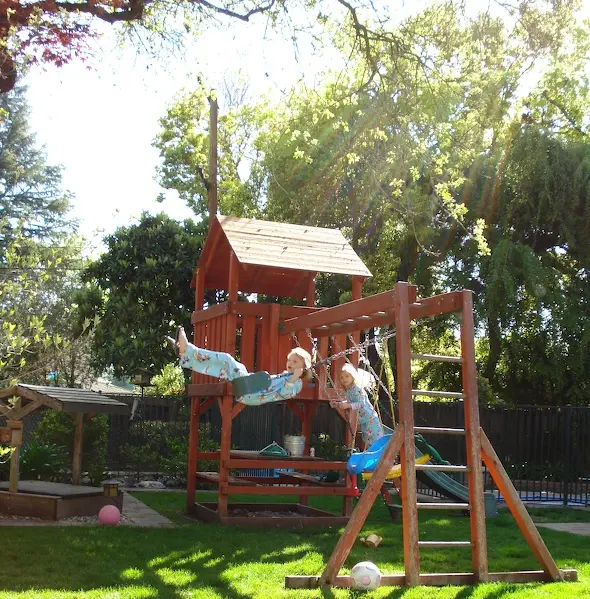 Sophia and Caitlyn swinging.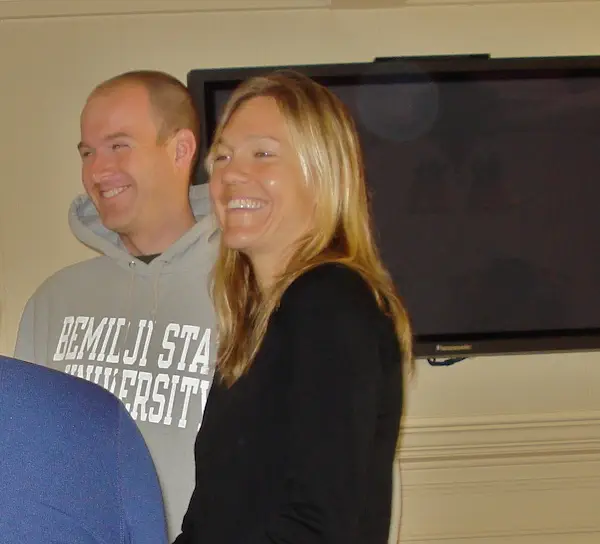 Aunt Mandy (James' sister) and Nate
After Aunt Mandy and Nate left to drive back to Bend, Ore., Sophia and I walked around the block a few times to get Finn to sleep then sat on the porch swing (so he would continue sleeping).
Next we went to Moo Moos for lunch and then to a big county park whose name I forget. (Are you sensing a trend here? I was just along for the ride and to try to get Finn to sleep).
While Jen, James and the girls hit the playground, I went for a short walk (everybody join in!) to get Finn to sleep. Once soundly snoozing in the Ergo, I joined them at the playground.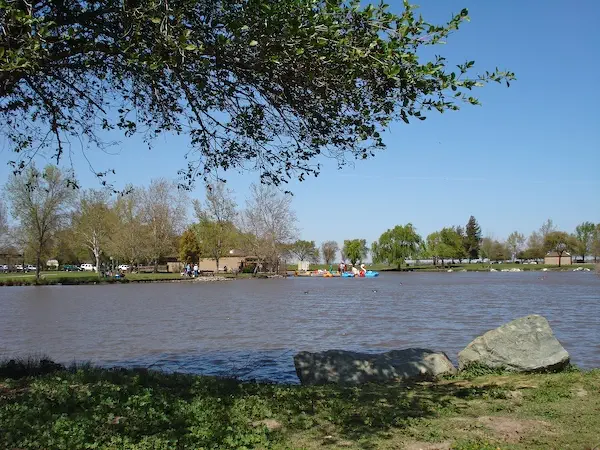 If you look closely you can see the paddle boats across the lake.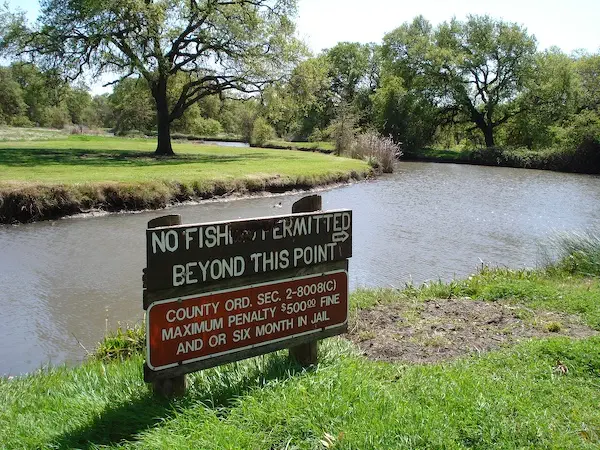 Fish are not permitted past this sign. California fish can read, thanks to the superior school systems.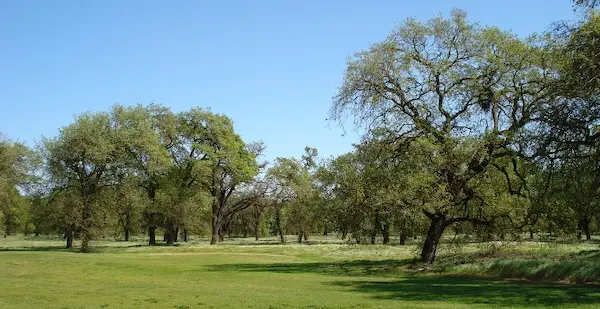 I miss oak trees.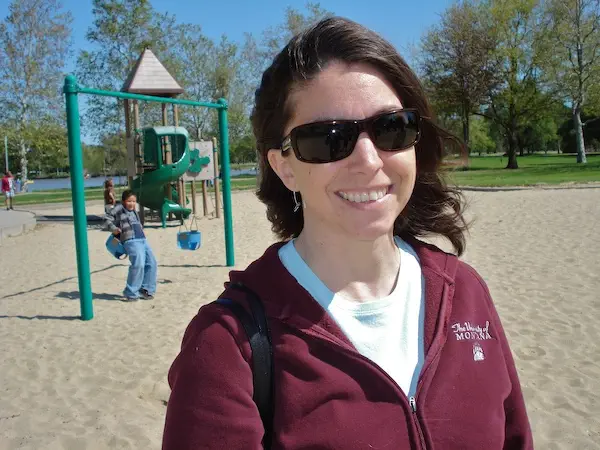 Jen is psyched that I am taking so many pictures of her.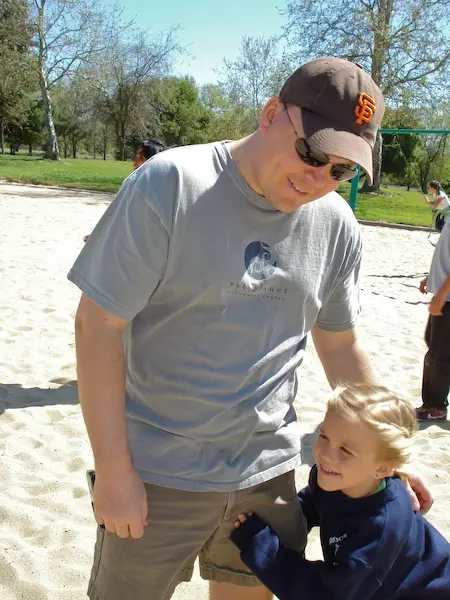 James and Sophia at the park.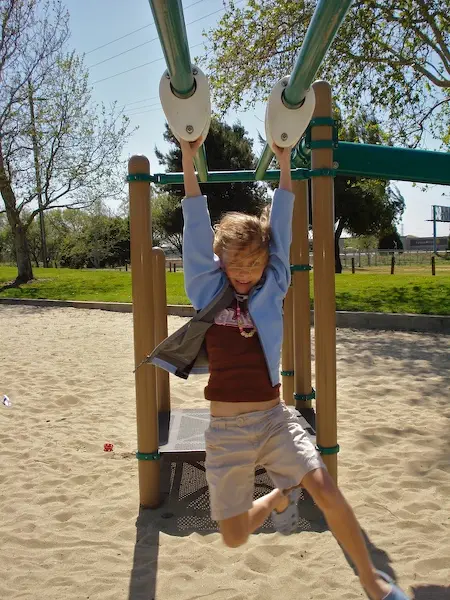 Cait on the slidey monkey bar things.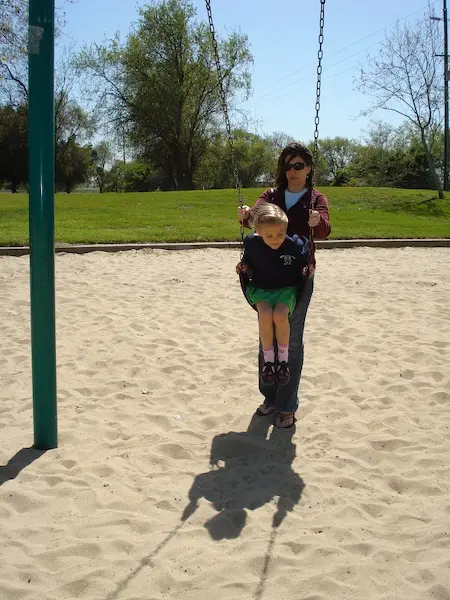 Jen giving Sophia a "start" on the swings, really more of a cheater underdog.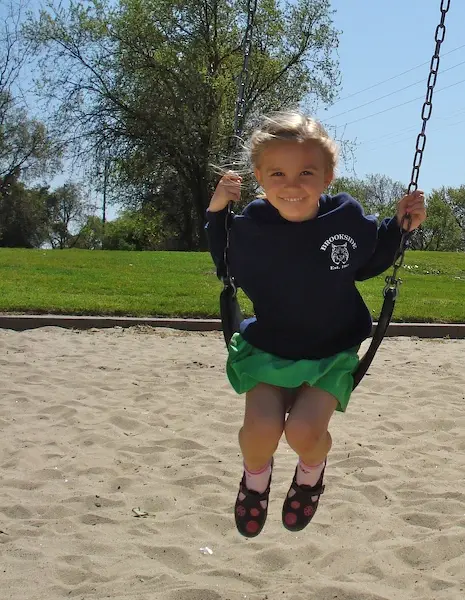 Sofia swinging.
Finn and I swinging. He slept right through it. I left this awesome backpack/frontpack in California and it makes me sad. Now Finn has to ride in a garbage bag.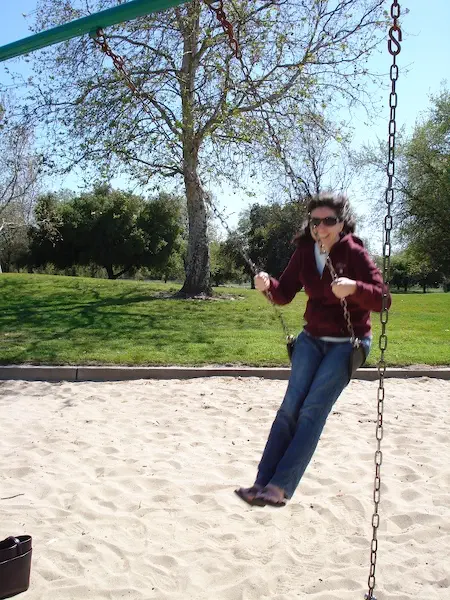 Jen releases her inner child.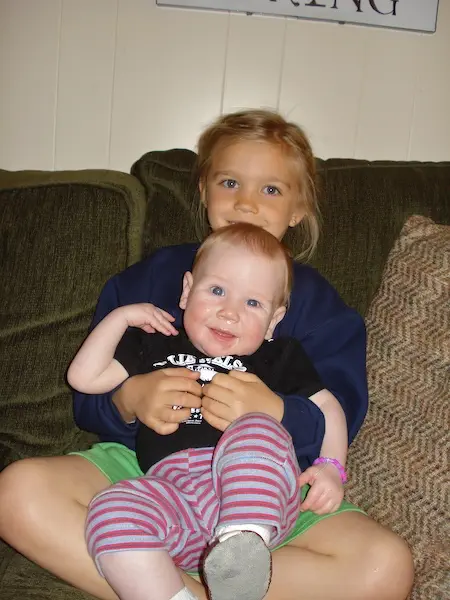 Sophia and Finn hanging out on the couch.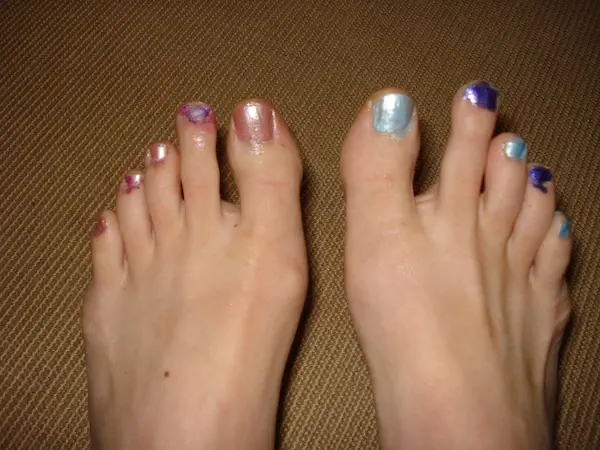 I told the girls they could each paint the toenails on one foot any color they wanted. This is the result.
After the girls went to bed we watched the one reality show I would love to be on–The Amazing Race.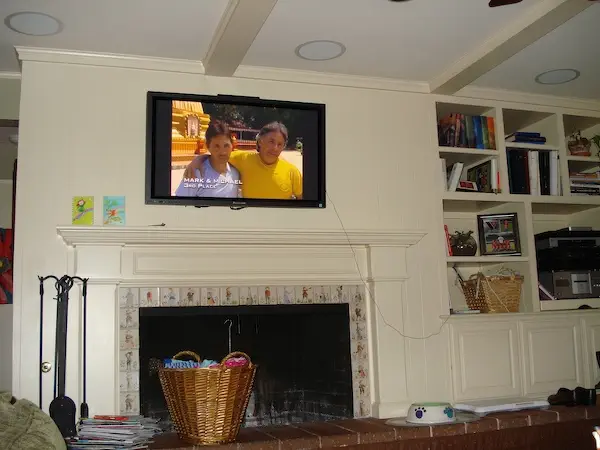 Picture me here.
Monday was my last day in sunny (and surprisingly windy) California. I learned what not to wear by watching a little TV. Finn fell asleep against my leg so I was pretty much stuck in place. Then Jen, Finn and I headed out for pedicures, lunch and an ice cream run.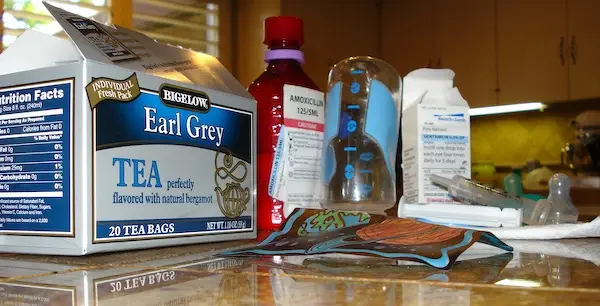 Our section of the counter.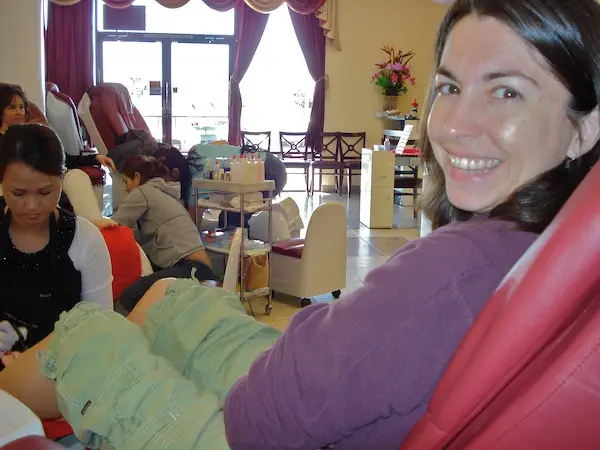 Jen getting a pedicure. I'm right next to her getting my own. With Finn in my lap, of course. While not as creative as the girls' version, this pedicure did come with a little massage and all the nail polish was on my toenails.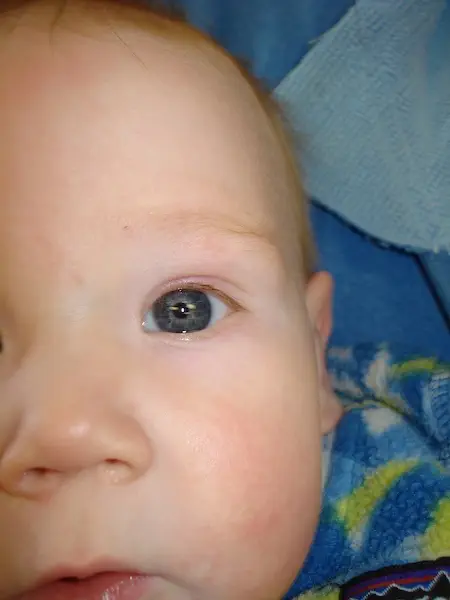 Finn watching the pedicures.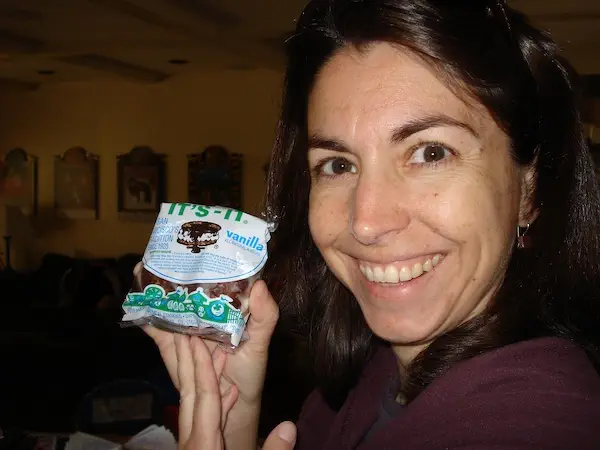 Jen shows off her It's It. You can't get those yummy treats in Montana.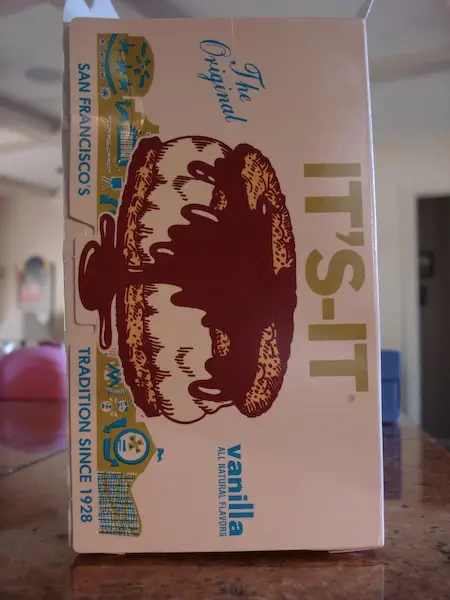 I made Jen buy a whole box for nostalgia's sake. And for my taste bud's sake.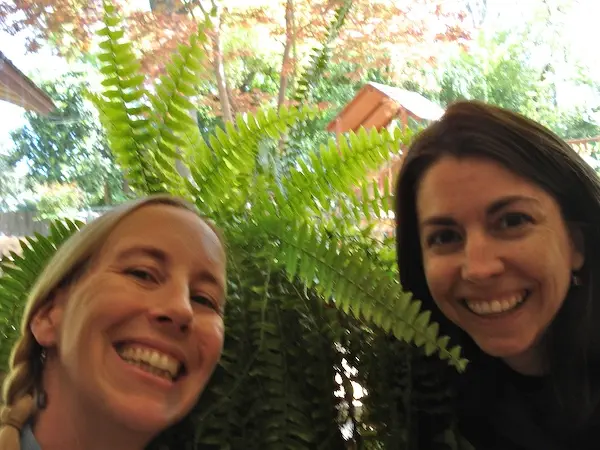 This is a fern Jen and I got for our dorm room in 1991. It has almost died on many occasions, but has always been nursed back to life. We named it "Person". You've heard of a person named Fern, so here is a fern named Person!!! It seemed hilarious when we were 18. And it's hilarious now.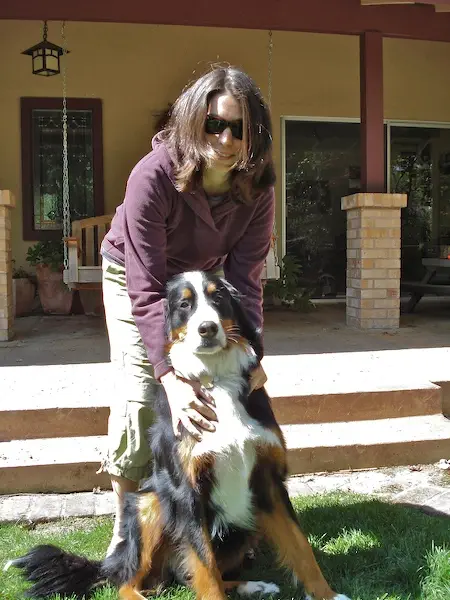 Jen and her Bernese Mountain Dog, Bridger. Possibly the second cutest dog in the world. Definitely in the top 3.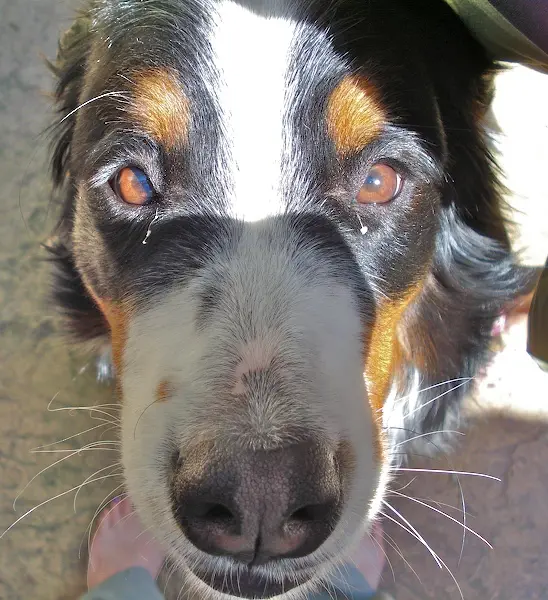 Up close with Bridger.
You might think the next few pictures are at a park or botanical garden, but it is Jen's backyard. I covet it.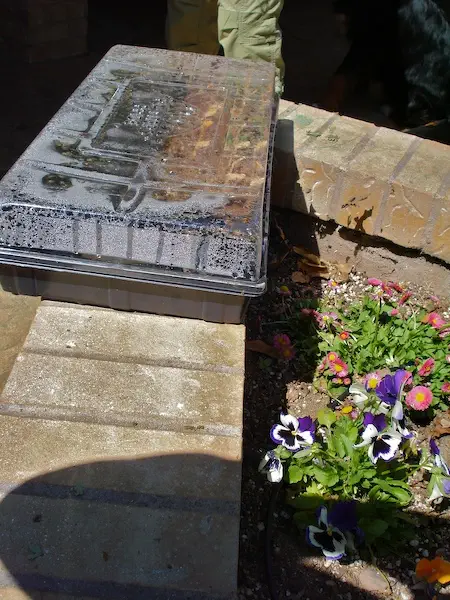 Starter plants and pansies.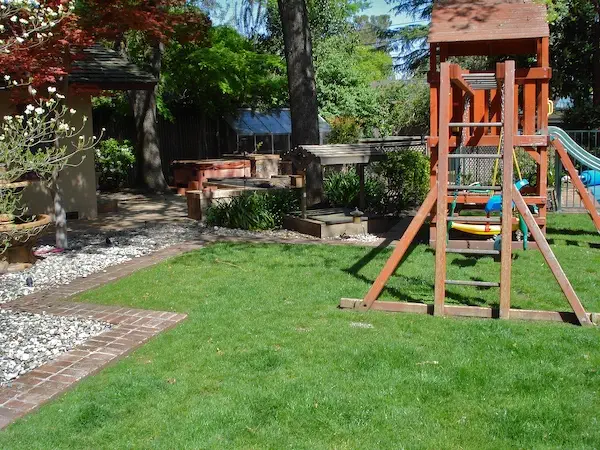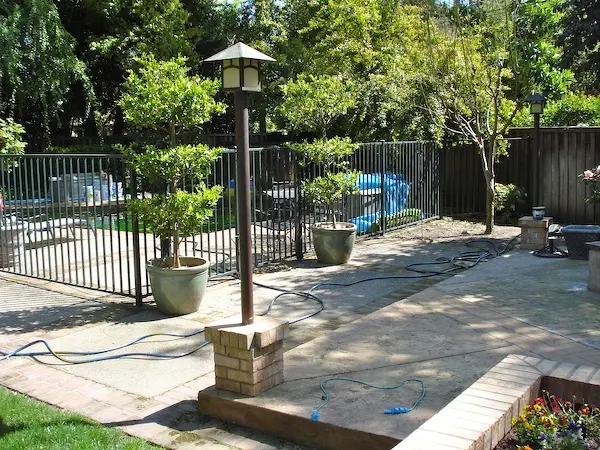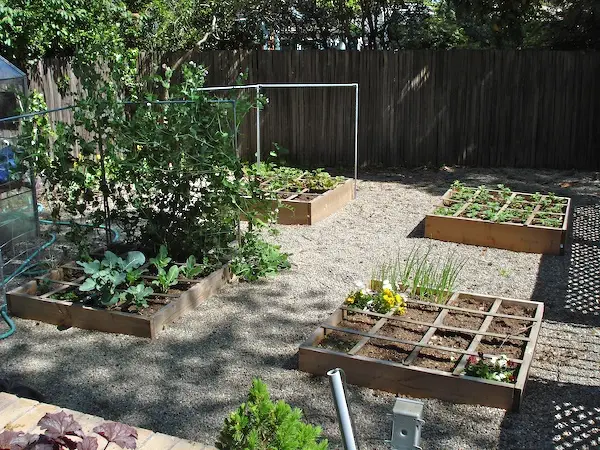 I'm not jealous that she gardens year round.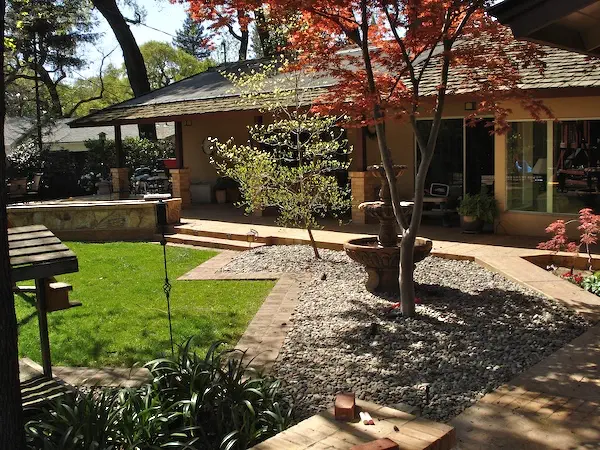 And that was it. I got to spend time with Jen so the trip was a success, regardless of the constant Finn managing. Cait and Sophia were so fun to hang out with and get to know a little. I tried to harass James, but he didn't really take the bait.
The flight from SLC to Bozeman was pretty painful for Finn and I. And they lost my bag with the carseat and crib, which was a bit of a bummer. Delta gave me a loaner carseat and Finn had to sleep in our bed, but we survived.
Here is Finn on the flight from Sacramento to SLC (or pre-meltdown).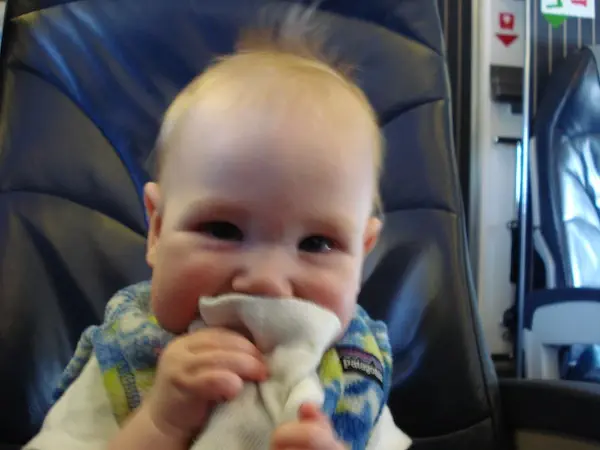 Finn on the airplane. He gets fuzzy at high altitudes.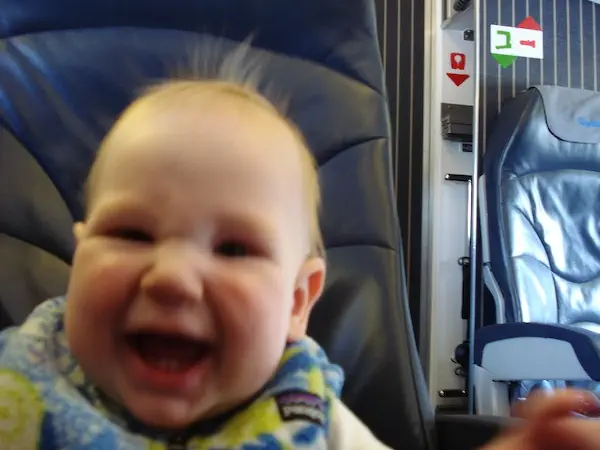 Finn loves him some flyin'!
Blogging is time consuming and I want to do some yoga before Finn wakes up tonight, so you'll have to wait for pics from Henry's birthday….