One of the main reasons I wanted to get out to California this spring was to see my grandparents. Like the rest of us, they are getting older, and I wanted to be sure they got to see the boys as boys, not babies. I also wanted Anders and Finn to spend some time with their only great-grandparents, even though the boys are unlikely to remember it.
As a kid, we would go to my grandparents' place in Escondido once or twice a year. They retired there from Illinois when I was young. My grandpa would make us pick up sticks in the yard and grandma would take me for walks around the neighborhood and instruct me on the proper walking technique she had read about in a health magazine.
The also took us to the Safari Park, then called the Wild Animal Park, the zoo, shopping, to friends' houses and other outings. Mostly we hung around the house, played in the yard and got schooled at Rummikub and Uno by grandma. At Christmas, grandpa would hide in the yard and shake sleigh bells so we'd think Santa was out there, even though we didn't believe in Santa anymore.
Grandpa isn't doing very well these days and seems like a totally different person. Grandma's back had her in a lot of pain. But, they are still the grandparents I love, and it was great to see them.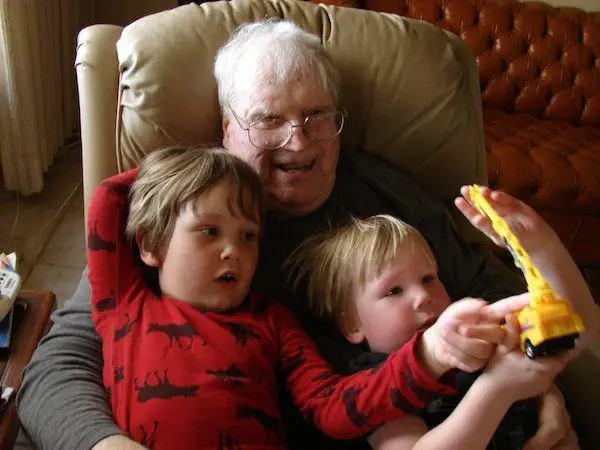 Grandpa Coble with his greatgrandsons.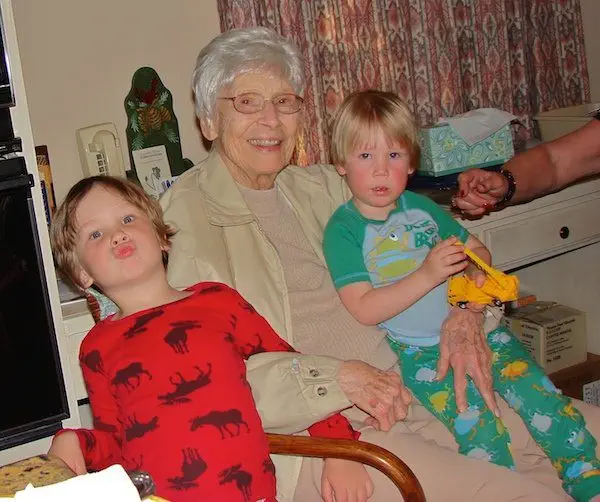 Grandma Coble with two monkeys.