We're almost home in Death Valley.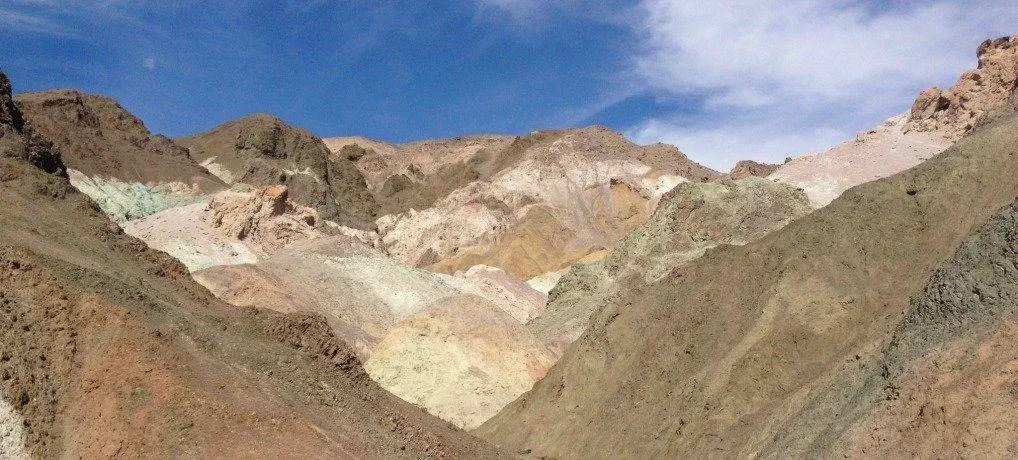 About an hour before dawn each morning, the coyotes go nuts. Yipping, howling, and singing the sun awake. An owl joins in with its "hoo hooo!," helping drag the day into existence. I step out of our camper leaving my two boys asleep and enjoy the coolness of a Death Valley dawn.
The brightest stars still glow in the sky, but it's nothing compared the show late at night. We are used to seeing stars from our house in Montana, but this seems different. Maybe because we are taking the time to look. Our solar system neighbors, Jupiter, Venus, and Saturn glow steady among the countless twinkling stars. Constellations—Orion, Taurus, the Pleiades, Cassiopeia, the Big and Little Dippers, and many I don't easily identify—connect the dots between stars.
Death Valley National Park was designated an International Dark Sky Park due to its inky black nights and skies that seem to start at the ground. Less than five hours from Los Angeles, where the celestial stars are almost non-existent, the sky here looks nearly the same as it did 100 years ago.
A couple hours and several cups of tea later, my six- and eight-year-old sons stumble out of the camper and plop into camping chairs. We chow oatmeal and plan our day.
It was unusually hot last March, even for Death Valley. High temperatures ranged from 97-101 degrees during our visit, so we hiked in the morning and swam in the resort's pool during late afternoon.
It's hard to choose a hike in Death Valley. It is the largest park in the lower 48 states at three million acres. Death Valley National Park includes all of Death Valley, a 156-mile-long north/south-trending trough that formed between two major block-faulted mountain ranges. Telescope Peak, the highest peak in the park, rises 11,049 feet above sea level and lies only 15 miles from the proclaimed lowest point in the United States at Badwater Basin, 282 feet below sea level. In other words, there is a lot of space and a lot of diversity.
Mosaic Canyon was on our must-see list, despite its popularity. We wandered through narrow turns and wavy white walls. We climbed up and over smooth rocks polished by grit-laden flash floods. Early on, and then later in the hike, the canyon walls present the "mosaic breccia" conglomerate rocks that the canyon is named for.
We met Ranger Taylor Jordan in the canyon who grabbed our interest with his talk of geology. But the kids really paid attention when he started to tell us about all the Star Wars scenes filmed in Death Valley. Apparently George Lucas ran out of money or time, and when he had to re-shoot some scenes of Tatooine, he didn't go back to Tunisia; he went to the Death Valley sand dunes. Not being an eight-year-old, I didn't catch all the references, but I was glad there was one more reason for my kids to love Death Valley.
My younger son, Finn, told me this place feels like home. This from the mouth of a child born just blocks from the Yellowstone River, where the Absaroka Mountains, the Gallatin Range, and the Crazy Mountains rise up and surround our town. I don't know why Death Valley felt familiar to him, but he said he would like to become a Park Service Ranger and live here some day. Anders does not feel at home. Born in Montana in January, he deflates when temperatures top 90-degrees, regardless of the water and electrolytes he pours down his throat.
Death Valley and the Mojave Desert are home to many plants and critters, as every piece of Park Service material tells us. Chuckwalla and collard lizards, kit foxes and ringtails, desert holly and Panamint daisies, roadrunners, and even fish. It's not an understatement to say that life abounds in Death Valley; coyotes stroll through our campsite while owls and bats fly overhead. Snakes, lizards, and kangaroo rats live below the sand at the Mesquite Flat sand dunes, their presence advertised only by the numerous tracks in the sand. In total, Death Valley National Park is home to nearly 1,000 native plants, 440 vertebrates, and about 30 endemic species. Not bad for a desert.
An unlikely desert resident is the pupfish, a remnant of an earlier, wetter time. These fish are descendants of a species that lived in Lake Manly, a 90-mile long lake filled with glacial meltwater after the last ice age. As the 500 to 600-foot deep lake turned to puddles and streams, the fish evolved into multiple species. The boys and I walked along the boardwalk adjacent to Salt Creek, crouching to watch the little fish Finn called, "so cute."
These Salt Creek pupfish evolved to thrive in salinity higher than the ocean and fluctuating temperatures. The water can reach 100 degrees in summer and nearly freezing in winter. Anders reads the interpretive sign and tells me they are named for their playful-looking behavior—pushing their heads into the creek bottom and bouncing around. The fish are looking for food, not playing, but the behavior endears them to us nonetheless.
Several species of pupfish are thought to be extinct, and others are Threatened or Endangered. The Salt Creek species appear to be okay for now, but even these tough pups can't survive the hotter temperatures and saltier waters global warming is predicted to bring.
Death Valley is a land of superlatives and my kids love superlatives. They can't wait to get to the hottest, driest, lowest, saltiest places. We continued our superlative search at Badwater Basin, 282 feet below sea level. It's not actually the lowest point in the United States, it's not even the lowest point in Death Valley, but it has a sign proclaiming it is.
We had the unfortunate timing to pull into the parking area five seconds after two tour buses. We hopped out, took a couple photos with the sign, and then drove a few miles down the valley. There we walked out onto the salt flats alone. After tasting the salt, we lay on our backs and gazed at the sky while the sun baked all motivation out of us. In the middle of the desert we were almost 300 feet below sea level surrounded by cracked salt flats and strange mini-formations. Telescope Peak and the Panamint Mountains jutted upwards to the west and the Amagrosas rose in fits and starts to the east. Beneath us was two miles of salty sediments, deposited since the valley's beginning.
Prone on the salt flats, I imagined the people who came before us. Some were stranded in Death Valley, giving it its name when they were finally rescued. Others made their riches off borax transported by 20-mule teams. Whoever they were, I am glad to be here in a time of air-conditioned cars, swimming pools, and ice cream.
It's not all salt and death here. We explored Death Valley during a "super bloom" year. Despite California's drought, the right amount of rain fell at the right time of year to leave Death Valley awash in flowers.
Driving up the valley, we took the time to stop at hillsides blanketed in yellow daisies, hedgehog cacti with brilliant pink blooms, Mojave sun cups, purple mat, broad-flowered gilia, and rock nettle. We wandered around the edge of Ubehebe Crater. We were as impressed with the purple, pink, and yellow flower display as the orange sherbet-colored rocks of the crater.
Anders and I slid down the steep trail 600 feet to the bottom of the crater. He wanted to experience more than just the rim. We tried to imagine what this maar volcano was like 300 years ago when it formed. When magma rose from the depth of the earth to the surface it turned ground water to steam in an intense flash. Steam and gases expanded until the pressure was released as a tremendous explosion, throwing cinder over most of the surrounding area. The orange and brown mud flat where we stood at the bottom of the crater is the site of many short-lived lakes, but dry now.
I don't know that Death Valley will ever feel like home to me. I long for gentle creeks and soothing forests. But it does pull on me, and my boys, and I know we will return again and again to explore more of its canyons, flats, sand dunes, and superlatives.
Read more about Death Valley
Death Valley with kids and families